Dodgers' offense wakes up in win over Athletics 4-0
Beat writer Andy McCullough and columnist Dylan Hernandez talk about the Dodgers' rough start and why they aren't concerned.
The clean two-out single to center field that broke up Hyun-Jin Ryu's no-hitter with two outs in the fifth inning Tuesday night took the pressure off Dodgers manager Dave Roberts.
There would be no agonizing over whether to extend a starter who sat out virtually all of 2015 and 2016 because of shoulder and elbow injuries well beyond a reasonable pitch count, no flashbacks to the times Roberts removed Rich Hill from a perfect game and Ross Stripling from a no-hitter.
Oakland right fielder Stephen Piscotty eliminated that stress with his hard grounder up the middle, ending Ryu's bid for history. Ryu could live with that. It was the only hit the Korean left-hander gave up in six innings of a 4-0 victory over the Athletics in front of 41,243 in Dodger Stadium.
"When I saw the ovation [after Piscotty's hit] I started thinking about that …
we've had to deal with that situation numerous times already," Roberts said. "It's something I haven't been used to, but it's a credit to our starting pitchers. I was just happy to see him throw the baseball the way he did tonight."
RELATED: Justin Turner says, 'It stinks ... not being out there.'
Making his second start of the season and first since giving up three runs, five hits and five walks in 32/3 innings against Arizona on April 2, Ryu (1-0) effectively mixed a fastball that touched 91 mph with a sharp cut-fastball, well-located changeup and a slow, looping curve.
He struck out eight batters — four looking — and walked one. Of his 90 pitches, 60 were strikes. He retired 13 of the first 14 batters, his only blemish before Piscotty's hit was a one-out walk to Matt Chapman in the first inning.
"He was working in and out, front to back, he was really pitching with a lot of conviction, especially in to the right-handers," Roberts said. "That's something that, hopefully for him and our pitching staff, will build that momentum."
With a four-run lead, Roberts pulled Ryu in favor of left-hander Tony Cingrani, who pitched the seventh inning. Stripling wobbled in the eighth, giving up a walk and a two-out ground-rule double to Marcus Semien before getting Chapman to fly to right field to end the inning.
Stripling gave up one-out singles to Khris Davis and Matt Olson in the ninth, a threat that brought Roberts and, soon thereafter, closer Kenley Jansen, who is struggling to find his usual rhythm and velocity, to the mound.
The big right-hander, his cut-fastball ranging from 89-92 mph but with good movement, struck out Jonathan Lucroy and got Piscotty to ground out to shortstop for his second save in as many games.
"Nobody's worried about Kenley," Dodgers center fielder Chris Taylor said. "His stuff is too good. He's the best closer in the game."
The Dodgers, who had four home runs in their first nine games, hit three Tuesday night, by Taylor, Corey Seager and Matt Kemp, who highlighted an 11-hit attack that was an offensive outburst by their standards.
Beat writer Andy McCullough and columnist Dylan Hernandez talk about the Dodgers' rough start and why they aren't concerned.
RELATED: Dodger Stadium to host 2020 All-Star Game
The Dodgers began Tuesday ranked last in the National League in average (.213) and on-base-plus-slugging percentage (.578), and 14th in runs (29) and home runs. The top three batters in the order, Taylor, Seager and Yasiel Puig, combined to hit .205 (23 for 112) with no home runs and five RBIs.
Two batters in against A's starter Sean Manaea (1-2), a left-hander who had a 1.17 ERA with 11 strikeouts and one walk in 152/3 innings of his first two games, those numbers began to trend upward.
Taylor, leading off the first, drove a 90-mph fastball 393 feet into the left-field pavilion for a home run for a 1-0 lead.
Seager was presented with his 2017 Silver Slugger Award before the game. Then he went out and acted like one, crushing a 90-mph inside fastball deep into the right-field pavilion for a 2-0 lead. According to Statcast, Seager's home run traveled 440 feet.
Kemp, leading off the sixth, somehow stayed inside on a 91-mph, low-and-inside fastball from right-hander Liam Hendriks and drove it over the right-center field wall for his first homer as a Dodger since 2014. Cody Bellinger singled to right and scored on Logan Forsythe's double to left for a 4-0 lead.
"Taylor and Seager going back to back was big for us," Roberts said. "Guys put together better at-bats. It's starting to come."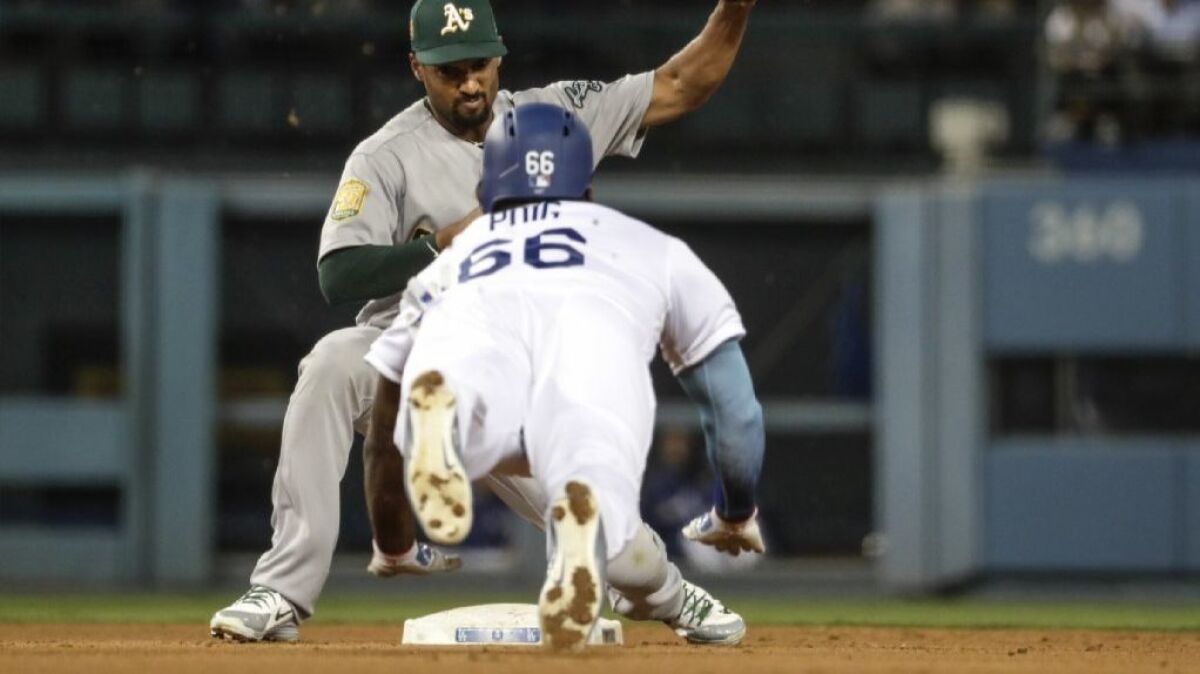 Follow Mike DiGiovanna on Twitter @MikeDiGiovanna
---
Get our Dodgers Dugout newsletter for insights, news and much more.
You may occasionally receive promotional content from the Los Angeles Times.