Russell Martin's return might help Austin Barnes as much as the Dodgers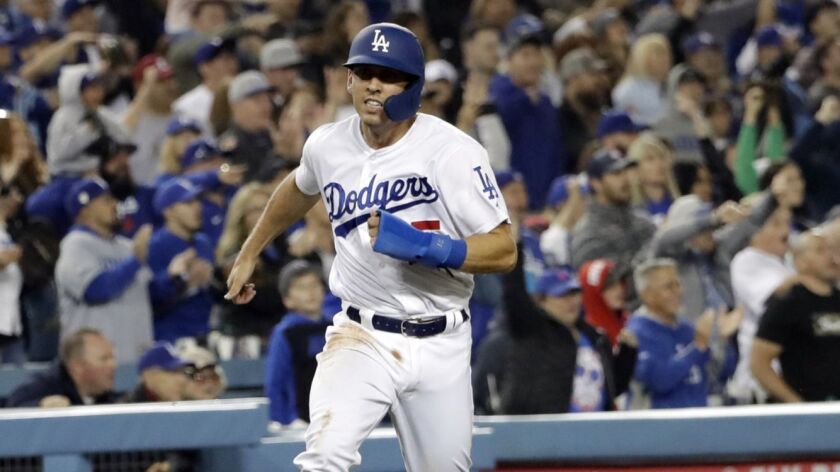 Rich Hill wasn't the only veteran member of the Dodgers battery to return from the injured list Sunday. Catcher Russell Martin made his first start since being sidelined April 10 because of lower-back inflammation, an addition that will reduce fellow catcher Austin Barnes' playing time but should benefit the Dodgers.
The plan entering the season was for Barnes to start about 60% of the games and Martin 40%. That seemed to suit Barnes until Martin was injured — Barnes hit .364 (eight for 30) with a 1.182 on-base-plus-slugging percentage, two home runs and five runs batted in in his first eight games through April 9.
But when Martin was replaced on the roster by Rocky Gale, Barnes assumed the bulk of the catching duties, starting 13 of 17 games through Saturday, the most starts he has had in a three-week stretch in his five-year big league career.
In 15 games — 13 starts — since April 10, Barnes hit .140 (six for 43) with a .477 OPS, one home run, three doubles, 12 strikeouts and five walks, dropping his average to .215 and OPS to .726.
"If you look at what he did with the pitchers, I thought he handled it really well," manager Dave Roberts said. "But when you're not [hitting] well and you don't have someone to take on some of the workload, it gets more magnified. I think there's something to keeping your mind and body fresh."
Sign up for our Dodgers newsletter »
Players usually benefit from getting regular at-bats, their rhythm and timing improving as they see more pitches, but could the 5-foot-10, 187-pound Barnes' offense actually suffer the more he catches?
"I don't think the player would agree with that, but that's certainly a possibility," Roberts said. "I do believe, though, that with Russell healthy, that tandem, I think we're as good offensively and defensively as anyone in baseball."
Caleb Ferguson is injured
A minor left-oblique injury sent Caleb Ferguson to the injured list Sunday, clearing a roster spot for Hill and probably sparing Ferguson a demotion to triple A.
Ferguson was among the most trusted members of the bullpen for three weeks, with an 0.87 earned-run average, 12 strikeouts and three walks in 10 1/3 innings of nine games through April 18.
But in four appearances since April 20, the left-hander gave up four earned runs, walked five and struck out two in 2 2/3 innings for a 13.50 ERA that would have been even higher if Pedro Baez hadn't escaped the bases-loaded, no-out mess that Ferguson left him in the eighth inning Saturday.
"I don't know if it's a physical thing or a mechanical thing, but I do know there's an execution component to it," Roberts said. "If you look at the radar gun, it's been very consistent, coming out well. But now you layer in the execution or mechanics and that's been the missing piece."
Roberts said Ferguson injured the rib cage Saturday night, but could the injury have contributed to the pitcher's recent struggles?
"You never really know," Roberts said, "but this is the first we've heard of it, so I'm taking it at face value."
See Rich hit and run
Max Muncy was glad to have Hill back, and not just because of Hill's mound prowess. The 39-year-old pitcher lined a single to right-center field in the third inning and took an aggressive turn around first base that energized the dugout.
"He's a special character, he gets the guys going, and on top of that, he provides the most entertaining at-bats you'll ever see in your life," Muncy said. "I say this every year, but for anyone who asks why they should never have a designated hitter in the National League, I just say watch him."
Is it because of Hill's swing? The way he runs?
"It's just the whole package," Muncy said. "It's awesome."
---
Get our Dodgers Dugout newsletter for insights, news and much more.
You may occasionally receive promotional content from the Los Angeles Times.