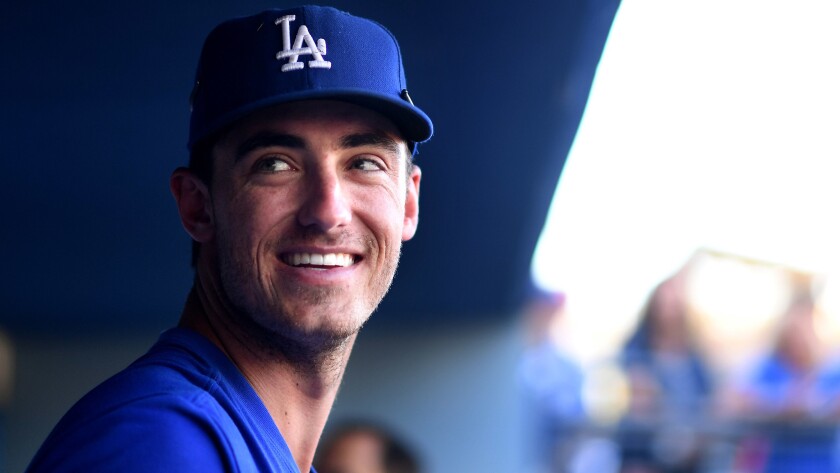 One day when he was a boy, Cody Bellinger slipped inside a batting cage with his father. Clay Bellinger spent parts of three seasons with the New York Yankees, which granted his eldest son access to areas designated only for those in pinstripes. Cody was kindergarten age but already treating the ballpark as his playground.
Inside the cage, Cody swung and he swung and he swung, his prowess drawing the attention of Derek Jeter, the iconic shortstop. Beneath his sleek exterior, Jeter wielded a wit sharper than a scythe. Jeter regarded the boy's father, a grinder who spent a decade in the minor leagues. Then he turned back to the kid.
"Man," Jeter said, "you didn't get your swing from your dad."
Blessed with the talent of a superstar and raised with his father's grit, Cody Bellinger flashed a bashful grin as he recalled Jeter's seal of approval. He wears that look often these days. He wore it while he rounded the bases two dozen times this season for the Dodgers. It was there when he credited salted caramel ice cream for his strength. When teammates used his bats hoping to siphon some talismanic power. And during a television interview when he admitted he wasn't sure who Jerry Seinfeld was.
Bellinger will wear that smile on Monday, when his father pitches to him in the Home Run Derby in Miami. And again on Tuesday when he represents the Dodgers and the National League in the All-Star game. In an organization famed for its young talent — the team brought Sandy Koufax and Fernando Valenzuela to the majors at 19, and Clayton Kershaw at 20 — Bellinger is the youngest All-Star in Dodgers history.
Bellinger turns 22 on Thursday. He was born six years, eight months and 23 days after Orel Hershiser threw a complete game to finish the 1988 World Series. In October, Bellinger will be crucial as the team tries to end a 29-year championship drought.
When he made his major league debut on April 25, the Dodgers owned a losing record. They will end the season's first half on Sunday with the best record in the NL, steaming toward a fifth consecutive division title. Bellinger leads the team in home runs, runs batted in and slugging percentage. He required only 51 games to swat 21 homers — the fastest pace in baseball history. "After a game, when you're laying in bed, you're like, 'Is this really happening?' " Bellinger said.
Manager Dave Roberts has called Bellinger the team's savior. His teammates have described him as indispensable. He "rejuvenated" the Dodgers, third baseman Justin Turner said. His performance "lifted everybody else up," second baseman Chase Utley said.
"His presence in the lineup was definitely needed," fellow All-Star Kershaw said. "It helped stabilize us."
To his best friends, the ones who've known him since he was a scrawny teen growing up outside of Phoenix, Bellinger's sudden fame is more surreal than surprising. In the offseason, those friends — all ballplayers — often convene at the home of Patrick Murphy, one of Bellinger's high school teammates and a pitcher in Toronto's minor league system.
Everybody is like so surprised because he's hitting all these homers, but look at his minor league stats. The kid hits homers.
Jamie Westbrook, regarding Cody Bellinger, whom he's known since middle school
The guys pile onto the couch and watch sports. Bellinger usually grabs a pillow, sprawls on the floor and checks his phone. "We're always just messing around, talking crap to each other," Murphy said.
This past winter, Bellinger told his friends he couldn't wait to get to the Show.
Shut up, bro, his buddies responded. You're the No. 1 prospect.
"As the whole 'Legend of Cody Bellinger' thing keeps taking off, I'm not even really surprised, because we've talked about it," said Jamie Westbrook, a friend of Bellinger's since middle school and a player in the Arizona Diamondbacks' farm system. "Everybody is like so surprised because he's hitting all these homers, but look at his minor league stats. What did you expect him to do? The kid hits homers."
Clay Bellinger hit 12 homers over parts of four big-league seasons. He appeared in two games for the Angels in 2002, which was his last stay in the majors. His family accompanied him to New York, but also to minor league stops in Columbus, Salt Lake City and Fresno.
After games, Cody clung to his dad like a shadow, pestering him to throw batting practice. "That's all he wanted to do when he was 4, 5, 6," Clay said. "Hit and throw. Hit and throw. Hit and throw."
The family settled in a suburb of Phoenix when Clay retired after the 2004 season. He joined the Gilbert Fire Department and found time for Cody and younger son Cole.
Clay coached Cody's team when it reached the Little League World Series in 2007. Despite his pedigree and his zeal for the game, Cody did not emerge as a star until near the end of his high school career.
As a junior at Hamilton High, Bellinger grew beyond 6-feet tall. His body began to catch up to his violent swing, but he still produced more line drives than long balls. During his senior season, Bellinger hit only one home run. He felt the weight of expectation, stressed by the pressure of trying to improve his draft stock while facing opponents wary of throwing him hittable pitches. At one point, he sought advice from Mitch Nay, a teammate chosen by Toronto in the first round the year before.
"Your talent is going to show, no matter what," Nay recalled telling Bellinger. "Don't worry about it."
Some scouts felt Bellinger did not show enough power to play first base in the majors. The Dodgers were still intrigued by his athleticism. They chose him in the fourth round of the 2013 draft. Then-general manager Ned Colletti and scouting director Logan White offered a $700,000 signing bonus, nearly $300,000 more than the amount recommended by Major League Baseball's draft guidelines.
Bellinger splurged on a truck, but was unprepared to splash other money around. One day that summer, his friends wanted a ride to Chipotle. Bellinger could drive, but there was one problem — he needed to fill up his tank and wasn't sure how to pay for it.
"We're like, 'Get gas!' " Westbrook said. " 'What do you mean?' 'Go to the pump, put your credit card in and fill it up. You have money to get gas. That's not an excuse anymore.' "
Bellinger learned to adjust — on the field too. He hit only four homers in his first two professional seasons. By his third season in the minors, Bellinger had modified the arc of his swing and felt his power click into place. He hit 30 homers for the Dodgers' Class-A affiliate and earned an invitation to big-league spring training in 2016. That spring, manager Roberts noticed, Bellinger soaked up knowledge by closely watching every inning of every tedious exhibition game.
Bellinger carried that ethos with him after the Dodgers called him up in April. Before his debut, he sought advice from former top prospects Corey Seager and Joc Pederson. He listened to the wisdom of five-time All-Star Adrian Gonzalez, who helped even as Bellinger was supplanting him as the team's starting first baseman.
"He doesn't think he's got it all figured out," Utley said.
Bellinger ended his first week in the majors by homering twice in the same game. He won National League Player of the Week after his second week. Soon after, when Turner returned from the disabled list, he decided to use one of Bellinger's bats to solve his own power outage. Turner homered in his first at-bat with the borrowed lumber.
As the homers took flight, Bellinger became emblematic of the gap between Generation X and millennials. The symbolism started when Dodgers pitcher Brandon McCarthy, born in 1983, remarked that when he pitched against the New York Mets, he often thought about how his performance would affect the mood of comedian Jerry Seinfeld, a well-known Mets fan. A couple days later, ESPN anchor Scott Van Pelt asked Bellinger a simple question.
"Do you know who Jerry Seinfeld is?" Van Pelt said.
"I'm not going to lie to you," Bellinger replied. "I know the name. But I couldn't put a face to the name."
Van Pelt held his head in his hands. Bellinger smiled and sputtered an apology. A generation of "Seinfeld" devotees felt that much older. Bellinger's phone erupted with texts.
"We all gave him crap about that," Murphy said. "That was one of the funniest things he's done in a while."
Bellinger laughed off the insults. "Those guys are clowns," he said.
As for the Seinfeld gaffe? "I should have lied," he said.
His face wore that grin again as he spoke. At times, Bellinger admitted, he feels overwhelmed by the interview requests and the autograph seekers and the sudden spotlight. Growing up around the Yankees, he understood the scope of fame. In his first few months as a Dodger, he is learning to live beneath its glare.
There is one memory from his father's career he hopes to replicate. After the Yankees won the World Series in 1999 and 2000, Cody and Cole accompanied their parents along the parade route. Cody remembered pandemonium, with fans packing the streets and toilet paper raining down from the buildings.
One day last week, he allowed himself to imagine bringing a scene like that to Los Angeles. He burst into a smile.
"Man, that would be crazy," Bellinger said. "Especially because it's been so long. That would be awesome."
Twitter: @McCulloughTimes
ALSO
Bill Plaschke: He's no longer in charge, but Ned Colletti's contributions are still paying dividends for the Dodgers
Dodgers Dugout: 2017? It feels more like 1988
Fans vote Justin Turner into All-Star game, then Dodgers earn comeback win over Arizona
---