Bellinger gives Dodgers a lift with his bat and glove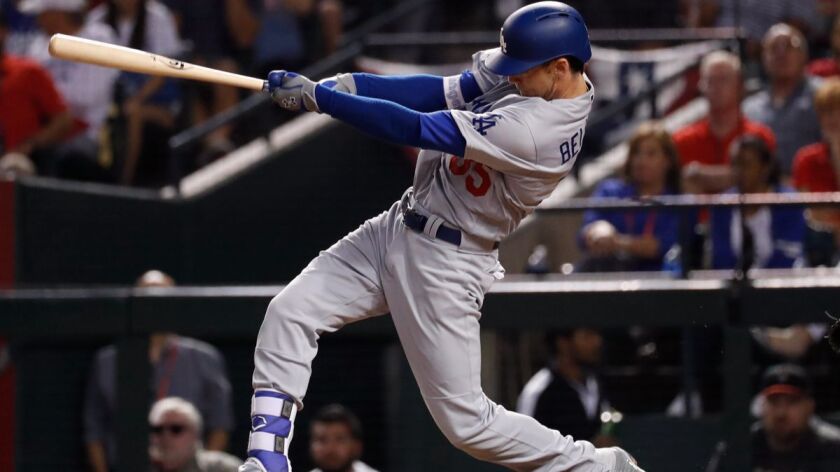 Reporting from Phoenix —
At 11:20 p.m. Monday, 2 1/2 hours after his home run announced his belated arrival as a factor in the National League division series, Cody Bellinger took refuge in a corner of Chase Field's visiting clubhouse. He had conducted television interviews, greeted family friends who drove over from his suburban hometown of Chandler, Ariz., and sprayed champagne on his teammates.
Now, for a few seconds, he stayed silent, glancing around the celebratory, cork-sprinkled room.
"Hey," he shouted, a thought occurring to him. "I didn't get goggles."
Standing nearby, teammate Tony Cingrani pointed out their location. Bellinger grabbed a pair and reentered the fray.
He is not Clayton Kershaw, forever insistent that eye protection is unnecessary in clubhouse celebrations. He is still a 22-year-old kid, experiencing many things for the first time and prone to occasional oversights.
The first two games of the Dodgers' NLDS series sweep over the Arizona Diamondbacks represented a continuous string of gaffes. Bellinger struck out six times in 10 unseemly plate appearances. He chased pretty much everything thrown in his general direction.
In the first inning of Game 3 Monday, and again in the third, he batted with runners on the corners. In the first, he tapped a grounder on a 1-and-0 fastball. In the third, he popped up the first pitch from Arizona starter Zack Greinke.
As Yasiel Puig walked to load the bases, Dodgers manager Dave Roberts approached Bellinger in the dugout.
"Listen, you picked us up all year," Bellinger said Roberts told him. "We'll get you right here. Next at-bat, don't try to do too much. Take the pressure off yourself."
That is notably similar to Roberts' recent public comments. Before the game, he noted that Greinke would take advantage of Bellinger's aggressiveness if the rookie allowed him to expand the strike zone.
"If Cody is disciplined on the edges, it will be a good night," Roberts predicted. "If he remains to be free swinging, it's going to be a tougher night for him."
Roberts was right, but his news conference observations provided no aid to Bellinger. A 20-second pep talk by the bat rack did, as Bellinger explained between swigs of cheap beer.
"I was pressing a little bit, trying to do too much with every pitch," he said. "The first two games, they were throwing away, pitching to my aggressiveness. I was running for too much. It's hard to hit like that."
During the regular season, Bellinger was mostly immune to typical youthful slumps. He clubbed 39 home runs — a National League record for a rookie —and his lowest on-base-plus-slugging percentage during any one month was .835.
The difference, the Dodgers reasoned, was the postseason.
"It's his first playoffs, and he's probably trying really hard to do some big things," Justin Turner said. "Obviously, he wants to be successful, like he was all season. For him to just settle in, calm down, that's going to be huge going into the next series. For him to take that swing, hopefully it calms him down a little bit.
The count was 3-and-1 with two out in the fifth. Greinke left a changeup higher than he intended, over the outer edge of the plate. With his violent swing, the left-handed-hitting Bellinger pushed it out to the opposite field. The solo blast gave the Dodgers a 2-0 lead on their way to a 3-1 win, and Bellinger became the youngest player in team history to homer during a playoff game.
"The at-bats he took after it were pretty darn good too," Turner said.
Bellinger drew a walk in the seventh. In the ninth, he singled, nearly supplying another run.
Along with his breakout on offense, he provided three fine plays on defense, most memorably toppling into the Dodgers' dugout to secure an inning-ending foul popup. In the next inning, he sharply started a double play to assist reliever Cingrani, then snared a Ketel Marte liner and tossed to the Dodger pitcher covering first.
"Some of the plays he's made over at first base this whole series have been incredible," Turner said.
He noted Bellinger's leap into the Dodgers' dugout and the hard-hit balls swept up near first. However, he was most impressed by Bellinger's aggressive double-play maneuver, when he immediately tried for two.
"Having the wits to go to second instead of trying to let the pitcher beat the runner to first," Turner said, "he's just a smart player, and he learns on the fly."
Because he was not identified as a major factor in the Dodgers' September swoon, it went mostly unnoticed, but Bellinger finished the last month with a 10-day stretch of silence. He didn't homer, he struck out a lot and he felt uncomfortable. That carried over into the NLDS, he said, but in the aftermath, he was hopeful that Monday meant he had rediscovered success.
"It was far away from me in the past two weeks of the season, leading up to now," Bellinger said. "But we're getting there."
Twitter: @pedromorua
---
Get our high school sports newsletter
Prep Rally is devoted to the SoCal high school sports experience, bringing you scores, stories and a behind-the-scenes look at what makes prep sports so popular.
You may occasionally receive promotional content from the Los Angeles Times.