Starting rotation
Clayton Kershaw:
Finished 2016 with the lowest ERA (1.69) of his career, but in fewest innings since 2008.
Kenta Maeda:
Despite injury concerns, made team-high 32 starts last season.
Rich Hill:
Had the second-lowest ERA (2.12) among pitchers who threw 100 innings or more last season.
Brandon McCarthy:
Showed improved command this spring after rocky return from elbow ligament replacement surgery last year.
Hyun-Jin Ryu:
Had 28 wins in 2014-15, but pitched only 4 2/3 innings last season because of a shoulder injury.
Alex Wood:
Underwent elbow surgery last summer, but still considered a useful left-handed arm.
Julio Urias:
Precocious 20-year-old is being kept off the roster to preserve his innings for September and October.
::
Bullpen
Kenley Jansen:
Fourth-most valuable reliever in baseball since 2014, according to FanGraphs' version of wins above replacement.
Sergio Romo:
Defected from San Francisco, where he contributed to a trio of championships and closed out the 2012 World Series.
Grant Dayton:
Armed with a deceptive fastball, the left-hander struck out 13.3 batters per nine innings 2016.
Luis Avilan:
His changeup makes him useful against both right-handers and left-handers.
Ross Stripling:
Opened last season as a starter; now set to work as a long reliever.
Chris Hatcher:
Capable of generating impressive velocity; he has not been able to generate impressive results.
Josh Fields:
Posted a 2.79 ERA after Houston traded him to the Dodgers last August.
Adam Liberatore:
Set a franchise record for consecutive scoreless appearances in 2016 before undergoing elbow surgery.
Brandon Morrow:
Talented but fragile, he has thrown 82 1/3 innings since 2014.
::
Catchers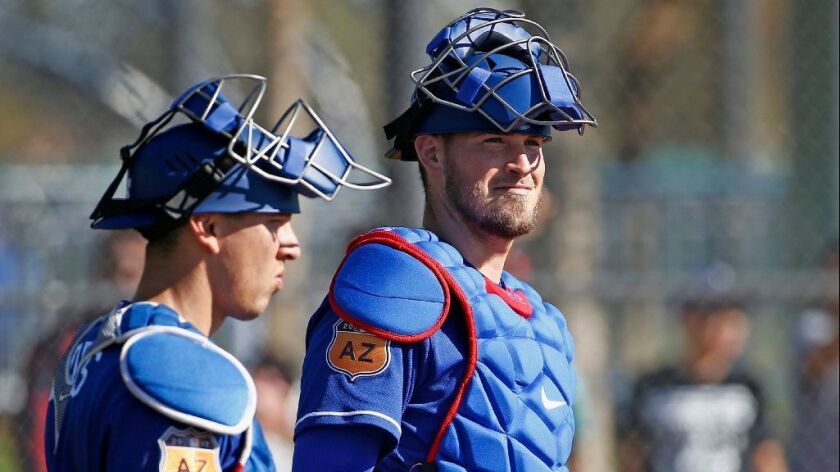 Yasmani Grandal:
Led all every-day catchers in the majors with 27 homers last season.
Austin Barnes:
The Dodgers were willing to part with veteran Carlos Ruiz, in part, because of their confidence in Barnes.
Bobby Wilson:
Popular veteran spent five seasons with the Angels.
::
First base
Adrian Gonzalez:
Despite a decline in power, Gonzalez hit .297 last season with runners in scoring position.
Scott Van Slyke:
Healthy after surgery to repair the injured wrist that had dogged him since 2015.
Chase Utley:
He brought a first baseman's mitt to camp as part of his new reserve role.
::
Second base
Logan Forsythe:
He averaged 18 homers with a .791 OPS in 2015 and 2016 with Tampa Bay.
Chase Utley:
Took a $2-million contract to return to Los Angeles despite other more lucrative offers.
Enrique Hernandez:
The Dodgers are hopeful Hernandez can recover his ability to hit left-handed pitchers.
Chris Taylor:
Made some changes to his swing that impressed Dodgers officials, and experimented in the outfield this spring.
::
Shortstop
Corey Seager:
Led the 2016 Dodgers in batting average, on-base percentage, slugging percentage and runs.
Enrique Hernandez:
Hit .190 last season as pitchers avoided feeding him fastballs.
Chris Taylor:
Considered a solid defender at shortstop.
::
Third base
Justin Turner:
After a pair of encouraging seasons, he exploded in 2016 with a career-best 27 homers and 90 RBIs.
Logan Forsythe:
Can play all over the diamond, and Manager Dave Roberts considers him an asset at third.
::
Left field
Andrew Toles:
Batted .340 in a small sample size, but showed some vulnerability to off-speed pitches.
Franklin Gutierrez:
Hit 12 homers against left-handed pitchers in 2016 with an .884 OPS.
Andre Ethier:
Missed almost all of last season with a broken leg, which the team believes has finally healed.
::
Center field
Joc Pederson:
Cut down on his strikeouts and finished with an impressive .847 OPS.
Enrique Hernandez:
Missed most of spring training while playing for Puerto Rico in the World Baseball Classic.
::
Right field
Yasiel Puig:
Despite declining performance against right-handed pitchers, he gets another shot to be an every-day player.
Scott Van Slyke:
Can also handle center field in an emergency.
Follow Andy McCullough on Twitter @McCulloughTimes
---