Right-hander Brandon Morrow is at 100% and Dodgers are getting their money's worth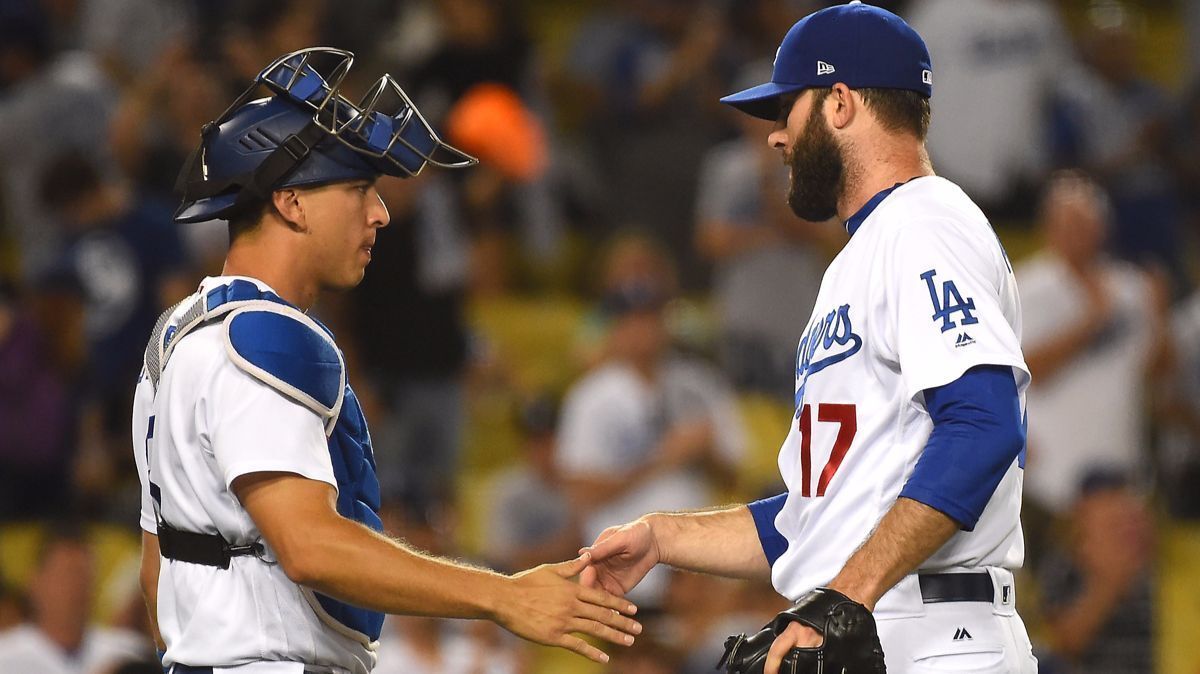 He regained 15 pounds he lost during a lengthy bout with valley fever, a nasty fungal lung infection, in the winter of 2015-16. He has full strength in a shoulder that didn't feel quite right last season after surgery to repair an impingement in August 2015.
Brandon Morrow didn't need to see "100 mph" flash on the Dodger Stadium scoreboard during the team's last homestand to confirm what he already knew, that he was 100% after two seasons marred by injury and illness.
But it didn't hurt.
"Yeah, sure," the Dodgers reliever said, when asked whether the radar-gun reading solidified in his mind that he was all the way back. "It's kind of like a milestone, triple digits. It's been a while since I did that in the major leagues."
The Dodgers signed Morrow in January to a minor league deal that would pay $1.25 million in the big leagues, a relatively modest sum that was an indication of how far the right-hander's stock had fallen. It was a no-risk investment in a veteran with the potential for a bounce-back year.
Three months into 2017, Morrow, 32, looks like a steal. Entering Tuesday night's game against the Arizona Diamondbacks, he's given up no runs and four hits in 12 2/3 innings over 11 appearances, striking out 15, walking one and holding opponents to a .093 batting average.
Morrow has been so dominant that manager Dave Roberts was recently asked whether he could seize an eighth-inning role in front of closer Kenley Jansen.
"Let's not get ahead of ourselves," said Roberts, who has used Pedro Baez as his primary setup man. "I don't want to put ourselves in a situation where we have a dedicated eighth-inning guy or seventh-inning guy. I like to manage the bullpen with respect to what part of the lineup is coming up.
"But Brandon has done a lot to build trust in me. What we've seen … it's been electric."
Morrow didn't make the team out of spring training. He had a 10.13 earned-run average over eight innings at triple-A Oklahoma City in April before righting himself in May with a 1.93 ERA in 9 1/3 innings over nine games.
Morrow was promoted when Alex Wood went on the disabled list on May 29. He looked sharp in five scoreless middle-relief appearances before being sent to triple A when Wood was activated on June 10.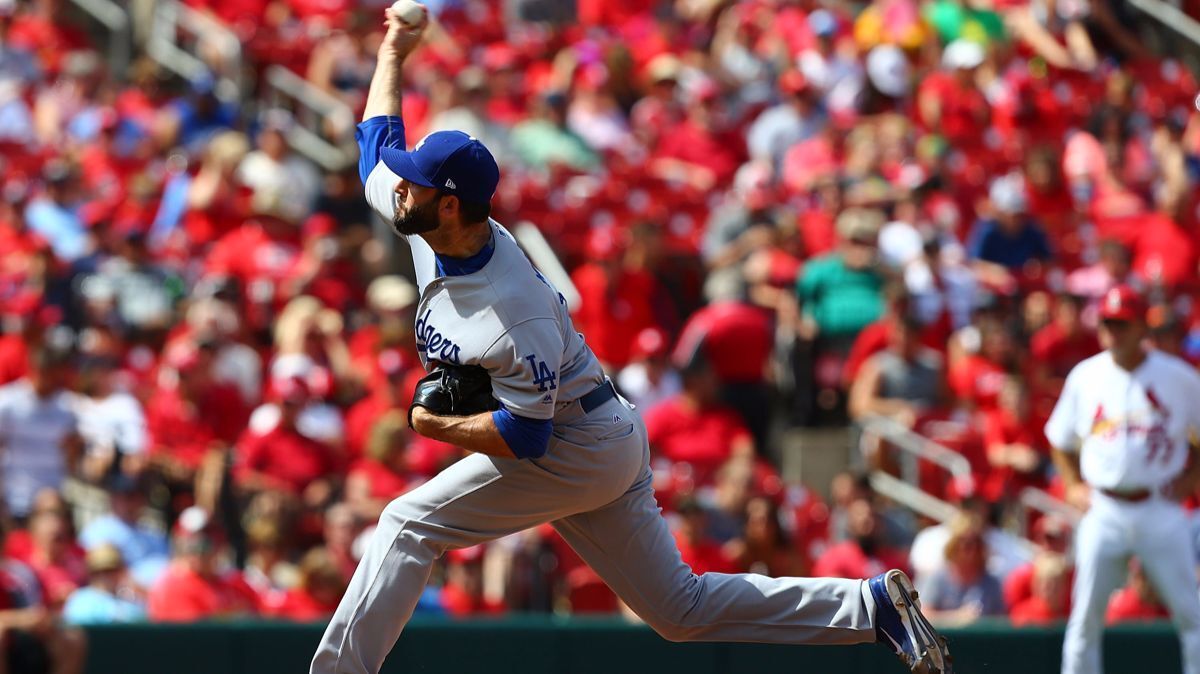 Since he returned to the big leagues on June 21, Morrow has migrated toward the late innings, pitching the eighth of a win over Colorado on June 24 and the eighth and ninth innings of last Tuesday night's 4-0 win over the Angels.
Morrow struck out two of three batters to help the Dodgers escape a bases-loaded, no-outs jam in last Thursday's 6-2 win over the Angels. His stuff clearly warrants a high-leverage role.
Morrow mixes a four-seam fastball that is averaging 97.1 mph, according to Fangraphs, with a cut-fastball that averages 92.0 mph and a sharp slider that averages 86.4 mph.
"From our fielders to some of the rumblings from the opposition, the stuff really plays up," Roberts said. "It's the 99-mph fastball, the hard slider, getting right-handers and left-handers out. I've put him in some big spots, some higher-leverage spots, and he's doing everything he can to showcase himself."
Triple-digit velocity was the norm for Morrow when he reached the big leagues in 2007, one year after Seattle used the fifth pick of a pitching-rich 2006 draft to select him out of the University of California. Andrew Miller (sixth), Clayton Kershaw (seventh), Tim Lincecum (10th) and Max Scherzer (11th) were taken right behind Morrow.
Harnessing Morrow's velocity at age 22 was a challenge. Morrow struck out 66 and walked 50 in 63 1/3 innings as a rookie in 2007.
"Back then, I was just trying to kick and throw the ball as hard as I can," Morrow said. "Now, I feel like I have some thought behind it. I can throw it where I'm trying to throw it."
The Mariners moved Morrow to the rotation in September 2008, and of his 26 appearances for Seattle in 2009, 10 were starts. Morrow was traded the following winter to Toronto, where he spent five seasons as a starter, going 34-31 with a 4.40 ERA.
Morrow struck out 17 in a one-hit shutout of Tampa Bay in August 2010. He had a career-best 203 strikeouts in 2011. He had three shutouts in a career-best 2012, when he went 10-7 with a 2.96 ERA in 21 starts.
But there were injuries along the way — biceps tendinitis in 2009, a rib-cage strain in 2012, a nerve problem in his forearm in 2013, a torn tendon sheath in his index finger in 2014 — and the Blue Jays declined to pick up Morrow's $10-million option for 2015.
Morrow signed a one-year, $2.5-million deal with San Diego but made only five starts in 2015, a season derailed by shoulder problems and ended with surgery.
The 6-foot-3, 207-pound Morrow, who lives in Scottsdale, Ariz., was beginning to ramp up his throwing program before Christmas that winter when he contracted valley fever, which causes fatigue, coughing, shortness of breath, headaches, night sweats, muscle aches and fever.
"I literally did nothing for three or four weeks," Morrow said. "I was in bed the whole time. I lost another 15 more pounds after losing 10 pounds after surgery. And then there was everything that comes with valley fever afterward, the reduced lung capacity, the fatigue, for about seven months."
Morrow pitched in 18 games for the Padres in 2016, all in relief. He had a 1.69 ERA in 16 innings, but with the average velocity of his fastball dipping to 94.2 mph, he struck out only eight.
"I felt good, but not necessarily strong, because I didn't have much of an offseason to work out between surgery and getting sick," Morrow said. "But this year I had a whole offseason of standard workouts. I only took a week off. I knew I wanted to get stronger, and I feel better than I ever have."
It shows in the crispness of Morrow's repertoire, in his fastball velocity, in his confidence, and in his growing stature as part of one of baseball's best bullpens.
"I actually feel better now than I did earlier in my career because I know where the ball is going and I can spin it," Morrow said. "I've thrown the ball about as well as I can."
Follow Mike DiGiovanna on Twitter @MikeDiGiovanna
---
Get our Dodgers Dugout newsletter for insights, news and much more.
You may occasionally receive promotional content from the Los Angeles Times.