Dodgers' Rich Hill prepared to take on any pitching duty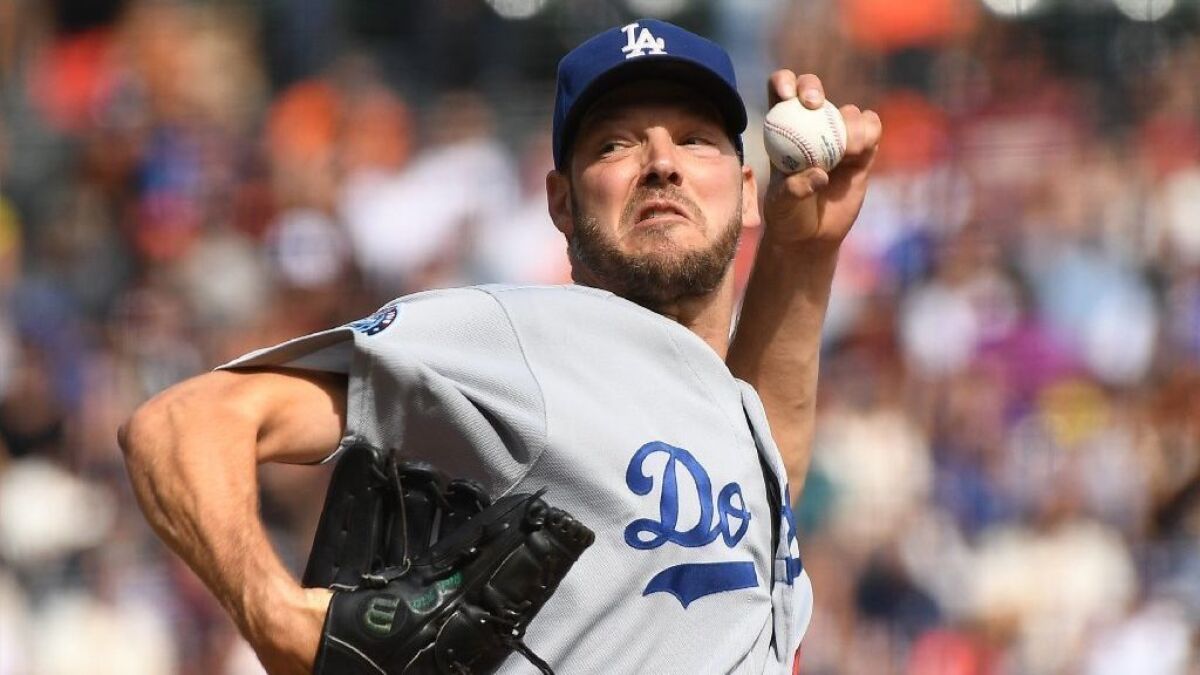 Rich Hill walked down to the visitors' bullpen at Miller Park in the eighth inning Saturday just in case. The Dodgers and Milwaukee Brewers were tangled in a tight affair. Extra innings were possible, and if the game ventured beyond the ninth frame, the Dodgers, who only had one reliever remaining by the end of the game, would've given the ball to Hill.
It would've been an appropriate outing for Hill, who's spent the last couple weeks unsure of his next assignment. But the Dodgers pulled it out in nine innings so Hill's original assignment – starting Game 4 – remained unchanged.
"Mentally this part of the year you have to be ready to pitch every single day, no matter what," Hill said. "It doesn't matter, because at the end of the day, everybody wants the championship. And that's the only thing that everybody should be thinking about, not when am I going to get in. You have to be completely selfless and buy into the fact that you are really just a pitcher; not a starting pitcher, not a reliever, not a closer, not a setup guy. You are a pitcher, and you are here to serve the 25 guys in there to fulfill the purpose as a team."
Hill, 38, hasn't been asked to come out of the bullpen, but his role has been in flux since the final weekend of the regular season. He was originally slated to start Game 163 against the Colorado Rockies, but was moved up to pitch Game 162 in San Francisco. He was notified of the switch that morning and went on to throw seven scoreless innings.
The left-hander was then assigned Game 4 of the National League Division Series — a start only made necessary when the Atlanta Braves beat the Dodgers the night before to avoid a sweep. That allowed Hill to avoid a 16-day layoff between starts. He surrendered two runs across 4 1/3 innings as the Dodgers finished off the Braves.
"I think just being as consistent as possible with that routine, again, to peak every fifth day," Hill said. "So to be prepared every fifth day and make sure that I was ready to go out there and stay in the moment and perform to the best of my ability. And I think those are the things that when you're detail oriented, when you're routine oriented, when you have the experience, those things all come into play this part of the year."
Roberts accepts Machado's 'conservation'
In the fourth inning of Game 2, Manny Machado cracked a grounder to the left side of the Brewers infield. As shortstop Orlando Arcia scooped the baseball and threw to first, Machado decelerated while approaching the bag. The play fit a pattern with Machado, who has had several instances of not running the bases at full speed.
Manager Dave Roberts indicated he had not seen the play, which is the explanation he has offered on multiple other occasions when Machado's speed out of the batter's box was mentioned.
"I heard about it after the game, and I didn't even take the time to look at it," Roberts said. "I think there's a little bit of conservation in there."
He explained, "Ideally, you'd want every guy to run every ... but I know that he's doing a lot of things to help us win baseball games. He's focused on helping us win. So I didn't think about it. And I didn't feel a need to address it with him."
Pederson welcomes baby
Joc Pederson's wife, Kelsey, gave birth to a girl Sunday night, during the Dodgers' off day, and he was in the club's starting lineup for Game 3 on Monday. He played center field and batted leadoff. Asked if Pederson would have needed to spend any time on the paternity list, Roberts indicated Andrew Toles and Chase Utley could have served as possible replacements on the roster.
Instead, Pederson was on the field Monday with a new walk-up song he unveiled in his first at-bat: The Notorious B.I.G.'s "Big Poppa."
Grandal's slide
Yasmani Grandal didn't start Game 2 after a disastrous Game 1 performance that included two errors and two passed balls, but the catcher continued his dismal postseason career by grounding into an inning-ending double play with the bases loaded. Curiously, Grandal slid feet first — not headfirst — into first base. His manager didn't know why he chose the unconventional method.
"I didn't seek a reason," Roberts said before Game 3. "I think it was just more he was frustrated that he put the ball on the ground and he was doing everything he could to get to first base. And he felt in that moment the feet-first slide was the best option. So I think if it were happening again I don't think he would do that."
Grandal was back in the starting lineup for Game 3. He finished one for three — good for a .136 batting average this postseason.
Twitter: @jorgecastillo
---
Get our Dodgers Dugout newsletter for insights, news and much more.
You may occasionally receive promotional content from the Los Angeles Times.