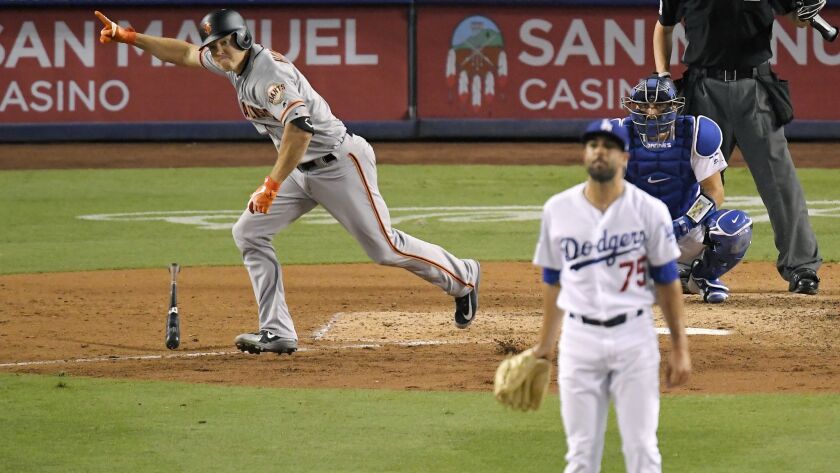 It was nearly midnight. Only one player remained in the Dodgers clubhouse. It was a relief pitcher. Of course it was.
Scott Alexander dressed slowly, a man stuck in the middle of an excruciating seven days.
It was Wednesday and he had pitched well, but another guy in the bullpen had failed again. It was the latest in a full week's worth of late-inning implosions, and the burden was building.
"We know we're under the microscope,'' Alexander said. "We know we're the one thing that everyone is looking at.''
Everyone is looking, except when everyone is hiding their eyes. In the wake of Kenley Jansen's temporarily disabling heart condition, the depleted Dodgers bullpen has become the focal point of a fear larger than the giant Jansen himself.
Could a mismatched bunch of relievers really ruin a season? Can this big-hitting, strong-rotation team really blow enough late innings to bankrupt its championship chances?
Did they really just make a mess of seven consecutive late-inning situations, including losing four games in the opponents' final at-bat for the first time in the 128-year history of the Dodgers franchise?
Alexander stood next to his locker. For 10 minutes, he did not move, did not flinch, accepted and answered every question, grinded right through them.
"You can't replace Kenley,'' Alexander said. "You lose your best reliever and closer, everybody has to step up. But not just one spot gets filled, four or five spots have to get filled, and obviously it's a challenge.''
He held out his hands, grinding into the night.
"We're all just going to do our best until Kenley gets back,'' he said.
Looking at the slender, bearded Alexander standing alone against the storm, this anonymous, unrecognizable Dodger taking the heat for one of baseball's richest and most glamorous franchises, provided a reminder about the human truth behind his resilient pronouncements.
The Dodgers bullpen can do its best, but it just wasn't built for this. It is easy to rip them, but hard to blame them.
Nobody can replace Jansen, but this bullpen wasn't fortified enough to even support Jansen. There was no bridge to him, no seventh- or eighth-inning guy. So with Jansen gone, the Dodgers have scrambled with a passel of kids, journeymen and converted starters. Really, what did everyone expect?
It has been written several times in this space recently that, for all their powerful trade deadline acquisitions, the Dodgers front office failed to fulfill its biggest need, that of veteran back-inning bullpen help. It's not that they didn't try. They looked everywhere. But for a variety of reasons financial and philosophical, they couldn't pull off a deal. And now they are paying the price.
Actually, it is Alexander and the other out-of-sorts relievers who are paying the price, and it's a high price for guys on the bottom end of baseball's food chain.
"You have to gut check, you have to step up, you have to change something, that's just the reality of the big leagues,'' Alexander said.
The reality is, looking at the seven different pitchers who have blown up in late-inning situations the last seven days, the real issue is that they ever found themselves in the same bullpen in the first place.
The pitchers are listed in chronological order, beginning with the seventh-inning blown lead in Colorado and ending with Wednesday night's eighth-inning blown lead against the San Francisco Giants.
Pedro Baez: Enough said.
Zac Rosscup: In parts of five seasons, he has a career earned-run average of 5.74.
JT Chargois: This is the first time he's pitched in two years because of arm troubles, and he's already gone a career-high 31 1/3 innings.
Dylan Floro: In parts of three big league seasons, he has never recorded a save, and has reached his career high with 52 innings.
Scott Alexander: In only his second full big league season at age 29, he has six career saves and five career blown saves.
Kenta Maeda: The converted starter was an awesome reliever last October, but every relief appearance costs him starter-incentive money, and he isn't happy about making the switch. In this case, the problem is with him, not the Dodgers. He's making more than $3 million this year, so he owes it to the team to buckle up and buy in.
Caleb Ferguson: He's 22, debuted two months ago and has appeared in 16 career games.
On this list, only Maeda and Baez pitched for the Dodgers last year. The other five were low-cost acquisitions whose combined salaries are less than what Clayton Kershaw makes for about two starts.
"I really think we'll be all right,'' Alexander said. "We really don't have a choice.''
They don't. This hodgepodge of arms has been put in a must-win, no-win position. They must be the heart of a bullpen that could be lacking a strong beat even at full strength.
Jansen could be back within a week; Ross Stripling and Josh Fields will be returning soon from the disabled list; and if Hyun-Jin Ryu continues to pitch as well as he did in his return Wednesday night, even Alex Wood could join them in the bullpen in October.
But still, who is the bridge? Who is the seventh- and eighth-inning guy? Who has done it before in big situations?
These are questions that Andrew Friedman and Farhan Zaidi haven't answered, and if they don't get answered by October the blame for this lost opportunity will be dropped at their feet.
Meantime, feeling the heat are guys such as the rookie Ferguson, who was disconsolate Wednesday night after allowing a three-run, game-tying homer to Andrew McCutchen in the eighth inning of a Dodgers' 4-3, 12-inning victory.
Alexander saw Ferguson slumped in front of his locker. He walked over to encourage him, one grinder to another.
"I told him, 'Hey, you're going to learn a lot, you're going to get better at it,''' Alexander said. "We're big boys down there. We can figure it out. We have to.''
Against all odds, yeah, they have to.
Get more of Bill Plaschke's work and follow him on Twitter @BillPlaschke
---