Dodgers' Clayton Kershaw is driven by desire to win a World Series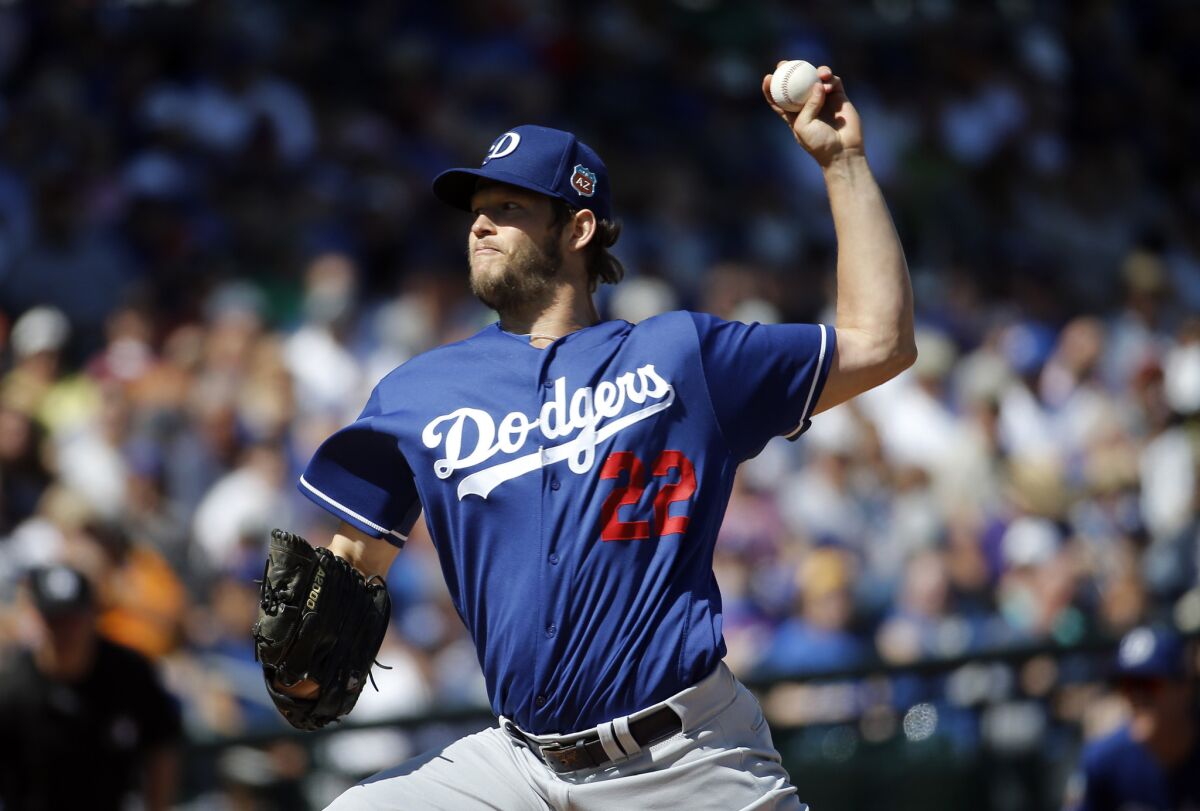 Reporting from SCOTTSDALE, Ariz. —
Clayton Kershaw might be the best pitcher on the planet, but that and $300 million could not buy him a spot in the World Series last year. He finished in the top three in National League Cy Young Award voting for the fifth consecutive year and yet this is how he thinks of himself today: Kershaw (0-0, 0.00).
"Once the season ends, nobody cares what you did, except the Royals," Kershaw said. "In 2016, no one's done anything. It's another season. You have to prove yourself all over again."
The awards are nice and all, but Kershaw can feel the pain of Dodgers fans. The Dodgers have not appeared in the World Series since 1988, the year he was born.
"Watching guys win the World Series looks like a lot of fun," he said. "I'd kind of like to do that."
Kershaw pitched five scoreless innings in the Dodgers' 6-4 exhibition victory over the Colorado Rockies on Sunday. In 10 innings this spring, he has 10 strikeouts, and an earned-run average of 0.90.
It is difficult to imagine any team depending on anything more this season than the Dodgers depending on 200 innings from Kershaw.
The Dodgers have enough depth to remain NL West favorites despite injuries to five starting pitchers, but his combination of excellence and durability makes it unlikely to fathom how they would withstand a major injury to Kershaw.
"It's a thought I don't want to entertain," catcher A.J. Ellis said. "That's how you measure 'valuable.' "
The Dodgers used a league-high 16 starting pitchers last season; no team used fewer than eight. Injuries happen. Kershaw has thrown 200 innings in five of the last six seasons, 198 in the other.
Kershaw said he does all he can to avoid injury, but he has seen fit and agile pitchers get injured and pitchers with dreadful bodies and/or mechanics endure.
"There's no rhyme or reason why people get hurt," he said.
Ellis had showered and dressed before speaking with reporters Sunday. Kershaw still was working out, after he had pitched. That, Ellis said, helped to explain why Kershaw has been more durable than most pitchers.
"The difference is what he's doing now," Ellis said. "He's out on the back fields of Talking Stick [ballpark], running foul pole to foul pole, when human nature says, 'Let's get out of here' … when every fiber of his being wants to go home and swim with his kid.' "
Players set goals every spring. Kershaw's goal, according to Ellis: He makes 34 starts, the Dodgers win them all, and the Dodgers win the World Series.
"That continues to drive him," Ellis said. "That's basically unattainable."
Shortstop in flux
Corey Seager said his left knee "kind of buckled under me" when he tried to stop while running the bases on Friday. He decided to take one more at-bat anyway.
"It probably wasn't my brightest moment," he said Sunday.
Seager feared he had torn cartilage, an injury that could have required surgery. Instead, an MRI examination Saturday revealed what Seager called a "mild sprain."
Seager and the Dodgers are hopeful he can return by the time the season starts in three weeks. Enrique Hernandez started at shortstop Sunday and will get the first shot to replace Seager.
Hernandez was drafted as a shortstop in 2009. The Houston Astros signed him and moved him to second base, he said, because they wanted him to move up the minor league ladder together with their first-round pick that year, shortstop Jiovanni Mier of Bonita High in La Verne.
Hernandez was the Astros' seventh pick that year. None of the other six, Mier included, has made the major leagues. The player the Astros drafted after Hernandez that year: Dallas Keuchel, the reigning American League Cy Young Award winner.
The Dodgers' projected starting infield — first baseman Adrian Gonzalez, second baseman Howie Kendrick, third baseman Justin Turner and Seager — has not played a single inning together this spring.
The Dodgers' opening-day shortstop, whether Seager or Hernandez, will be the sixth in as many years. Rafael Furcal started the opener at shortstop in 2011, followed by Dee Gordon in 2012, Justin Sellers in 2013, Hanley Ramirez in 2014 and Jimmy Rollins in 2015.
Get our Dodgers Dugout newsletter for insights, news and much more.
You may occasionally receive promotional content from the Los Angeles Times.