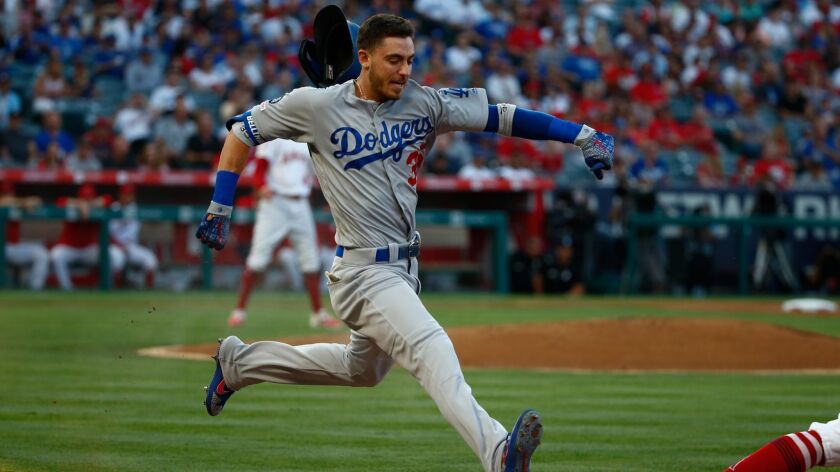 Cody Bellinger stepped into the batter's box in the sixth inning at Angel Stadium in an unusual state for the Cody Bellinger that has surfaced to become baseball's best player in 2019. He was struggling, mired in an 0-for-13 slump that nearly all hitters, even elite performers, encounter over the course of the 162-game trudge.
Bellinger busted out of it with a scorched groundball past a diving Albert Pujols at first base for his first hit since last Wednesday in Arizona. The single lifted his batting average back up to .355. By the end of the evening, after going 1 for 4, it was at .353.
Less than a month ago, Bellinger was batting 50 points higher. He was at the end of a historic seven-week stretch, one in which he was clearly baseball's best player, displaying excellence on offense, on defense and on the basepaths.
He woke up on May 21 with 17 home runs and a 1.271 on-base-plus-slugging percentage in 199 plate appearances. He had compiled more walks (29) than strikeouts (28). Most notably, he owned a .404 batting average, which had people — prematurely — wondering aloud whether he could possibly become the first player since Ted Williams in 1941 to hit .400 for an entire season.
There was a great chance he wasn't going to sustain the production. Few ever have. Dodgers manager Dave Roberts made sure to remind reporters who mentioned the subject. That discussion is now in the rear-view mirror.
His batting average still leads the majors and he was still garnering fear. On Saturday, the San Francisco Giants intentionally walked him three times. Corey Seager punished them each time. And on Monday, he snapped a short skid magnified by a start few in history have rivaled.
One of the few on that level was, coincidentally, on the other side Monday. Mike Trout, baseball's consensus best player this decade, has made posting unmatched stat lines an annual occurrence. And while Bellinger has garnered the attention, Trout has quietly stitched together another MVP-level season.
Entering Monday, Trout and Bellinger were tied for the lead in FanGraphs WAR at 4.5 Trout's .469 on-base percentage led the majors. His 1.096 OPS was tops in the American League. And in the seventh inning Monday, he delivered a game-tying, two-run home run off Dylan Floro as a reminder of his prowess.
"Mike's done it for a long time and has been very consistent," Roberts said. "I enjoy watching him."
Sign up for our Dodgers newsletter »
Beaty to continue rehab assignment
Matt Beaty was with the Dodgers at Angel Stadium on Monday, a day after going 1 for 3 for single-A Rancho Cucamonga to begin his rehab assignment.
Roberts said Beaty will resume his rehab assignment Wednesday and Thursday. He'll get Friday off and could return Saturday. Beaty was placed on the 10-day injured list June 5, retroactive to June 3, with a left hip flexor strain. He is batting .286 with one extra-base hit and a .595 on-base-plus-slugging percentage in 17 games this season.
Cingrani undergoes surgery
Left-hander Tony Cingrani underwent season-ending surgery on his left shoulder last week, according to Roberts. The manager was unsure of the details but believed Cingrani's injury was labrum-related.
Cingrani, who will make $2.65 million this season, didn't appear in a game for the Dodgers. He reinjured his shoulder during spring training, was shut down in mid-March, began the season on the injured list and suffered a setback on a rehab assignment last month.
Twitter: @jorgecastillo
---