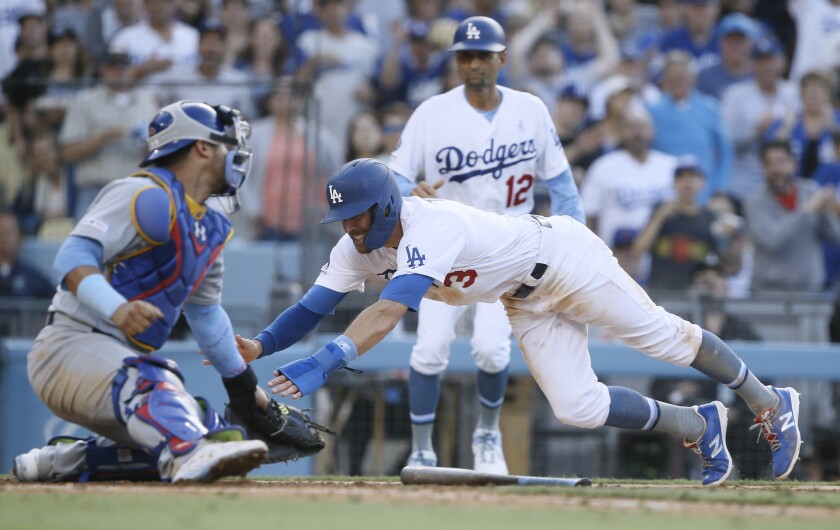 The performance of a third-base coach is evaluated much like that of a home-plate umpire. You usually know he's done a good job if nobody notices him during the game and he is not a focal point of discussion afterward.
This was not the case on Sunday with Dino Ebel, the Dodgers third-base coach, who played an integral role in a pivotal play and garnered the attention of reporters and the praise of his manager after a 3-2 victory over the Chicago Cubs.
With one out in the eighth inning of a 2-2 game and Chris Taylor on second base, Dodgers catcher Russell Martin reached out for a low-and-away Steve Cishek two-strike slider and poked a soft single to left field.
Taylor hesitated for a second after contact, thinking there might be a chance the flare was caught, before breaking for third. Cubs left fielder Kris Bryant charged and fielded the ball cleanly, and he was winding up to throw home before Taylor even reached third base.
Ebel, who held Taylor at third on Max Muncy's no-outs single to center field in the sixth inning, waved Taylor home this time, and Taylor beat Bryant's up-the-first-base-line throw with a head-first slide into the plate for the winning run.
"A little soft liner to Kris, I came down the line and just thought, where Chris was and where Bryant got the ball, I saw a little footwork action going on," said Ebel, who is in his first season with the Dodgers after spending the previous 14 years as the Angels' third-base coach and bench coach.
"I just felt that where Kris was, he had to make a perfect throw. In that situation, one out, bottom of the eighth, I felt right now is the time to be aggressive. Chris has good instincts. He got a great jump. Again, he has to make a good throw. I can live with it [if Taylor was thrown out]. He didn't. We got the win."
Sign up for our Dodgers newsletter »
Ebel also knew that Bryant was a third baseman by trade who had made only 59 of his 610 career starts in left field and was playing there Sunday so Cubs manager Joe Maddon could get another right-handed bat in the lineup against Dodgers left-hander Hyun-Jin Ryu.
Bryant made a strong but off-line throw that forced catcher Willson Contreras to make a back-hand attempt to catch the ball and swipe a tag on Taylor. Contreras did not field it cleanly, and Taylor was safe.
"I was not surprised Dino sent him because I still think, with Chris' running ability, it's going to take a very good throw to get him," Dodgers manager Dave Roberts said. "You have to take a chance. I honestly haven't seen anyone better in baseball taking hold of third base [than Ebel]."
---