Early struggles doom Dodgers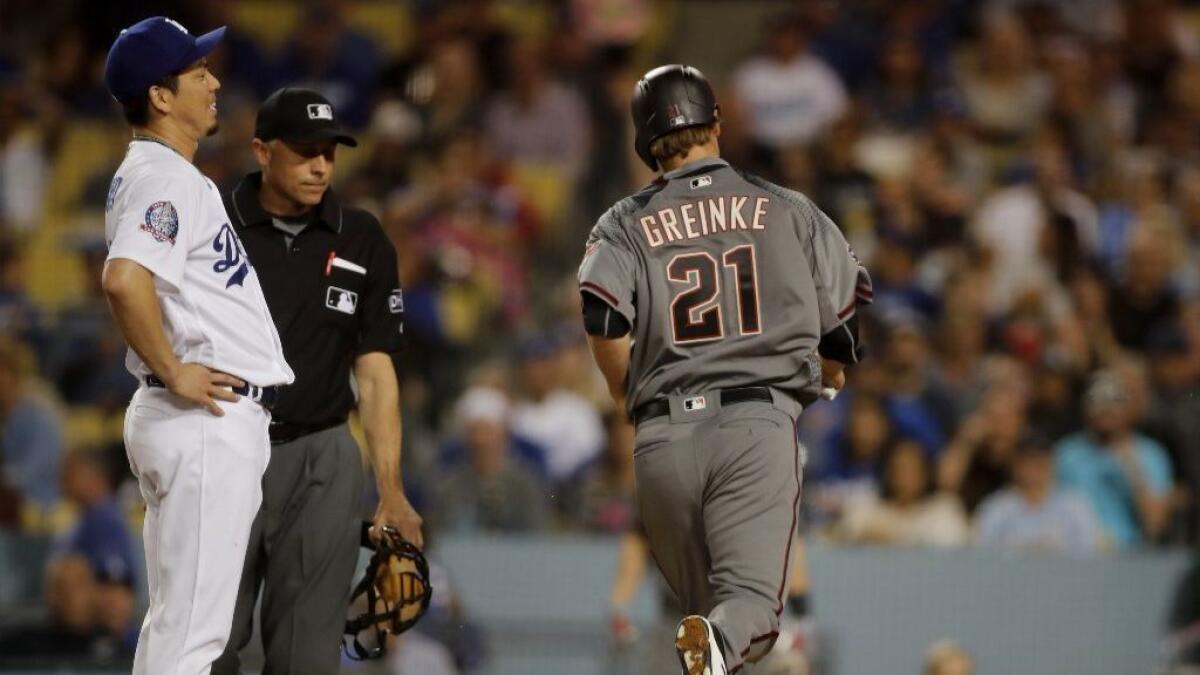 Fortune favored the Dodgers on Friday. The score may not reflect this, not after an 8-7 defeat to Arizona, but good luck blessed the team through the final innings.
They scored three runs in the seventh on a trio of groundball singles. They scored two more in the eighth when a groundball bounced off second base.
And yet they could not capture a victory. The early hole dug by starter Kenta Maeda was too deep. The relief work of Tony Cingrani and J.T. Chargois did not help. The offense gave away too many at-bats earlier and could not capitalize late. With the tying run at third base and one out in the eighth, Chris Taylor grounded into a double play against Arizona reliever Archie Bradley.
It was a black mark on an otherwise quality evening for Taylor. He flung his helmet and screamed as the inning came to a close. The Dodgers (4-8) have lost four times to the Diamondbacks in the year's first fortnight and granted life to an upstart aiming to transfer control of the National League West out of Los Angeles.
"We've got to beat them at least once before the season's over," outfielder Matt Kemp said. "It's a long season, still."
After permitting 16 runs in a loss to a hapless Oakland club on Wednesday, the Dodgers received a day off. The rest did little good. Maeda imploded after nearly two weeks without making a start. His communication with catcher Yasmani Grandal was spotty. His command was missing. Maeda unraveled in the third after walking the opposing pitcher, former Dodger Zack Greinke.
A humorous scene unfolded in the seventh inning. In the second deck of the ballpark, a group of fans hollered as a fellow chugged a beer. "M-V-P! M-V-P!" they chanted. Moments later, Arizona third baseman Daniel Descalso crushed a two-run homer off Cingrani. In the eighth, Chargois served up a home run to shortstop Nick Ahmed.
Stunned by a leadoff homer from Taylor in the first inning, Greinke looked uncomfortable on the mound. At one point, the game ground to a halt as he attempted to loosen up. He recovered in time to bat aside the Dodgers lineup. He retired 12 in a row and 15 of 16 before Cody Bellinger launched a solo shot in the sixth.
The offense found traction against Greinke in the seventh. He exited the game after giving up a walk and a double. The trio of Taylor, Corey Seager and Kemp threaded singles to bring home runs. An inning later, facing Bradley, Chase Utley chopped a grounder up the middle. The ball caromed off the bag and brought two runs home. But Taylor grounded into the double play to end the threat.
At the center of Friday's early slop was Maeda. He was making his second start of the season. After five scoreless innings in his 2018 debut, Maeda shifted into the bullpen. He pitched once during a 12-day span. In part, this was the result of a rainout last weekend in San Francisco. In part, it was by design.
Slated to start last Friday, Maeda saw his outing washed away by a storm in the Bay Area. The Dodgers elected to start Rich Hill and Clayton Kershaw during the next two days at AT&T Park. Maeda did not start either of the two games against Oakland earlier this week, a series bracketed by two off days. The layoff did not aid Maeda.
"Possibly [pitching] one inning in 13 days got him," manager Dave Roberts said. "It's a lot to throw on the plate of the player."
As a reliever in the playoffs last year, Maeda hounded right-handed hitters by challenging them inside the zone. He eschewed the passivity that marred most of his 2017 regular season, plagued by "nibbling" as Roberts called it. Roberts expected better on Friday.
Maeda could not deliver. A leadoff of outfielder David Peralta led to a first-inning run for Arizona. Maeda gave up a single to Diamondbacks shortstop Ketel Marte. Maeda tried a 91.2 mph fastball against Descalso, who stroked an RBI single.
The deficit ended after one at-bat in the bottom of the first. Greinke fell behind in the count and hummed a 2-1 fastball over the plate. The pitch clocked at 89.5 mph on the radar gun and its positioning was ideal for Taylor. Greinke unleashed an expletive as Taylor hammered a solo shot.
Greinke helped Maeda come apart in the third. At the plate, Greinke stood watch as Maeda flung fastballs outside the zone and took a walk. A single by Peralta compounded the trouble. Maeda could blame what followed on no one but himself.
With runners at first and second, Marte chopped a grounder back toward the mound. Maeda whirled to start a potential double play at second base. His throw pulled Seager across the diamond, his feet unable to touch the bag for a forceout. Instead of two outs, Maeda recorded zero.
"Everything started snowballing after my own mistake," Maeda said through his interpreter, Will Ireton. "It was mistakes after mistakes. It's something I regret."
The bases were loaded. Maeda set forth to emptying them. One run scored on a fastball in the dirt that Grandal could not intercept. Another scored on a slider that eluded Grandal's glove on a passed ball as he attempted to backhand it. Descalsco brought home another run with a sacrifice fly.
Now the bases were free of Diamondbacks. The diamond did not remain pristine for long. Arizona outfielder Chris Owings hammered a curveball for a double. In the bullpen, Ross Stripling stirred. Roberts allowed Maeda to face one more batter, the speedy outfielder Jarrod Dyson.
Dyson flashed some strength as he yanked a curveball into the right-field corner for a two-out, RBI double. Roberts left his dugout to fetch Maeda. The crowd appeared either disgusted or bored. You could not blame them for either reaction.
"It's early, man," Kemp said. "We're not panicking."
Twitter: @McCulloughTimes
Get our Dodgers Dugout newsletter for insights, news and much more.
You may occasionally receive promotional content from the Los Angeles Times.