How the Dodgers and Diamondbacks match up in NLDS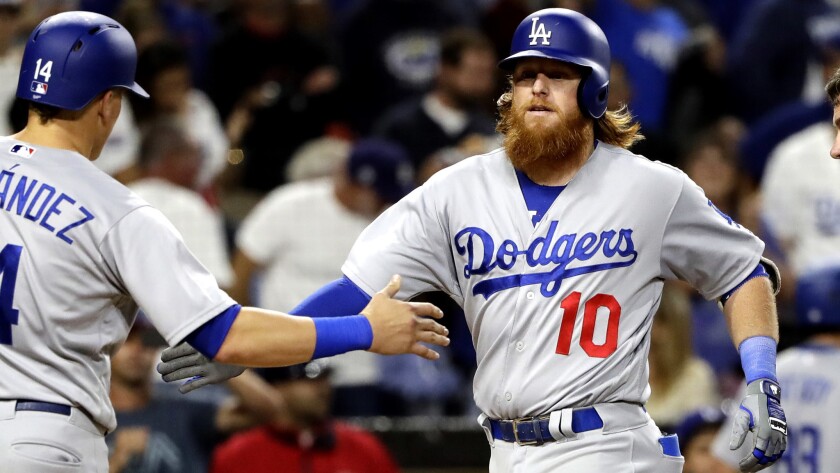 HOW THEY MATCH UP
Dodgers vs. Arizona Diamondbacks
National League division series
Projected lineups
The high-powered Dodgers offense looked less formidable in September, as Corey Seager battled elbow soreness, Cody Bellinger took a small step backward and Chris Taylor hit .218. Justin Turner remains the beating heart of the lineup, but the team could use contributions from outfielder Yasiel Puig and Curtis Granderson. Arizona superstar Paul Goldschmidt is also dealing with elbow issues, but deadline addition J.D. Martinez hit an incredible 29 homers as a Diamondback. The rest of the lineup is filled with imperfect but dangerous hitters such as outfielder David Peralta, outfielder A.J. Pollock and shortstop Ketel Marte. The Arizona lineup pilloried the Dodgers pitchers in the last series they played at Chase Field. Advantage: DIAMONDBACKS.
Projected Game 1 Diamondbacks lineup
POS; PLAYER; AVG.; HR; RBI; COMMENT
LF; David Peralta; .293; 14; 57; Steady contact hitter presents little threat on the basepaths.
SS; Ketel Marte; .260; 5; 18; 23-year-old displayed more plate discipline in his first season with the Diamondbacks.
1B; Paul Goldschmidt; .297; 36; 120; Consistent slugger has been dealing with an elbow injury for a month.
RF; J.D. Martinez; .303; 45; 104; Hit 29 homers — just about one every other day — after Arizona acquired him in July.
3B; Jake Lamb; .248; 30; 105; All-Star this year has posted nearly identical statistics the last two seasons.
CF; A.J. Pollock; .266; 14; 49; One-time MVP candidate was only average this year, after adjusting for Chase Field.
2B; Daniel Descalso; .233; 10; 51; Managers love him; advanced statistics don't.
C; Chris Iannetta; .254; 17; 43; Veteran produced one of his best offensive seasons, but won't catch Zack Greinke.
P; Taijuan Walker; .231; 1; 5; Had 12 hits, including first career home run, a 455-foot blast vs. Atlanta.
Projected Game 1 Dodgers lineup
POS; PLAYER; AVG.; HR; RBI; COMMENT
CF; Chris Taylor; .288; 21; 72; Acquired in June 2016 from Mariners; had breakout season.
SS; Corey Seager; .295; 22; 77; Slumped through September while batting elbow inflammation.
3B; Justin Turner; .322; 21; 71; Led the Dodgers with a .945 on-base-plus-slugging percentage.
1B; Cody Bellinger; .267; 39; 97; Established National League record for homers by a rookie.
LF; Curtis Granderson; .212; 26; 64; Batted .161 after joining Dodgers in mid-August.
RF; Yasiel Puig; .263; 28; 74; Rebounded after troublesome 2016 with Gold Glove defense.
C; Yasmani Grandal; .247; 22; 58; Posted .638 OPS in September, may lose time to Austin Barnes.
2B; Chase Utley; .236; 8; 34; Wily veteran still inspires awe from teammates.
P; Clayton Kershaw; .184; 0; 2; Has nine hits, including a double, six sacrifices.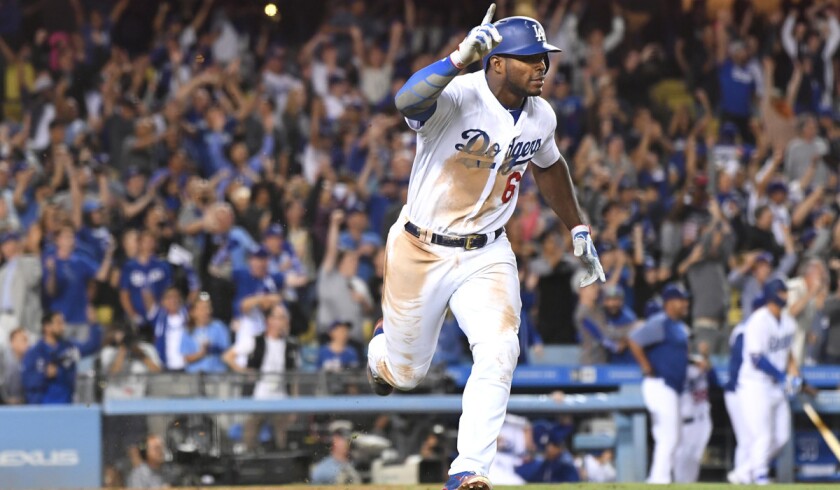 ::
Projected starting pitchers
The decisions made by Arizona manager Torey Lovullo in Wednesday's wild-card game may have tilted the advantage of this series toward the Dodgers. By using Robbie Ray for 34 pitches, the Diamondbacks removed him from the equation for Game 1 against Clayton Kershaw. Zack Greinke, Arizona's starter on Wednesday, won't start until Game 3. Rich Hill, the Dodgers' Game 2 starter, has been excellent at home, while Game 3 starter Yu Darvish has flourished on the road. Arizona will counter Kershaw, who still looks unsteady as he returns from another back injury, with Taijuan Walker in Game 1. Advantage: DODGERS.
Projected Diamondbacks starters
T; PITCHER; W-L; ERA; COMMENT
RH; Taijuan Walker; 9-9; 3.49; Arizona's big winter acquisition had his most consistent season.
LH; Robbie Ray; 15-5; 2.89; Only one major league starter struck out batters at a higher rate this year: Chris Sale.
RH; Zack Greinke; 17-7; 3.20; Former Dodger and Angel made good on his massive contract this season.
LH; Patrick Corbin; 14-13; 4.03; Enjoyed much more success at Chase Field than away from it.
Projected Dodgers starters
T; PITCHER; W-L; ERA; COMMENT
LH; Clayton Kershaw; 18-4; 2.31; Made six starts in September after missing five weeks because of back injury.
LH; Rich Hill; 12-8; 3.32; Has a 2.77 earned-run average at Dodger Stadium in 2017.
RH; Yu Darvish; 10-12; 3.86; As Dodger, excelled on road with 2.44 ERA, and will start Game 3.
LH; Alex Wood; 16-3; 2.72; 1.67 ERA with two homers given up in first half; 3.89 ERA, 13 homers in second.
::
Projected bullpens
Here is one area where the Dodgers own a considerable advantage, with elite closer Kenley Jansen available for multi-inning stints on a regular basis. The middle of the bullpen is less reliable, but the Dodgers believe in Brandon Morrow, Josh Fields, Tony Watson and Tony Cingrani. While Arizona employs dynamic setup man Archie Bradley, closer Fernando Rodney is considered one of baseball's foremost arsonists. Advantage: DODGERS.
Projected Diamondbacks bullpen
T; PITCHER; W-L-S; ERA; COMMENT
RH; Archie Bradley; 3-3-1; 1.73; Has electric stuff and even hit a bases-clearing triple in the wild-card game.
RH; Fernando Rodney; 5-4-39; 4.23; 40-year-old is baseball's streakiest closer, prone to blow-ups.
RH; David Hernandez; 3-1-2; 3.11; Ex-Angel walked one hitter in two months but had 4.82 ERA with the Diamondbacks.
RH; Zack Godley; 8-9; 3.37; In his first full season, unheralded right-hander found success by limiting homers.
LH; Andrew Chafin; 1-0-0; 3.51; Racks up strikeouts and walks at high rates.
LH; Jorge De La Rosa; 3-1-0; 4.21; Formerly an innings-eating starter, he's now a specialist vs. left-handers.
RH; Jimmie Sherfy; 2-0-1; 0.00; Intriguing rookie played with Torey Lovullo's son at Newbury Park High.
Projected Dodgers bullpen
RH; Kenley Jansen; 5-0-41; 1.32; The best closer in baseball, with only one blown save in 2017.
RH; Brandon Morrow; 6-0-2; 2.06; Emerged as Jansen's primary setup man after starting season in minors.
LH; Tony Cingrani; 0-0-0; 4.22; Posted 2.79 ERA after joining Dodgers at trade deadline.
LH; Tony Watson; 7-4-10; 3.38; The team's most trustworthy left-hander, he relies on soft contact.
RH; Josh Fields; 5-0-2; 2.84; Specializes in high fastballs to rack up strikeouts.
RH; Kenta Maeda; 13-6-1; 4.22; May be used in long relief after leaving rotation.
RH; Pedro Baez; 3-6-0; 2.95; The black sheep of the bullpen, he had a 10.38 ERA in September.
RH; Walker Buehler; 1-0-0; 7.71; Rookie with incredible pitch arsenal, questionable command.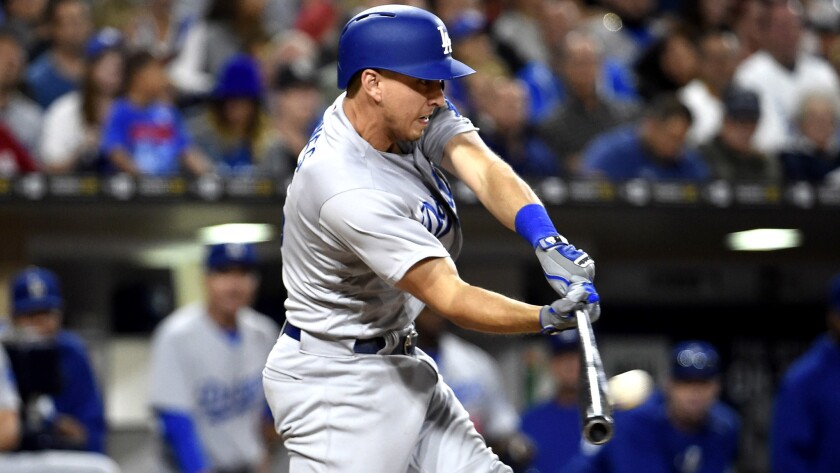 ::
Projected reserves
The Dodgers will have Austin Barnes available to pinch-hit on days when Yasmani Grandal catches, while Andre Ethier will likely be the primary option against right-handed pitchers. Chris Iannetta had a productive season in the desert, with an .865 on-base-plus-slugging percentage, and will be a difficult at-bat off the bench when he isn't in the starting lineup at catcher. Advantage: DODGERS.
Projected Diamondbacks reserves
POS; PLAYER; AVG.; HR; RBI; COMMENT
C; Jeff Mathis; .215; 2; 11; Six years removed from his Angels tenure, he can catch, but still can't hit.
C; Chris Herrmann; .181; 10; 27; Offers Arizona flexibility to pinch-hit catchers and can handle the outfield.
2B; Brandon Drury; .267; 13; 63; Acquired in the Justin Upton trade, he is generally the first bat off the bench.
SS; Adam Rosales; .202; 3; 9; Utility man offers little at the plate.
LF; Gregor Blanco; .246; 3; 13; Former San Francisco starter has 15 stolen bases in 16 attempts.
CF; Rey Fuentes; .235; 3; 9; His cousin, Carlos Beltran, might be the best playoff performer of our time.
Projected Dodgers reserves
POS; PLAYER; AVG.; HR; RBI; COMMENT
C; Austin Barnes; .289; 8; 38; He'll start against left-handed pitchers, and maybe more.
2B; Logan Forsythe; .224; 6; 36; Cold for most of the year, he's still a useful defender.
LF; Enrique Hernandez; .215; 11; 37; He'll start in left field against left-handed pitchers.
LF; Andre Ethier; .235; 2-3; Team's primary pinch-hitter in Dodgers swan song.
C; Kyle Farmer; .300; 0-2; A third catcher, he allows Dodgers to use Barnes as pinch-hitter.
::
Andy McCullough's pick
If Arizona hadn't expended Robbie Ray in the wild-card game, I would have viewed the Diamondbacks as the favorite. The uncertainty with Ray, and the delayed arrival of Zack Greinke, gives the Dodgers a sizable advantage in the first two games at Dodger Stadium. That should be enough to squeak through to the next round. DODGERS IN FIVE.
Twitter: @McCulloughTimes
---
Get our Dodgers Dugout newsletter for insights, news and much more.
You may occasionally receive promotional content from the Los Angeles Times.