Dodgers happy to avoid Diamondbacks' Robbie Ray in Game 1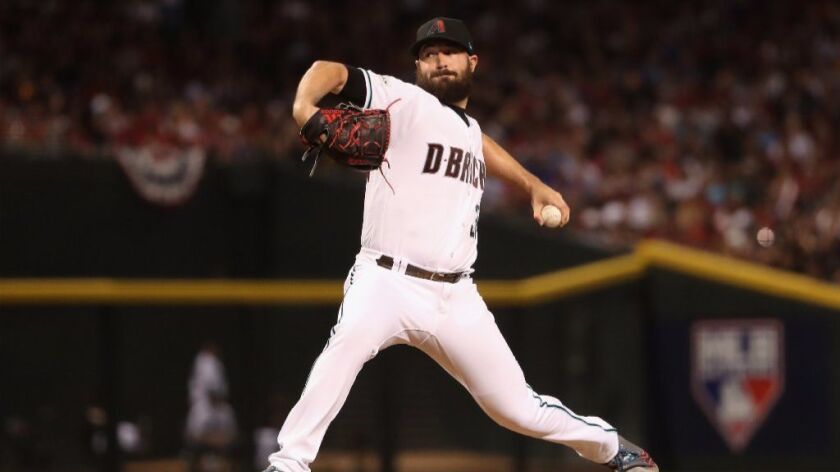 The most consequential strategic decision of the Dodgers' National League division series against Arizona may have occurred in the fifth inning of the wild-card game Wednesday at Chase Field. That's when Diamondbacks manager Torey Lovullo called upon Robbie Ray, his theoretical starter for Game 1 of this series, to pitch in relief and help his team sneak past Colorado.
Ray lasted 2 1/3 innings. He logged 34 pitches. It was his first relief appearance since 2014, and it altered the expected trajectory of the NLDS.
Ray, a left-handed pitcher with a glorious beard and a wicked slider, has dominated the Dodgers in 2017. He still might pitch twice in this series, but the Dodgers recognized the difference between seeing him in Game 2 and Game 5, rather than Game 1 and Game 4.
"I wasn't mad," Dodgers shortstop Corey Seager said. "We'll put it that way."
The Dodgers were already excited that Zack Greinke, who started Wednesday, would not be available until Game 3 of this series. Now they'll get a temporary reprieve from Ray.
Lovullo named Taijuan Walker, a 25-year-old right-hander who said he was so nervous Wednesday that he struggled to watch the game, as his starter for Friday. Walker will duel with Clayton Kershaw. With Rich Hill listed as the Dodgers starter for Game 2, Ray pronounced himself capable of pitching on two days of rest that night.
"I'm ready to go, for whatever they ask me to do," Ray said.
The Diamondbacks planned to make a decision about Ray by Friday. Lovullo indicated the organization wanted to "walk him through his throwing program today and tomorrow and just see where he's at." If Ray can answer the bell, he'll get the ball.
"I mean, it would be everybody's choice, right?" Lovullo said. "If he's healthy, and strong, we're certainly leaning in the direction of putting Robbie out there as quickly as possible. But we're going to make sure he's OK first."
Ray faced the Dodgers five times in 2017. He did not lose a decision. He posted a 2.27 earned-run average and held the opposing hitters to a .211 average.
Seager has hit .143 against Ray in his career. Cody Bellinger has hit .167. Justin Turner has hit .208. "Ray has really got the best of us," Roberts said.
The decision to use Ray, who went 15-5 overall, against Colorado stemmed from urgency. As Roberts saw it, it made sense for Lovullo to use "arguably your best pitcher" to keep a season alive. But it also hinted at one of Arizona's weaknesses, the soft underbelly of its relief corps.
Archie Bradley, another bearded wonder, headlines the bullpen. He occupies the role of the fireman, capable of providing multiple innings of relief on a regular basis. But closer Fernando Rodney can ignite an opponent's rally at any moment, and the rest of the group is relatively unproven. That's why they had to use Ray as a reliever.
The starters make up the strongest part of the Diamondbacks' pitching staff. Ray led the group with a 2.89 earned-run average in 28 starts. But his availability for this series was drawn into question by his usage Wednesday. The Dodgers did not mind.
"It's different," Seager said. "It's really different."
Follow Andy McCullough on Twitter @McCulloughTimes
---
Get our Dodgers Dugout newsletter for insights, news and much more.
You may occasionally receive promotional content from the Los Angeles Times.