Dodgers select Vanderbilt outfielder Jeren Kendall in first round of MLB draft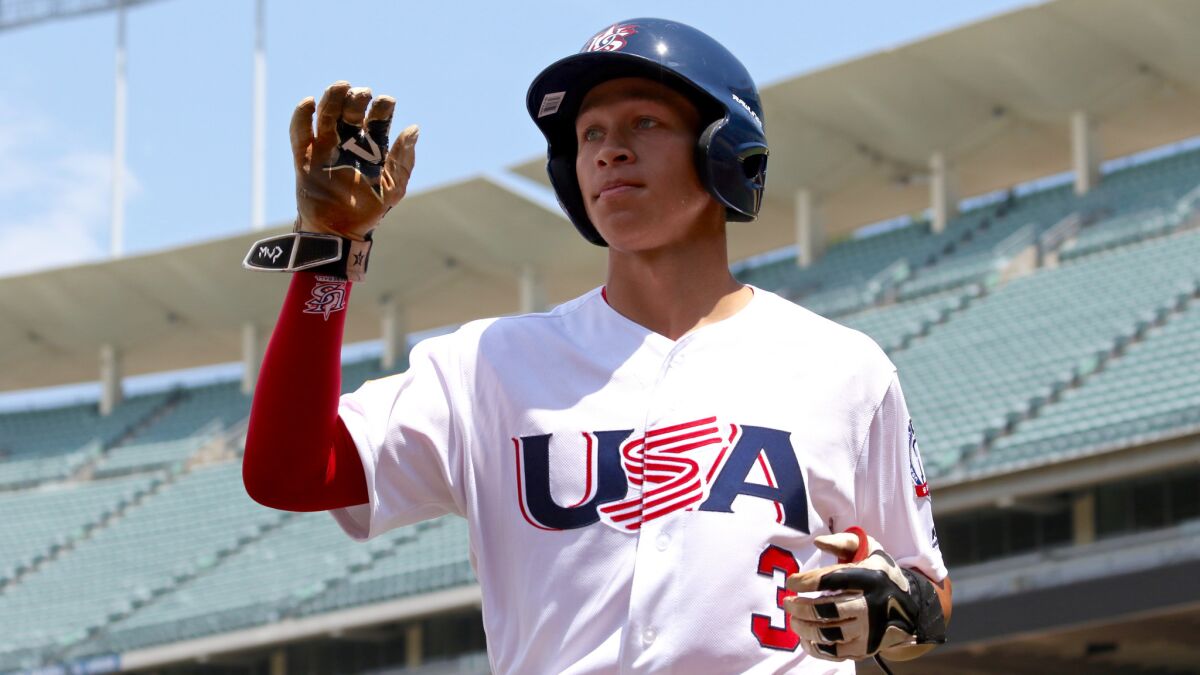 The Dodgers chose dynamic Vanderbilt University outfielder Jeren Kendall, who combines superb speed with above-average power and defense, with the 23rd overall pick in Monday's draft.
They used their second-round pick (62nd overall) on Morgan Cooper, a 6-foot-4, 220-pound right-hander from the University of Texas who missed the 2015 season because of elbow ligament-replacement surgery but rebounded to become one of the nation's top college pitchers this past season.
The 6-foot-1, 190-pound Kendall, who bats left-handed and throws right-handed, hit .307 with 15 homers, five triples, 10 doubles and 53 RBIs. He also stole 20 bases in 24 attempts in 62 games as a junior this past season.
"When he puts ball in play, there's a premium speed or power result, whether it's a home run, double or stolen base," Dodgers scouting director Billy Gasparino said. "If we can improve his contact rate so he can put ball in play, we feel he'll be a productive player."
Kendall, a native of Holmen, Wis., has excellent bat speed and raw power, but there is a question as to whether he will be able to make consistent contact in the big leagues. He struck out 74 times and walked 24 times in 261 at-bats, with many of his whiffs coming on pitches outside the strike zone.
"I think every player has a development piece, and sometimes more than one, to reach the major leagues," Gasparino said. "I'm sure our coaches will work on that area. He's aware of it, and we'll work together to improve it."
Kendall is a plus defender in center field, with a strong, accurate arm. Some have compared the 21-year-old to New York Yankees outfielder Jacoby Ellsbury.
"Jacoby didn't have his power in college, but you can see how they make that comparison," Gasparino said. "We would love it if that was the end result. … He's an explosive player. Some people use the five-tool term."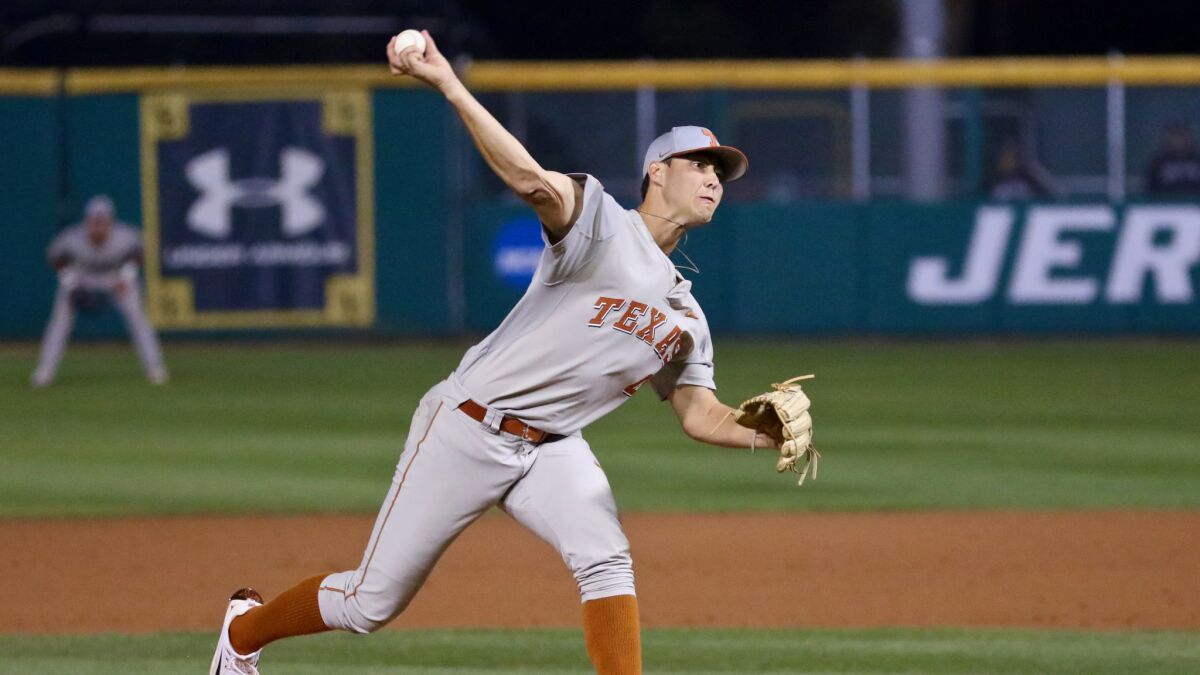 It marked the third straight year the Dodgers have used one of their first picks on a Vanderbilt product following the selection of pitchers Walker Buehler (first round in 2015) and Jordan Sheffield (2016 compensation-round pick).
"We have a lot of respect for their program," Gasparino said, "but I think it's pretty coincidental."
Cooper, 22, went 6-3 with a 2.32 ERA in 16 games as a redshirt junior this past season, striking out 110 and walking 33 in 89 1/3 innings and holding batters to a .204 average. His fastball sits in the 94 mph range; he also has two good breaking pitches and a changeup.
"He's what you'd expect out of a Texas right-handed pitcher: big, strong, and really competitive," Gasparino said. "We love his mean streak on the mound. Two years off Tommy John surgery, it seemed like he was trending up and coming into his own."
Major League Baseball's suggested slot value for the 23rd pick is $2,702,700. The slot value for the 62nd pick is $1,018,200.
"Like all college juniors, we expect them to sign," Gasparino said. "I think our organization is a place people want to come. I expect [negotiations] will go well, but it's always a two-way street. We'll see what happens."
Follow Mike DiGiovanna on Twitter @MikeDiGiovanna
Get our Dodgers Dugout newsletter for insights, news and much more.
You may occasionally receive promotional content from the Los Angeles Times.