Dodgers Dugout: Dodgers are looking more like last year's team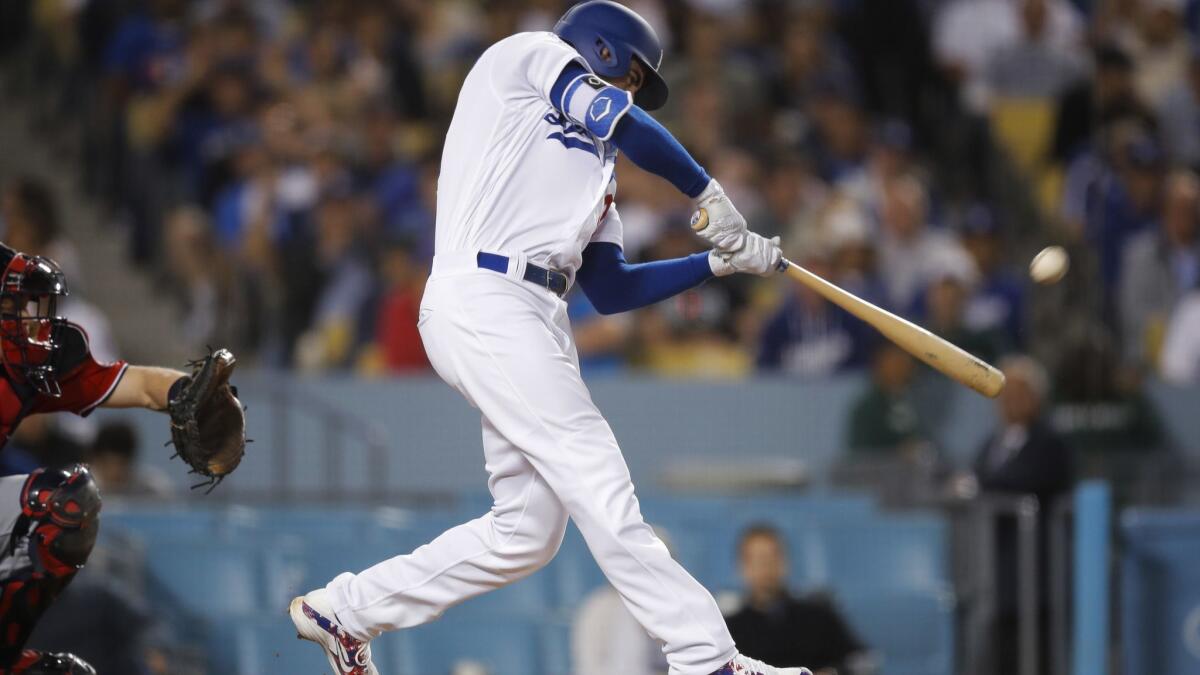 Hi, and welcome to another edition of Dodgers Dugout. My name is Houston Mitchell. After all the gnashing of teeth after the bad start to the season, the Dodgers now have a better record than they did at this point last season.
Back in the saddle again?
—OK, it may be too soon to say the Dodgers are back, but they have won six of seven and look a lot more like the team that won the NL pennant last season.
—I could point out that this string of good games and the resurgent offense coincides with the team putting Logan Forsythe on the disabled list, but that would be mean, so I won't do it.
—In those seven games, Corey Seager hit .321/.429/.464 and Chris Taylor hit .281/.343/.541. It's amazing how the offense works better when the first two guys in the lineup hit better.
—How does Cody Bellinger look so bad on one swing and then hit a drive off the wall on the next swing?
—That slide by Bellinger on Sunday was brilliant. Pulling his hand back to avoid the tag while sliding into second is a lot harder than he made it look.
—Hey ESPN, if you are going to basically ignore two or three Dodger at-bats to interview someone, at least interview a Dodger, OK?
—Alex Rodriguez makes some great points during the games. We live in a world now where Rodriguez is a respected baseball commentator and Derek Jeter is a reviled team owner. How did that happen?
—Watching Hyun-Jin Ryu dominate the Nationals on Saturday makes it all the more frustrating when he goes out there and gives up six runs in three innings.
—With the way the Arizona Diamondbacks are playing, the Dodgers may need to win 104 games again this season just to make the playoffs.
—Tony Cingrani has a new nickname: "Savage."
—Did you see how mad Kenley Jansen got when he gave up that second hit Sunday in the ninth inning? And then his velocity went back up to normal on the next batter? I think that may be the turning point to his season.
Buehler … Buehler …
Walker Buehler makes his starting debut for the Dodgers tonight against the Marlins. He was pitching very well in the minors, striking out 16 batters in 13 innings with a 2.08 ERA. And pitching against the Marlins is very much like facing a minor-league team, so he shouldn't notice much of a difference. The Dodgers still want him pitching no more than 150 innings or so this season, so don't expect him to stick around even if he pitches really well.
Cy who?
Before Friday's Dodger game, Jerry Hairston Jr. was on the pre-game show talking about how he always hit Cy Young winners well. I was listening to this and thought, "Is that really true? Did a guy with a .257 career batting average really hit Cy Young winners well?"
Thanks to baseball-reference.com, we can check. Here's how he did against Cy Young winners:
Barry Zito: 10 for 29, 4 doubles, 1 homer, 9 walks, .345
Roy Halladay: 3 for 31, .097
Pedro Martinez: 11 for 30, 2 doubles, 1 triple, .367
Chris Carpenter: 7 for 30, 1 double, .233
CC Sabathia: 10 for 31, 2 doubles, 1 homer, .323
Roger Clemens: 6 for 26, 1 double, .231
Cliff Lee: 3 for 27, 1 homer, .111
Bartolo Colon: 4 for 20, .200
Johan Santana: 2 for 20, .100
David Cone: 2 for 12, 1 double, .167
Zack Greinke: 7 for 13, 5 doubles, .538
Randy Johnson: 1 for 10, .100
Jake Peavy: 1 for 9, .111
R.A. Dickey: 2 for 7, .286
Clayton Kershaw: 3 for 8, 2 doubles, .375
David Price: 0 for 7, .000
Jake Arrieta: 1 for 6, 1 double, .167
Tom Glavine: 1 for 5, 1 double, .200
Felix Hernandez: 2 for 5, 1 double, .400
Tim Lincecum: 2 for 4, .500
Brandon Webb: 0 for 5, .000
Bret Saberhagen: 0 for 4, .000
Eric Gagne: 1 for 3, 1 double, .333
Dwight Gooden: 0 for 3, .000
Greg Maddux: 1 for 3, .333
Pat Hentgen: 2 for 2, 1 double, 1.000
John Smoltz: 0 for 1, .000
Justin Verlander: 0 for 1, .000
Total: 82 for 352, 23 doubles, 1 triple, 3 homers, .233
Overall, Hairston hit .233 against Cy Young Award winners, including .367 against Pedro Martinez and .375 against Clayton Kershaw. So while he didn't exactly own Cy Young winners, you can see why he remembers it that way.
Comparison
2018 Dodgers: 10-10, third place in NL West, 4.5 games behind Arizona, +14 run differential
2017 Dodgers: 9-11, third place in NL West, 5 games behind Colorado, +11 run differential
These names seem familiar
What recently departed Dodgers are doing around the league (through Saturday):
Adrian Gonzalez, Mets: .229/.345/.391, 2 HRs, 11 RBIs, 107 OPS+
Charlie Culberson, Braves, .125/.250/.167, 20 OPS+
Brandon McCarthy, Braves, 3-0, 2.91 ERA, 134 ERA+
Yu Darvish, Cubs, 0-2, 6.86 ERA, 59 ERA+
Curtis Granderson, Blue Jays, .319/.439/.532, 164 OPS+
Brandon Morrow, Cubs, 0-0, 3 saves, 0.00 ERA
Tony Watson, Giants, 1-1, 1.04 ERA, 382 ERA+
Chris Hatcher, A's, 2-0, 11.12 ERA, 39 ERA+
Luis Avilan, White Sox, 0-0, 6.35 ERA, 68 ERA+
Trayce Thompson, traded to White Sox from A's, .167/.167/.417, 58 OPS+
Andre Ethier, still unsigned
Up next
Monday, 7 p.m.: Miami (Jarlin Garcia, 1-0, 0.86 ERA) at Dodgers (Walker Buehler, first appearance this season)
Tuesday, 7 p.m.: Miami (Dillon Peters, 2-2, 6.98 ERA) at Dodgers (Kenta Maeda, 2-1. 3.77 ERA)
Wednesday, 4:30 p.m.: Miami (Trevor Richards, 0-2, 6.16 ERA) at Dodgers (Clayton Kershaw, 1-3, 2.45 ERA)
And finally
Justin Turner takes swings off tee. Read all about it here. And if you want to read more about the 25 greatest Dodgers list, check out this conversation I had with Howard Cole at Forbes.com.
Have a comment or something you'd like to see in a future Dodgers newsletter? Email me and follow me on Twitter: @latimeshouston.
Get our Dodgers Dugout newsletter for insights, news and much more.
You may occasionally receive promotional content from the Los Angeles Times.