Dodgers Dugout: Hey, Dave Roberts, stop using Pedro Baez in key situations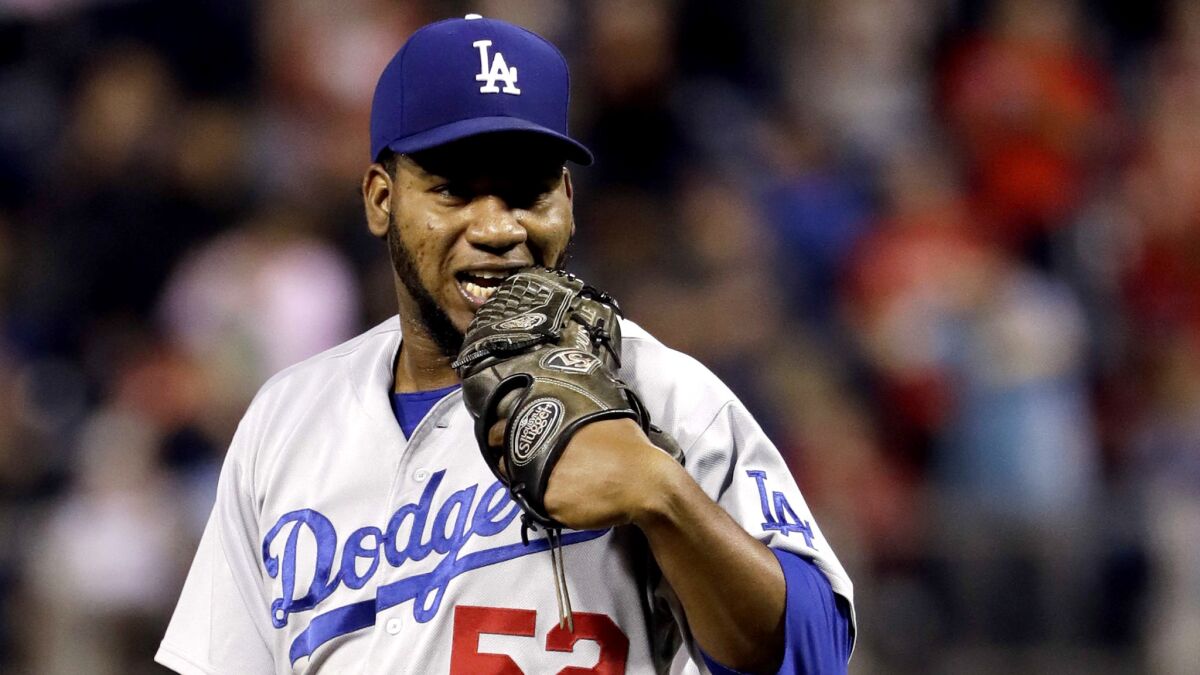 Hi, and welcome to another edition of Dodgers Dugout. My name is Houston Mitchell, and did it seem to you that the Dodgers overlooked Miami and thought they would get three easy victories?
What's going on?
OK, for the last year or so, I've tucked away grumpy Houston Mitchell and let happy Houston Mitchell write the newsletter because there really hasn't been a lot to complain about. After all, the Dodgers won 104 games last season and made it to Game 7 of the World Series. Any serious complaining would be nitpicking.
But now things are different, because even though the Dodgers have the same record as this time last season, they don't look like the same team. And enough games have been played where it's fair to make judgments and point out a few things. So here we go …
Why in the world is Pedro Baez pitching in the ninth inning of a tie game and not Kenley Jansen? We've seen many times how that ends, and it doesn't end well. I will give Dave Roberts credit for taking full responsibility for making the wrong choice, but still, why even make that mistake?
If I hit myself in the head with a hammer and knock myself unconscious, I don't wake up and say, "I think I'll try that again. Maybe it won't hurt this time." And then do it over and over again, expecting a different outcome.
Baez can't pitch in high-pressure situations. He chokes more often than a Model T. Why does it seem like only Dodgers fans have figured that out? You want to bring him in during the sixth inning, fine, he pitches OK then. But in the ninth inning of a tie game at home against the worst team in baseball? With Jansen available? Inexcusable. I'd rather have a struggling Jansen than a 100% Baez.
For an organization the prides itself on using analytics, let me point out some numbers. Here's how opposing batters have fared against Baez in his career in innings 6-9.
Sixth inning
Opponents have a .167 average, a .220 OB% and a .267 SLG% against Baez. The opponent OPS+ is 57, which means that opponents are 43% worse than average against Baez in the sixth inning.
Seventh inning
.241/.310/.389/114 OPS+
Uh oh, opponents are better than average suddenly.
Eighth inning
.225/.295/.421/117 OPS+
Opponents get even better against Baez here.
Ninth inning
.242/.307/.462/132
Ouch. Look at that jump in slugging percentage from the sixth to the ninth inning. Opponents are much better than average in the ninth inning against Baez and are worse here than any of the other innings. Baez has a 4.18 ERA in the ninth inning, his worst overall inning. He has a 3.01 career ERA overall, so he is over a run worse in the ninth inning.
I don't want to overwhelm you with stats, but Baez is also worse than average with two out and runners in scoring position.
So again, Dave Roberts, what were you thinking? There was no save situation or reason to not use Jansen once the score was tied in the ninth inning. He was the best option at that time. Actually, anyone else but Baez was a better option for that matter.
Also, I can understand not wanting to give Brandon Morrow $10 million a season to be a setup man, but can we admit that perhaps Tony Watson should have been re-signed because Scott Alexander has been a complete bust so far.
Next on my list: Joc Pederson. Roberts said the other day that he wants to get Pederson "more at-bats." My question: Why?
I was a Pederson supporter his first two full seasons. Even though he had low batting averages, his walk rate and power, plus his good defense still made him a useful player. His OPS+ was over 100 in 2015 and 2016. But last year, he stopped hitting for power, with his SLG% dropping from .495 in 2016 to .407. His defense got dramatically worse. He no longer was a useful player. They even sent him to the minors for a while. This season, he is "slugging" .326. Combining last season and this season, he is hitting .213/.330/.395, with average defense.
I don't think the Dodgers need to give Pederson "more at-bats." They need to give him "fewer at-bats." At some point, you have to realize that a player is what he is. I know Andrew Toles is injured, but if you want to give someone more at-bats, how about calling up Alex Verdugo or Tim Locastro or someone else from the minors and see what they can do, since they can't be much worse than what you know Pederson is giving you.
Lastly, for all the vaunted "depth" the Dodgers have, they certainly haven't found anyone who can play third base and hit at the same time. There are 15 teams in the National League. Here's where the Dodgers rank compared to the third basemen on other teams:
AVG: .155 (15th)
OB%: .226 (15th)
SLG%: .286 (15th)
That's really horrible. How about trying Kiké Hernandez at third for a while to find out whether his hitting surge is for real?
It looks as if the Dodgers are just waiting for Justin Turner to come back, and then everything will be fine. Last year, the offense struggled until Cody Bellinger was called up from the minors. But Turner just started swinging a bat, so he's not going to be back anytime soon. Meanwhile, the Dodgers continue to stumble through the start of the season, looking a lot like a team that aged greatly in the offseason.
I could go on, but I'll stop there before this newsletter becomes longer than "War and Peace."
There's still plenty of time for the Dodgers to turn things around. I'm not giving up on them by any means. But the odds of them going 93-46 the rest of the season, like they did last year, are long. And Arizona has a good team. It's time to stop stumbling, to stop making bad decisions and to start playing like they are capable of playing.
And yes, I hope Baez and Pederson rally and call me out at the World Series parade for being an idiot. I'd gladly take that in exchange for a title.
Did you notice?
I know most of you still can't watch the Dodgers on TV (cue angry phone call from Dodger front office to my boss in 3 …2 … 1 …) but for those who can, have you noticed that Mary Hart, who sits in the front row of the stands behind home plate, never stops talking during the game? There she is chatting away, no matter what's going on.
Where'd my money go?
According to a recent study, the Dodgers' average ticket price — $41.13 — went up more than any other baseball team this season, a jump of 14.5%. No other team went up more than 10%. You can read all about it here.
Is there anything good I can say in this newsletter?
Well, yes. Walker Buehler looked good in his first start. He'll start one of the games against San Francisco in Saturday's doubleheader.
Ask Ross Porter
Hi, fans! It's good to be back with you to answer your questions during this baseball season. Please send your questions to Houston, and he will pass them on to me. List the city in which you live.
Donna Garbe, Bastrop, Texas, asks: Ross, didn't the Dodgers have about the same start last year as this season?
Ross: You are correct, Donna. The 2017 Dodgers began with a record of 11-12 and were 3.5 games out of first place after the first 23 games. The 2018 Dodgers are 11-12 and are five games back. Last year, after those first 23, the Dodgers won 80 of the next 104 (.769%) and on Aug. 25, were 55 games over .500 and 21 games ahead in the West.
Dale Johnson asks: The first time I went to Dodger Stadium, they played a doubleheader against the Houston Colt 45s and I got a nice sunburn. We saw both games for one admission. Why can't they do that now?
Ross: Baseball teams want to get as much revenue as possible. Only three times since 2003 has a team scheduled a single-admission doubleheader. (Angels at A's, 2011; Blue Jays at Yankees, 2015; A's at Rays, 2017). The White Sox rescheduled three weather-related postponements as single-admission DHs last season. Minnesota and Kansas City had one last May because of a rainout, and so did the Yankees and Astros a year ago. The most doubleheaders played by one team: 44 by the 1943 White Sox.
Hector Franco asks: What happened to Andrew Toles?
Ross: In 79 games with the Dodgers the last two years, Toles batted .294 with eight home runs. He tore a knee ligament in 2017 so the team wanted him to play every day in Triple A this season. Toles, who will be 26 next month, had a good attitude about going to the minors. In his first six games with Oklahoma City, he hit .462 (12 for 26) with a homer, four doubles, seven RBIs and a .500 OBP. Two weeks ago, Toles injured his hamstring and has not played since, but is expected to return soon.
Bruce Figoten asks: Hi, Ross. The base coaches are rarely in those boxes. Why is that not enforced by the umpires?
Ross: Rule 5.03 (c) says, "Base coaches must remain within the coach's box consistent with this rule, except that a coach who has a play at his base may leave the coach's box to signal the player to slide, advance or return to a base. If a coach has positioned himself closer to home plate than the coach's box or closer to fair territory than the box, the umpire shall," and this is the key, Bruce, "UPON COMPLAINT BY THE OPPOSING MANAGER, strictly enforce the rule. The coach can be ejected if he doesn't comply."
Up next
Friday, Dodgers (Hyun-Jin Ryu, 2-0, 1.99 ERA) at San Francisco (Derek Holland, 0-3, 4.98 ERA), 7:15 p.m.
Saturday, Dodgers (Walker Buehler, 1-0, 0.00 ERA) at San Francisco (Chris Stratton, 2-1, 2.32 ERA), 1 p.m.
Saturday, Dodgers (Alex Wood, 0-2, 3.72 ERA) at San Francisco (Johnny Cueto, 2-0, 0.35 ERA), 7 p.m., KTLA
Sunday, Dodgers (Kenta Maeda, 2-1, 3.10 ERA) at San Francisco (Ty Blach, 1-3, 4.30 ERA), 2 p.m.
And finally
How would you like to take a gondola to Dodger Stadium and avoid all the traffic? The catch? Frank McCourt is involved. Read all about it here.
Have a comment or something you'd like to see in a future Dodgers newsletter? Email me and follow me on Twitter: @latimeshouston.
Get our Dodgers Dugout newsletter for insights, news and much more.
You may occasionally receive promotional content from the Los Angeles Times.