Dodgers Dugout: Max Muncy, Joc Pederson and the myth of the home run derby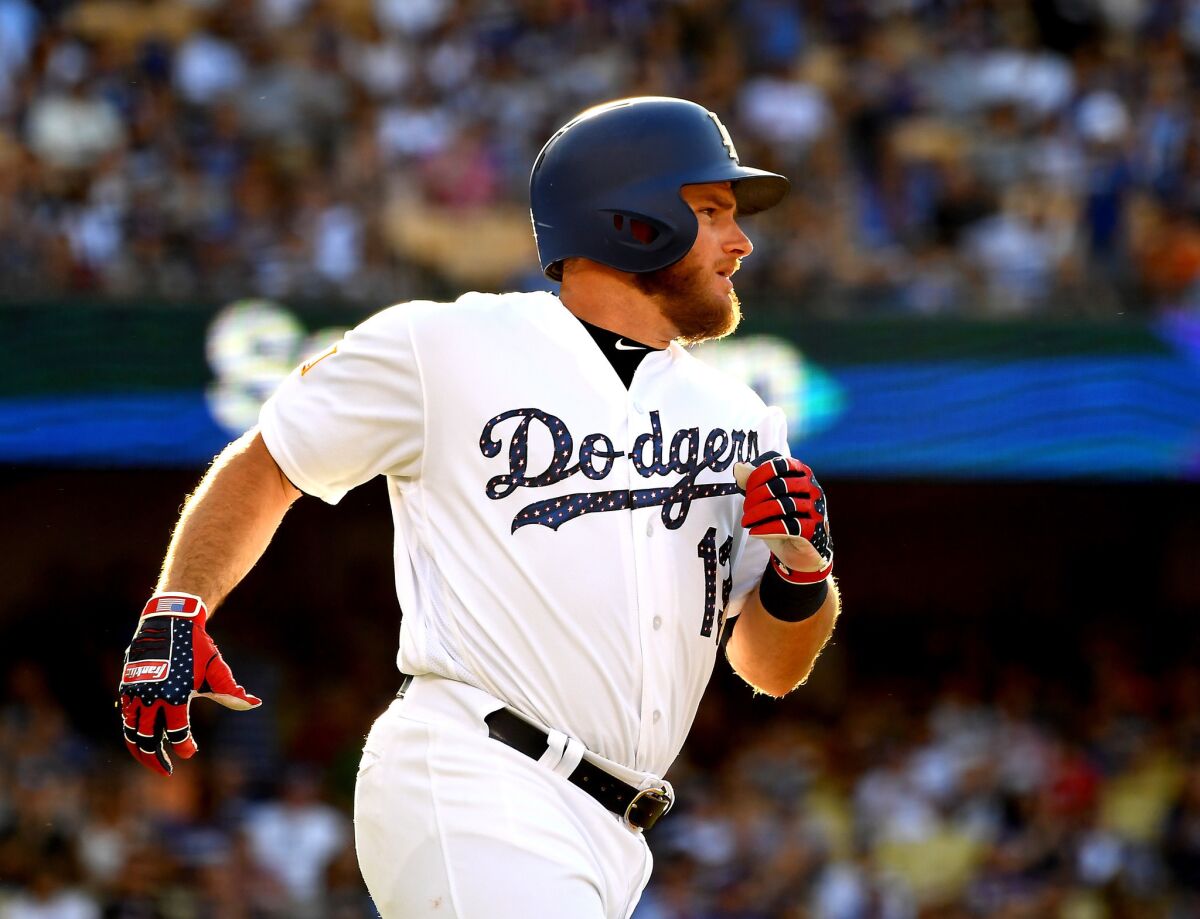 Hi, and welcome to another edition of Dodgers Dugout. My name is Houston Mitchell and it's good to see Andrew Toles back with the big team.
The home run derby
Oh, no, here we go again. Max Muncy announces he will participate in the home run derby, and some Dodgers fans are freaking out that it will ruin him forever. Despite there being no evidence at all to back this fear up, except for a generic "Look what happened to Joc Pederson!" Of course, the fact Pederson began slumping before the home run derby that year is ignored.
No, the home run derby will not ruin Muncy.
Muncy finished third in the All-Star Final Five fan vote, so he will not make the All-Star team this season. Jesus Aguilar of Milwaukee won the vote, and he is a deserving candidate. Why did Muncy fail when Justin Turner won the fan vote last season? Well, a couple of reasons: First, Turner was the obvious deserving candidate last season, making it easier for non-Dodgers fans to vote for him. Second, last season the Dodgers were at home when voting took place and set up voting kiosks throughout Dodger Stadium to allow fans at the game to vote for him. This season the Dodgers were on the road, so Muncy didn't receive the same boost.
Of course, Muncy could still be named if someone gets injured before the game.
But back to the home run derby.
Before the 2015 All-Star game, Pederson hit .230/.364/.487 with 20 homers and an OPS+ of 139. After the All-Star game he hit .178/.317/.300 with six homers and an OPS+ of 71. Problem solved, right? It was obviously the derby that did him in. But wait. Let's take a closer look.
In his last 20 games before the 2015 All-Star game, Pederson hit .159/.266/.304, which is even worse than what he did after the All-Star game. So, Pederson's slump started around mid-June, almost one month before the All-Star break even began.
How can we blame the home run derby for something that was already happening? We can't.
The entire home run derby jinx is urban legend, with no facts to back it up. The biggest example most people use is Chris Davis, who hit 37 homers before the 2013 home run derby and only 16 after. But do we really think Chris Davis was going to hit 70 homers that season? His overall numbers were still excellent after the break, so saying it jinxed him is quite a reach.
Davis is no different from Reggie Jackson in 1969. He had 37 homers at the break. After the break, he hit 11. If that happened now, everyone would be screaming that the home run derby had ruined him (though it would have been great to see Reggie in a home run derby).
In 1969, Frank Howard had 34 homers at the break. He hit 14 after. No home run derby to mess up his swing.
Also keep in mind that most players are selected to compete in the derby because they are having a monstrous first half. Mike Trout, the best player in baseball for the last six seasons, has a career OPS+ of 174, making him the active leader. (OPS+ compares hitters to the league average. An average hitter will have an OPS+ of 100. Trout's 174 means he is 74% better than the average hitter over the same time.) Only four active players have a career OPS+ of at least 150 and only 36 players in history have a career OPS+ of at least 150 (minimum 3,000 plate appearances).
But from 2012-17, 20 of the 50 home run derby competitors had an OPS+ over 150 at the time. There was no place for them to go but down, and all but four did. Those four: David Wright in 2013 (from 151 to 154), Jose Bautista in 2014 (158-174), Giancarlo Stanton in 2014 (163-182) and Charlie Blackmon in 2017 (151-182). The other 16 didn't suffer from a jinx, they just regressed to their normal numbers.
Of the 50 home run derby participants from 2012-17 (I'm not including two participants who were injured early in the second half and had limited playing time), only eight could have what could be considered a below-average second half, meaning an OPS+ below 100 after the break. Those eight: Mark Trumbo (162-74) in 2012, Carlos Gonzalez (180-99) in 2012, Pedro Alvarez (127-95) in 2013, Albert Pujols (137-91) in 2015, Joc Pederson (139-71) in 2015, Todd Frazier (155-80) in 2015, Wil Myers (133-91) in 2016 and Miguel Sano in 2017 (140-97). And we've already talked about Pederson.
Among those players who have improved after the home run derby: Corey Seager, who had an OPS+ of 135 before the 2016 break and 138 after.
Only one player has gone into the derby with an OPS+ of below 100, Yoenis Cespedes (97) in 2013. After the break his OPS+ was 114.
Some players get worse after the break, some get better, and some stay the same. But now we have something to peg it to. Something we can blame it on. Because it is human nature to want to find something to blame. But we've picked the wrong thing.
More KTLA games
For those of you who live in the Los Angeles area and are unable to see Dodgers games on TV, the Dodgers announced that four games in August and one in September will be televised on KTLA (Channel 5). Those games are:
Saturday, Aug. 4 vs. Houston, 6 p.m.
Wednesday, Aug. 15 vs. San Francisco, 7 p.m.
Monday, Aug. 20 vs. St. Louis, 7 p.m.
Friday, Aug. 31 vs. Arizona, 7 p.m.
Tuesday, Sept. 4 vs. New York Mets, 7 p.m.
Meanwhile, there is no agreement between DirecTV and Spectrum SportsNet coming in the near future.
Ask Joe Davis
Like he did last season, Dodgers announcer Joe Davis has graciously agreed to answer questions from Dodgers Dugout readers. If you have a question for Joe, please email it to me. He will answer selected questions in a future newsletter.
Ask Ross Porter
Hi, fans! It's good to be back with you to answer your questions during this baseball season. Please send your questions to Houston, and he will pass them on to me. Include the city where you live.
Casa Heller asks: There have been a lot of Dodger pitchers on the disabled list this year. How does the number compare to other teams?
Ross: Before answering your question, Casa, let me give you a startling fact. Baseball owners have paid $411 million so far this season to players who never took the field because they were on the disabled list. These players have missed a combined total of 18,726 days. There have been 453 men go on the DL — 272 pitchers and 181 position players.
Of the pitchers, 111 have been starters and 161 relievers.
The Braves have put 14 pitchers on the DL, the Angels 13, the Dodgers, Cardinals and Marlins 12 each.
Most money paid to DL players: Giants $35.9 million, Mets $35.3 million. The Dodgers are fifth at $24 million.
Players paid the most while on the DL, and how much they've earned in that time:
Jacob Ellsbury, Yankees, $12 million
Troy Tulowitzki, Blue Jays, $11.4 million
David Wright, Mets, $11.4 million
Miguel Cabrera, Tigers, $9.5 million
Yoenis Cespedes, Mets, $9 million
Clayton Kershaw, Dodgers, $8,693,531
Most players on the DL: Angels 21, Nationals 20. Dodgers are seventh with 17.
Most days missed: Nationals 968, Rangers 934. Dodgers are seventh with 738.
Steve Fountain asks: Max Muncy has hit 21 home runs, but driven in only 39 runs for the Dodgers. Does a low home run to runs batted in ratio tell us anything about the success of a player? Ross, thanks for being a great part of my Dodger radio memories.
Ross: Much appreciated, Steve. Simply put, some hitters don't get at-bats with runners on base. Muncy's 21 homers have accounted for 25 of his 39 RBIs, and 18 have been hit with no one on base. Hard to believe, but true, 25 major leaguers have slugged 40 home runs in a season and had fewer than 100 runs batted in. In 1963, Harmon Killebrew of the Twins belted 45 homers and knocked in just 96 runs.
Bob Walsh asks: Do players still receive meal money on the road and do they all get hotel suites on the road?
Ross: Daily meal money is $30, but home and road teams assume the cost of clubhouse food. The manager gets a suite, the players get rooms without roommates unless their contract stipulates a suite.
Up next
Friday, 7 p.m.: Angels (Felix Pena, 1-0, 3.63 ERA) at Dodgers (Walker Buehler, 4-2, 3.44 ERA)
Saturday, 4:15 p.m.: Angels (Andrew Heaney, 5-6, 3.84 ERA) at Dodgers (Clayton Kershaw, 3-4, 2.61 ERA). TV: Fox
Sunday, 1 p.m.: Angels (TBD) at Dodgers (Rich Hill, 2-4, 4.64 ERA).
And finally
With Walker Buehler coming back, Dodgers contemplate a six-man rotation. Read all about it here.
Have a comment or something you'd like to see in a future Dodgers newsletter? Email me and follow me on Twitter: @latimeshouston.
---
Get our Dodgers Dugout newsletter for insights, news and much more.
You may occasionally receive promotional content from the Los Angeles Times.