Dodgers Dugout: What to do about Logan Forsythe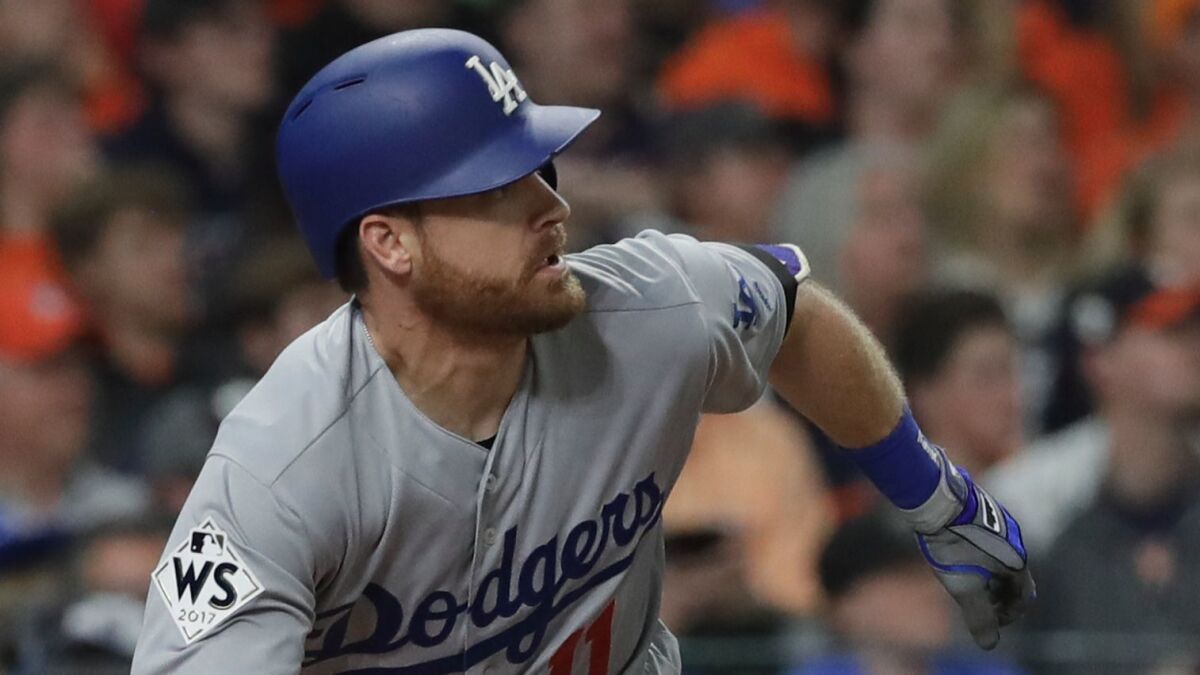 Hi, and welcome to another edition of Dodgers Dugout. My name is Houston Mitchell and please help me, because I can't get that Kars for Kids song out of my head.
Position rankings
We're a little over halfway through the season, so let's take a look at where the Dodgers rank at each position in the majors. We will use wins above average, which takes all facets of a player's performance at the plate and defensively and estimates how many wins that player means for a team compared with having a league-average player at that position. Anything below zero means a player is below average. Only the stats a player accumulated while playing at that position count.
Using tools like this can help us find the weak spots in the lineup. I'll list the top five overall and where the Dodgers rank.
Catcher
1. Miami, 1.6
2. Chicago Cubs, 1.5
3. Pittsburgh, 1.2
4. San Francisco, 1.0
5. Tampa Bay, 0.9
7. Dodgers, 0.6
First base
1. Atlanta, 2.6
2. San Francisco, 1.9
3. Arizona, 1.6
4. Milwaukee, 1.6
5. Dodgers, 1.5
Second base
1. Houston, 2.8
2. Atlanta, 2.3
3. Chicago Cubs, 1.8
4. Oakland, 1.6
5. Cincinnati, 1.6
23. Dodgers, -0.9
Third base
1. Cleveland, 5.4
2. Oakland, 3.9
3. Houston, 3.1
4. Colorado, 2.4
5. Cincinnati, 2.0
12. Dodgers, 0.5
Shortstop
1. Cleveland, 4.4
2. Angels, 3.0
3. Houston, 1.9
4. Chicago Cubs, 1.8
5. Colorado, 1.8
12. Dodgers, 1.0
Left field
1. Minnesota, 2.6
2. Boston, 2.1
3. New York Yankees, 1.3
4. Pittsburgh, 1.2
5. Arizona, 0.9
7. Dodgers, 0.7
Center field
1. Milwaukee, 4.3
2. Angels, 4.2
3. New York Yankees, 1.9
4. Pittsburgh, 1.2
5. Chicago Cubs, 1.1
6. Dodgers, 1.0
Right field
1. Boston, 5.1
2. New York Yankees, 3.4
3. Atlanta, 1.8
4. Seattle, 1.8
5. Milwaukee, 0.9
13. Dodgers, 0.1
Starting pitchers
1. Boston, 8.3
2. Cleveland, 7.7
3. Philadelphia, 7.1
4. Colorado, 6.2
5. Houston, 5.3
8. Dodgers, 3.8
Relievers
1. Boston, 5.3
2. New York Yankees, 3.0
3. Philadelphia, 2.0
4. Chicago Cubs, 2.0
5. Arizona, 1.9
23. Dodgers, -2.4
So the worst spots are second base and the bullpen. The team should move up the list among shortstops with Manny Machado aboard, and if Justin Turner can ever stay healthy (he may be headed back to the disabled list), they should move up at third base.
In the next newsletter, I will address which bullpen candidates the Dodgers can acquire in a trade, so that leaves second base. Which brings us to the next topic of this newsletter:
Why does Dave Roberts keep playing Logan Forsythe?
Logan Forsythe is 31 years old and in the final season of a three-year, $18.5-million deal he signed with Tampa Bay before the 2016 season. The Dodgers acquired him before the 2017 season in exchange for Jose De Leon.
Since then, Forsythe has hit .219/.325/.317, good for a 73 OPS+. I do believe Davey Lopes would put up similar numbers, and he's 73.
So why does Dave Roberts keep sending him out there? He was asked that, and here's his response according to Bill Plunkett of the Orange County Register:
"I don't ever doubt his preparedness, his focus, his intent. It's been a tough go for Logan for 2 1/2 months, 3 months. I think the defense is above average.
"You guys know me — I don't like to give up on players. Especially when they're doing things the right way, because I think that sends a message to the clubhouse. I appreciate his work. He never once takes his offense out to the defensive side. For me, that means a lot."
Now on one level, I understand that response. Roberts isn't going to bury a player publicly. It's not like anyone expects him to answer with "Yeah, he's horrible. We're thinking of releasing him."
The troubling part is the "It's been tough go for Logan for 2 1/2, 3 months."
It's been a tough go for him for 1 1/2 years. He's certainly solid defensively, but his bat is an anchor. It always seems like he's the guy who makes the first out in any rally. He has the arms of a T-Rex, unable to produce much power in a swing.
And I'm sorry, but working hard and preparing properly only takes you so far. If a singer in the choir is tone deaf, can't carry a tune and causes the choir to lose competitions, I'm not sure if "Well, he works hard and his preparedness is excellent, so we will keep trotting him out" is a good solution.
I can get together 25 guys who will work hard and prepare properly and lose every game. At some point you actually have to produce on the field.
I understand the Dodgers don't have a lot of options at second. They have Forsythe and Chase Utley. As we saw through his error-filled series against Milwaukee, Max Muncy is miscast anywhere except first base. But when Turner is healthy, I think Chris Taylor should move to second and Muncy to first, with Cody Bellinger moving to the outfield.
I'm sure Forsythe is a great guy, but his time in the starting lineup needs to come to an end.
OPS+
The last time I looked at each of the Dodgers' OPS+ was the first week of May. Every Dodger except two were below 100, which means all except two were below average offensively. Let's take a look at the team now. Remember, a 110 OPS+ means you are 10% better at the plate than the average hitter this season. An OPS+ of 90 means you are 10% below average.
Above average
Max Muncy, 171
Manny Machado, 164
Matt Kemp, 135
Joc Pederson, 129
Yasmani Grandal, 121
Cody Bellinger, 115
Chris Taylor, 112
Kiké Hernandez, 112
Yasiel Puig, 112
Justin Turner, 103
Below average
Chase Utley, 82
Austin Barnes, 63
Logan Forsythe, 53
That is quite the turnaround and a big reason the Dodgers have the best record in baseball the last couple of months.
Where else to get information
I get a lot of readers asking me where besides the newsletter they can get info on the Dodgers. My first recommendation is you go to latimes.com/sports/dodgers and read the terrific coverage provided by Andy McCullough, Dylan Hernandez, Bill Shaikin and Mike DiGiovanna.
After you go there, here are some other places you can go:
Breaking Blue, a podcast hosted by Steve Mason
Facebook live postgame shows, hosted by Greg Bergman
And there are many more. If you think I have missed one, send it to me and I will include it in a future newsletter.
More KTLA games
For those of you who live in the L.A. area and are unable to see Dodgers games on TV, the team has announced that four games in August and one in September will be televised on KTLA Channel 5. Those games are:
Saturday, Aug. 4 vs. Houston, 6 p.m.
Wednesday, Aug. 15 vs. San Francisco, 7 p.m.
Monday, Aug. 20 vs. St. Louis, 7 p.m.
Friday, Aug. 31 vs. Arizona, 7 p.m.
Tuesday, Sept. 4 vs. New York Mets, 7 p.m.
Meanwhile, there is no agreement between DirecTV and Spectrum SportsNet coming in the near future.
These names seem familiar
What recently departed Dodgers are doing around the league (through Saturday):
Charlie Culberson, Braves, .266/.322/.444, 108 OPS+.
Brandon McCarthy, Braves, 6-3, 4.92 ERA (currently on the 10-day DL with right knee tendinitis).
Yu Darvish, Cubs, 1-3, 4.95 ERA (currently on 10-day DL with an elbow injury)
Curtis Granderson, Blue Jays, .234/.342/.424, 110 OPS+
Brandon Morrow, Cubs, 0-0, 22 saves, 1.47 ERA (currently on 10-day DL with right biceps tendinitis)
Tony Watson, Giants, 2-3, 2.03 ERA
Chris Hatcher, A's, 3-2, 4.70 ERA
Luis Avilan, White Sox, 2-0, 4.28 ERA
Trayce Thompson, White Sox, .117/.162/.211 (removed from 40-man roster and sent to minors).
Wilmer Font, Rays, 2-0, 4.28 ERA (on 60-day DL with a lat strain)
Up next
Monday, 4 p.m.: Dodgers (Ross Stripling, 8-2, 2.08 ERA) at Philadelphia (Zach Elfin, 7-2, 2.15 ERA)
Tuesday, 4 p.m.: Dodgers (Kenta Maeda, 7-5, 3.12 ERA) at Philadelphia (Aaron Nola, 12-3, 2.30 ERA)
Wednesday, 9:35 a.m.: Dodgers (Rich Hill, 3-4, 4.26 ERA) at Philadelphia (Jake Arrieta, 7-6, 3.47 ERA).
And finally
Mannywood sequel is more reserved than the one a decade ago. Read all about it here.
Have a comment or something you'd like to see in a future Dodgers newsletter? Email me and follow me on Twitter: @latimeshouston.
---
Get our Dodgers Dugout newsletter for insights, news and much more.
You may occasionally receive promotional content from the Los Angeles Times.