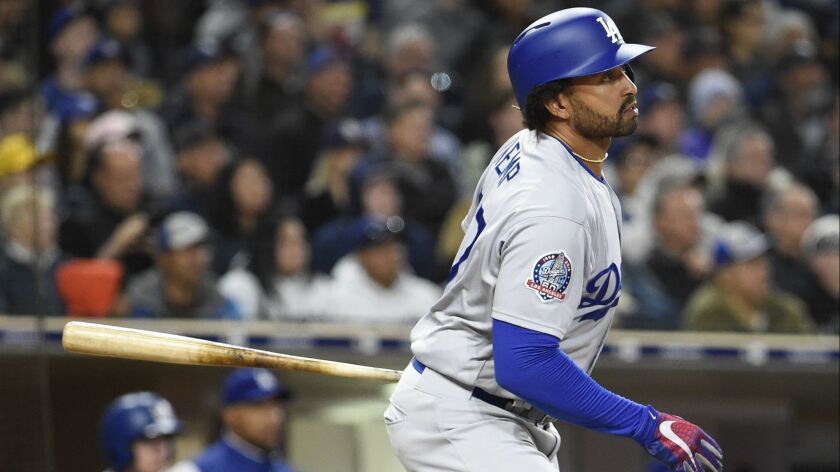 Hi, and welcome to another edition of Dodgers Dugout. My name is Houston Mitchell, and the Dodgers are looking more and more like last year's team.
Moving on up
The Dodgers have won six of their last seven, and even though they are still five wins below .500, they are only 3.5 games back in the NL West, about to start a series with the San Diego Padres, the only team below them in the division.
To what do we owe this resurgence? Well, the bullpen is pitching much better and situational hitting has improved, but I am going to credit it to one main reason: the return of Justin Turner.
It's amazing how much more relaxed everyone seems with Turner back. Not only does he provide a consistent threat and protection in the lineup, he stabilizes the entire batting lineup and allows Dave Roberts to drop Yasiel Puig down in the batting order, where he hits better.
Let's look at some performances since Turner returned to the lineup on May 15:
Matt Kemp: .370/.379/.556, 10 for 27, five doubles
Chris Taylor: .304/.500/.522, 7 for 23, 1 triple, 1 homer
Joc Pederson: .273/.304/.545, four doubles, 1 triple
Max Muncy: .227/.400/.591, two doubles, two homers
From opening day until May 13, the Dodgers hit 36 homers (0.9 per game) and slugged .387.
Since Turner returned, they have hit 12 homers (1.3 per game) and are slugging .428.
Matt Kemp
Let's take a minute to talk about the guy who has carried the team this season and kept the Dodgers from having a worse record than they have: Matt Kemp.
Kemp was acquired on Dec. 16 in what was essentially a salary dump deal, with the Dodgers getting Kemp in exchange for Adrian Gonzalez, Brandon McCarthy, Charlie Culberson and Scott Kazmir.
The day of the trade, it was thought by most that the Dodgers would be releasing Kemp within a week.
After a week went by, it was thought they would try to trade him, but if they couldn't make a deal, they would release him right before spring training.
When spring training began, it was thought they could still make a deal, but there's no way he would make the team.
Halfway through spring training, it was thought he could possibly make the team.
On opening day, he was starting in left field.
During all that, Kemp didn't complain. He arrived in camp 40 pounds lighter. He was one of the team's best hitters in spring training. And today, he is hitting .327/.361/.510 with 12 doubles, five homers and 22 RBIs. His OPS+ is 140 the highest since had a 140 OPS+ in … 2014 with the Dodgers.
So yeah, Kemp is slower. It looks as if his hip is about to crack apart every time he runs. But he is working hard on defense, and he has been the MVP of the team. He gets the biggest ovation when he is introduced. And he deserves every bit of it.
Welcome back
Scott Alexander was acquired in the offseason to basically replace Tony Watson as the primary left-handed setup man. It looked like a good move. And then the season began.
After his first 11 games, Alexander had a 6.35 ERA and a 1.892 WHIP in 11.2 innings, allowing 12 hits and nine walks. He was sent to the minors and made a couple of adjustments to his delivery. Since being recalled, he has given up two hits and two walks in six innings, striking out six without allowing a run.
Ask Ross Porter
Hi, fans! It's good to be back with you to answer your questions during this baseball season. Please send your questions to Houston, and he will pass them on to me. List the city in which you live.
Don Handlin of Mason, Texas, asks: What is the farthest a team has dropped back and then rallied to wind up on top in its league?
Ross: The greatest comeback, Don, was turned in by the 1914 Braves, who were 15 games behind on July 6 and won the pennant. After that it's the 1978 Yankees after trailing by 14 on July 20, the 1951 Giants, who were 13 back of the Dodgers on Aug. 12, and the 1995 Mariners, who were down 13 games on Aug. 3. One team was 12 off the pace, one 11, one 10 1/2, and three were 10, and they all finished in first place.
Marya Kelly of Shorewood, Wis., asks: Before the Dodgers won their division last year, Ross, what was their largest deficit and worst record?
Ross: They were five games out of first place on April 24. As far as having a losing record, it was 8-10, 9-11, and, on April 26, 10-12.
Pearlie Holmes of Gothenburg, Neb., asks: Ross, in your 28 seasons with the Dodgers, did any of those teams put together an amazing run after being hopelessly out of contention?
Ross: On July 29, 1982, the Dodgers were 10 games behind, in third place. They won 12 of the next 13, including a four-game sweep of the division-leading Braves in Atlanta, and moved into first place on Aug. 10. The Dodgers won 14 of 16 in that stretch. The Dodgers had an eight-game losing streak from Sept. 21-29, but on Sept. 23, they still held a three-game lead. At that point, they lost seven of their last 10 and fell one game back of the Braves. Atlanta lost on the final day and the Dodgers had a chance to tie, but Joe Morgan of the Giants killed their hopes with a three-run homer in the seventh for a 5-3 victory.
Gary Thiele of Arcadia asks: When the World Series ends, how do the players divvy up the cash?
Ross: Major League Baseball's players' pool is created from 60% of the total gate receipts from the first four World Series games; 60% of the total gate receipts of each League Championship Series; and 60% of the total gate receipts from the first three games of each Division Series. Gary, the World Series winners get 36%, the World Series losers 24%, LCS losers receive 12% each, Division Series losers 3% each and four second-place teams get 1% each. Once each team receives its share, the players on the playoff roster vote to decide what share to award former teammates and other personnel. Usually, they are generous.
Up next
Friday, San Diego (Clayton Richard, 3-5, 4.87 ERA) at Dodgers (Ross Stripling, 1-1, 2.08 ERA). 7 p.m.
Saturday, San Diego (Jordan Lyles, 1-1 3.11 ERA) at Dodgers (Alex Wood, 1-4, 3.32 ERA), 7 p.m.
Sunday, San Diego (TBD) at Dodgers (Walker Buehler, 2-1, 2.38 ERA), 1 p.m.
And finally
Read Bill Plaschke's column on Dave Roberts by clicking here.
Have a comment or something you'd like to see in a future Dodgers newsletter? Email me and follow me on Twitter: @latimeshouston.
---