Dodgers Dugout: Random thoughts before opening day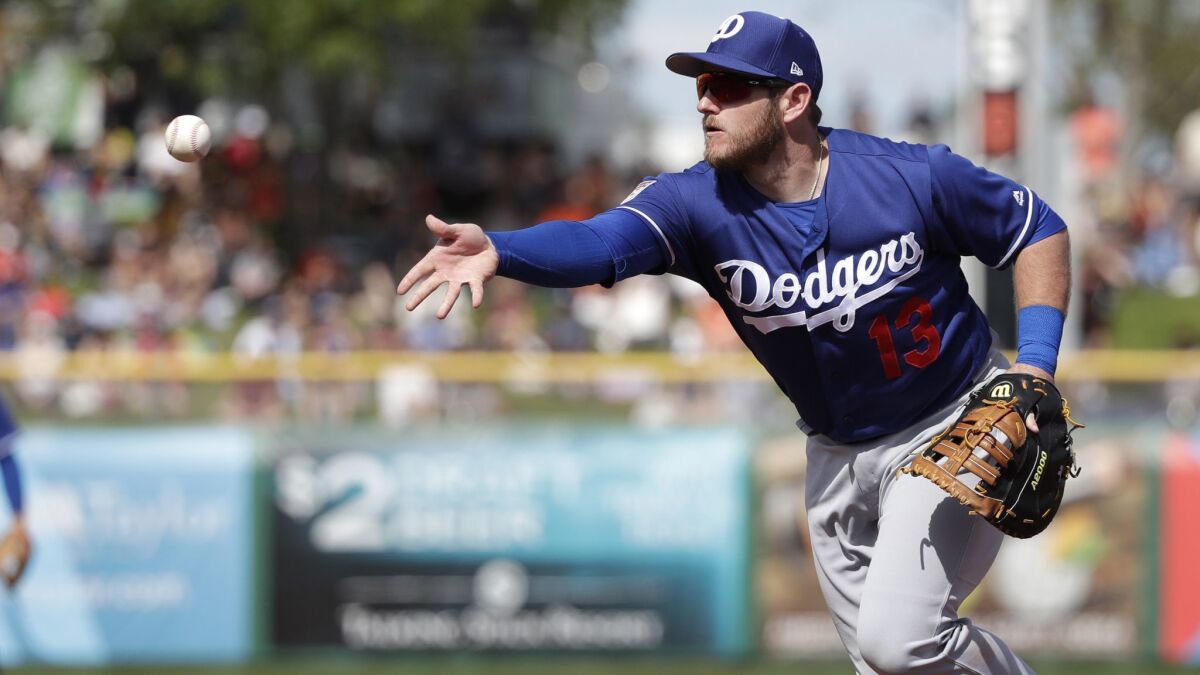 Hi, and welcome to another edition of Dodgers Dugout. My name is Houston Mitchell and opening day is Thursday.
Random Thoughts
Some random thoughts as opening day approaches.
--A lot of people have emailed me concerned about Max Muncy, who is hitting .208 with five doubles and 17 strikeouts in 48 at-bats this spring through Sunday. The belief is that he had a bad second half last season, and this poor spring is a continuation of that. But he only had a bad second half if you compare it to his monstrous first half, when he hit .271/.409/.604 with 22 homers in 279 plate appearances. He hit .253/.366/.553 in the second half, with eight doubles, two triples and 13 homers in 202 plate appearances. In September, he hit .294/.435/.574 with five homers and 20 RBIs. So, there's no reason to be overly concerned yet.
Muncy told MLB.com last week that "I don't want to change anything from last year. I feel like that's one thing that gets guys in trouble. They have a year like I had, they come in and want to change things. You can always get better, that's true, but if you start changing the work it gets you in trouble."
Does that mean I am convinced he will put together the same season as last year? No. All I'm saying is it is too early to panic on him.
--Then there is Chris Taylor. He is hitting .185/.254/.370 this spring through Sunday, with 20 strikeouts in 54 at-bats. He led the NL in strikeouts last season. He had a shaky July (.267/.316/.438) and horrible August (.185/.272/.321) before rebounding in September (.345/.433/.586). Taylor is going to be a streaky hitter in his career, it looks like.
--This brings up a problem a lot of teams face. When do you sit a player who has been productive in the past? (I'm not endorsing benching Taylor, just using him to bring up a larger topic.) When you have a player who has had a couple of good seasons in a row, how long do you stick with him if he starts off playing terribly in 2019? And this goes for all teams, not just the Dodgers. If Muncy hits .190 in April, do you sit him, or wait for him to break out of his slump? What if he is slumping but putting together good at-bats, hitting the ball hard? It's a tough question managers face.
--Every time I listen to new Dodgers broadcaster Tim Neverett, I think I'm listening to a Braves game. He sounds just like former Braves broadcaster Skip Caray. I'm enjoying listening to Neverett and it appears he will be a solid addition to the team.
--Hyun-Jin Ryu will start on opening day, and I couldn't be happier. As long-time readers know, Ryu has long been a favorite of mine. He has been an excellent pitcher throughout his career with the Dodgers when he is healthy. Of course, that's the key, staying healthy. Kershaw and Buehler get all the headlines, but Ryu has been a big part of the Dodgers winning the division the last two seasons and shouldn't be overlooked.
--When asked who made the biggest impression on him this spring, Dave Roberts said "Dustin May." May is the Dodgers' No. 3 prospect overall and considered one of the top pitching prospects in the game. He had a 3.29 ERA in 98.1 innings with Rancho Cucamonga last season with 94 strikeouts and only 17 walks. He was promoted to double-A Tulsa and had a 3.67 ERA in six starts, striking out 28 in 34.1 innings. Those are pretty impressive numbers for a 20-year-old. This spring, he has pitched nine innings, giving up one run, six hits and three walks while striking out eight. We'll take a closer look at May next week in a newsletter that looks at the Dodgers' top 10 prospects.
--Kiké Hernandez will get most of the playing time at second base this season, with Taylor moving into a super-utility role, starting in the infield or outfield whenever someone needs a day off. Hernandez his .256/.336/.470 with a 117 OPS+ and 21 homers in 146 games last season. I like Hernandez a lot, but many defensive metrics have him as an average second baseman so far in his career. I think he's a little better than that, but I keep seeing people praise him for his diving stops and already nominating him for a Gold Glove. Diving stops aren't necessarily the best way to determine a great fielder. Who is the better fielder, the guy who anticipates the play, has a quick first step and makes the play look routine, or the guy who is a step slow and has to make a diving stop? The first guy is better, because he's going to make more plays during a season. But you don't notice him because he makes it look routine. So a diving stop may be a sign of athleticism, but is not necessarily a sign of a great fielder.
--One thing I hate about the exhibition Freeway Series: The Dodgers charge almost full price to watch the game — a game that doesn't count, in which many of the regulars either don't play, or don't play nine innings. At the time I write this, I can pay $600 for one Dugout Club seat. Yes, I know you can find better bargains on StubHub, but a lot of people don't use that. To charge $600 for an exhibition game is just wrong. And, in fairness, the Dodgers aren't the only team to do this. If I were running the team, I'd charge $20 for field level and scale it down from there. Free parking, with a parking lot assigned when you purchase a ticket. You'd still make plenty of money off concessions. I know in the real world it's not as simple as that, but there's absolutely no reason to charge more than $100 for an exhibition game.
--Rich Hill will start the season on the injured list after he strained the MCL in his left knee. Well, at least it's not a blister problem. He should be back relatively quickly if all goes well. That means the Dodger rotation to start the season is Ryu, Kenta Maeda, Ross Stripling, Walker Buehler and Julio Urias.
Whoops!
I got an email from the Dodgers on Monday that was all about how fans can buy tickets to sit in the seat in which Kirk Gibson's iconic Game 1 home run ball landed. The email led with this:
"I can't believe what I just saw!" — Vin Scully
Everyone makes mistakes. I've made plenty and I usually try to be very forgiving of mistakes. But this is a massive one. Vin Scully never said "I can't believe what I just saw" about the Gibson homer. Jack Buck said it, and Buck actually said "I don't believe what I just saw."
All I can say about it is "I can't believe what I just read."
And to their credit, the Dodgers quickly issued a correction. Something I have had to do in the past as well.
But when you have had what many feel is the best baseball broadcaster in history calling games for you, you might just want to double check to see if a quote is his or not before you send it out.
It reminds me of the famous quote by Abraham Lincoln: "Baseball is 90% mental and the other half is physical."
By the way, if you want to sit in those seats, here's what you need to know:
"Watch your Boys in Blue from the permanently painted blue, commemorative Seat 88 located in the area of the Right Field pavilion where Kirk Gibson's historic walk-off home run landed in Game 1 of the 1988 World Series!* Relive one of the most dramatic moments in baseball history at any one of the Dodgers' 2019 regular season home games — the Commemorative Kirk Gibson Home Run Seats are on sale now!*
*Your purchase includes two tickets to the game, two commemorative T-shirts and food & drink in the Coca-Cola All-Inclusive Right Field Pavilion. $200 of the $300 purchase price will be donated to the Kirk Gibson Foundation to raise money and awareness for Parkinson's research.
You can find out more information, including how to purchase the tickets, by clicking here.
New foods
The Dodgers will have some menu additions this season at Dodger Stadium. They are:
Beyond Meat burger
This will be sold at the Bud & Burgers stand on the field and reserve levels. It is a vegetarian burger on a brioche bun topped with herb mayo, lettuce, tomato and onions.
Tacos
Sold on the field, loge and reserve levels, this is actually a returning item from a few years ago. It didn't sell well then, but they are trying again. You will have a choice of chicken or beef topped with onions and cilantro.
California roll bowl
Sold at the Bowls stands on the Field level, it is sushi rice at the bottom with imitation crab, edamame, carrots and cucumbers on top, with a sriracha aioli spread
Dodger sausage
Sold on the field, loge and reserve levels, this will feature an al pastor-seasoned sausage stuffed with pineapple, topped with pineapple salsa and cilantro-lime crema. I'm allergic to pineapple, so I will never know how this tastes. Someone let me know.
Summer green salad
Served on the field, loge and reserve levels, this is exactly what it sounds like, a salad, featuring romaine lettuce, baby spinach, diced cucumbers, radishes, feta cheese, pecans, walnuts and a mint dressing.
Chicken burrito bowl
Sold on the loge and reserve levels, this is a chicken burrito in a bowl instead of wrapped in a tortilla. It has marinated chicken, black beans, pico de gallo, red salsa and rice.
Ask Ross Porter
Ross Porter will once again answer reader questions this season. All you have to do is email me your question at houston.mitchell@latimes.com. I will forward the email on to Ross, and he will answer two or three each week. Ross has done this every year for the newsletter and has done it for free, so my thanks go out to him.
TV schedule
KTLA will televise 10 Dodger games during the season. They are:
Tuesday, April 2, vs. San Francisco, 7 p.m.
Friday, April 12, vs. Milwaukee, 7 p.m.
Thursday, April 18, at Milwaukee, 5 p.m.
Wednesday, April 24, at Chicago Cubs, 5 p.m.
Saturday, April 27, vs. Pittsburgh, 6 p.m.
Saturday, May 11, vs. Washington, 6 p.m.
Monday, May 27, vs. New York Mets, 5 p.m.
Thursday, May 30, vs. New York Mets, 6:30 p.m.
Saturday, June 1, vs. Philadelphia, 7 p.m.
Saturday, June 15, vs. Chicago Cubs, 6 p.m.
And finally
Highlights from the 2018 season. Click here to watch.
Have a comment or something you'd like to see in a future Dodgers newsletter? Email me and follow me on Twitter: @latimeshouston.
---
Get our Dodgers Dugout newsletter for insights, news and much more.
You may occasionally receive promotional content from the Los Angeles Times.