Dodgers Dugout: It all comes down to Game 7 (that seems familiar)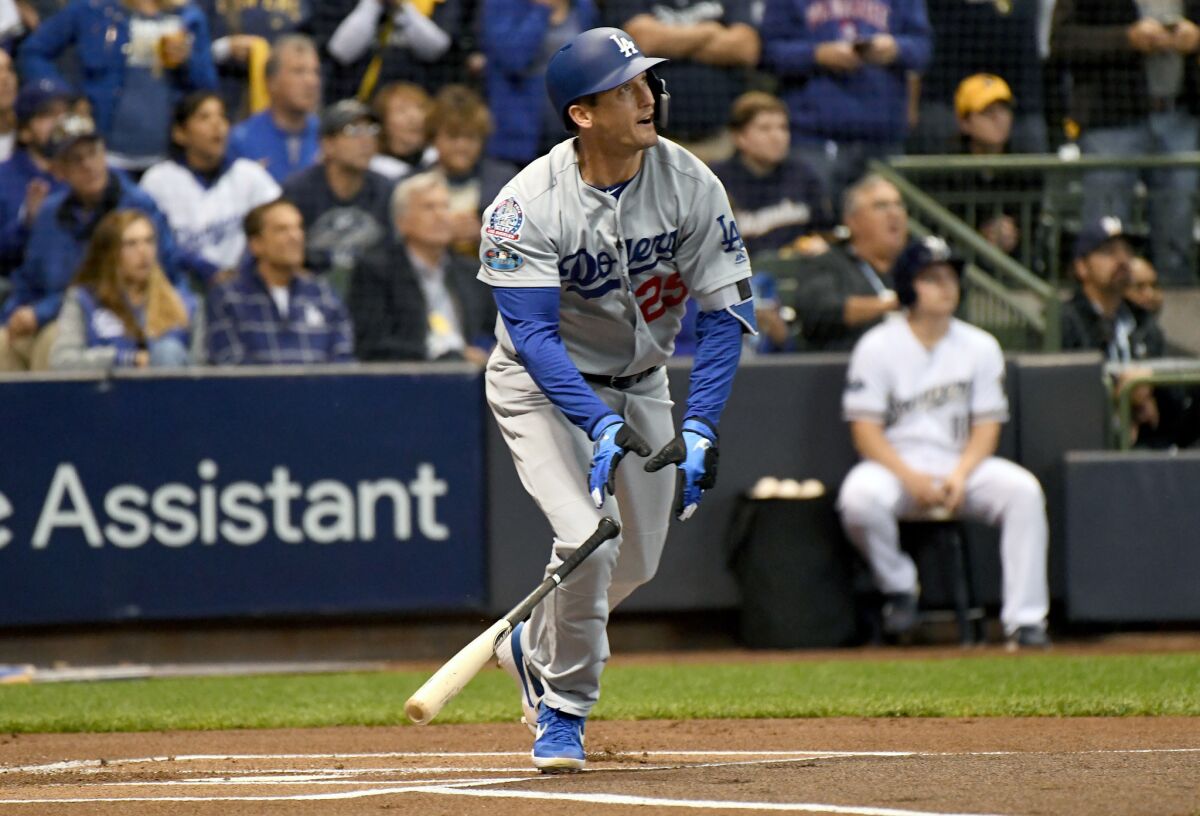 Hi, and welcome to another edition of Dodgers Dugout. My name is Houston Mitchell, and I told you when the series started: Dodgers in seven.
The NLCS
Well that was disappointing.
--The bad Hyun-Jin Ryu showed up in Game 6. We haven't seen much of him this season.
--Ryu reminds me at times of the Fernando Valenzuela of the mid-1980s. You could tell when Fernando was going to have a good game when he would start out challenging hitters, throwing inside. When he started a game by trying to nibble at the outside corner is when he ran into trouble. Same with Ryu. When he is on, he busts people inside. But he really didn't do that often enough in Game 6, and it cost him.
--It's a shame, because I really like Ryu. I hope that's not his last start as a Dodgers, because he deserves a better exit.
--The game reminded me of Game 7 of last year's World Series. Opponent jumps to early lead, Dodgers fall into something resembling a coma.
--At least this year it was Game 6, giving the Dodgers a chance to turn it around.
--One thing I have learned from the many, many subscribers who email me: It appears a lot of Dodgers fans don't want Manny Machado back next season.
--I thought the Dodgers were going to cruise when David Freese hit that leadoff homer. He drove in both Dodger runs, leading some to ask me why he was removed. The answer: Matchups. The numbers tell the Dodgers that Freese doesn't match up well against right-handers, and that he also doesn't match up well with Josh Hader, the Brewers' left-handed relief ace. And that is what the numbers say. We can sit here and complain that Freese is a postseason stud and has the playoff experience you need for these occasions, but why pull your hair out? This is the way the Dodgers do things. It's like complaining that the sky is blue. I understand the complaints, but it's not going to change unless the Dodgers change their entire team philosophy.
--Now the Dodgers turn to Walker Buehler, with Clayton Kershaw waiting in the wings at the first sign of trouble. This sounds suspiciously like Game 7 of the World Series. Kershaw came in then on two days' rest to pitch four scoreless innings.
--Joe Buck loves Christian Yelich, but does Yelich know that Buck also loves Hader? Will there be jealousy among the Brewers teammates? And, why does Buck get excited every time the Brewers do something good, but when the Dodgers do something good he shows all the enthusiasm of Eeyore?
--One thing I don't want getting lost in all this: The Brewers have a good team. You have to give a lot of credit to them and not just blame everything on the Dodgers.
--There's not a lot else to say. It all comes down to today. The Dodger season continues or it ends. Which team will show up today?
--But remember, I said Dodgers in seven all along. And I have a feeling Matt Kemp will have a part in the Game 7 victory.
NLCS schedule
Game 7 — Saturday, 5 p.m. PT: Dodgers (Walker Buehler) at Milwaukee (Jhoulys Chacin). TV: FS1
Shameless plug
We have five top reporters covering every Dodgers playoff game for The Times: Andy McCullough, Jorge Castillo, Bill Plaschke, Dylan Hernandez and Bill Shaikin. If you are not checking out our website and reading their stories, you are missing out on some great stuff. So, what are you waiting for? Click here and start reading.
And if you aren't near a TV or radio to monitor each game, I'm doing live updates for The Times every game. You can find it during the game at the above link.
And there's more!
We also started a new podcast, hosted by Beto Duran. To kick things off in style, we had LeBron James as one of the first guests. The podcast will be weekly, and is well worth your time. To give it a listen, click here.
And finally
Sandy Koufax wins Game 7 of the 1965 World Series. Click here to watch.
Have a comment or something you'd like to see in a future Dodgers newsletter? Email me and follow me on Twitter: @latimeshouston.
---
Get our Dodgers Dugout newsletter for insights, news and much more.
You may occasionally receive promotional content from the Los Angeles Times.