Dodgers Dugout: Some random thoughts about the opening day loss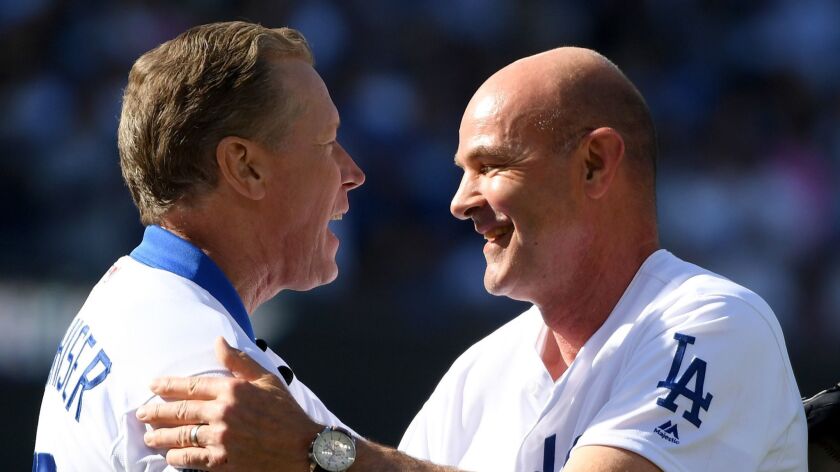 Hi, and welcome to another edition of Dodgers Dugout. My name is Houston Mitchell, and it's far too early to reach any conclusions about this team.
Random thoughts on the home opener
--It was great seeing Kirk Gibson throw out the first pitch.
--Clayton Kershaw pitched well, but appears to have lost a tick or two on his fastball compared with last season. I hope that's just early season rust and not a sign of anything bad. He skated in and out of trouble the whole game.
--Good thing Madison Bumgarner wasn't pitching or there may have been a no-hitter.
--The last time the Dodgers lost on opening day was 2010. That's also the last time they finished under .500 for the season.
--The ESPN broadcast crew of Matt Vasgersian, Alex Rodriguez and Jessica Mendoza were pretty dull. They didn't seem to have any great stories they could pull out of their hat like Vin, and now Joe Davis, do to make the more boring innings go by quicker. And I could barely hear Mendoza.
--Cody Bellinger did little to calm fears that his World Series slump was an ominous warning.
--Then again, it was just Game 1 of 162. The Dodgers started 10-12 last season and things turned out pretty well.
--So, if you are gnashing your teeth this morning, just relax. The loss didn't mean anything. You can't really get a great sense of how good a team it is until at least a month into the season.
--But if you really want to feel the fates are against the Dodgers, this will make that feeling worse: The winning pitcher for Oakland against the Angels on Thursday was Chris Hatcher.
In case you missed it
The Dodgers sent Andrew Toles to the minors and left Joc Pederson on the roster. The reasoning is that whichever player stayed wouldn't get much playing time, and they want Toles to play every day to continue strengthening his knee. There is little doubt in my mind that Toles will be back in the majors soon.
Predictions
My predictions for the final NL West standings:
1. Dodgers
2. Arizona
3. San Francisco
4. Colorado
5. San Diego
NL playoff teams
Dodgers, Milwaukee, Washington, Chicago, Arizona
AL playoff teams
New York, Cleveland, Houston, Boston, Seattle
World Series
Dodgers versus Houston
Ask Ross Porter
Hi, fans! It's good to be back with you to answer your questions during this baseball season. Please send your questions to Houston and he will pass them on to me. List the city in which you live.
Dennis Morris of Westlake Village asks, "Ross, are they starting the major-league schedule earlier than usual this year?
Ross: Yes, they are. For the first time in baseball history, all 30 teams will have their first game before April. It has also been 50 years since every club was scheduled to open on the same day. Play ball!
Ron Wheat of Dallas, 83-year-old Craig Smith of Pierre, S.D., and Gary Nakaji ask: "Do you believe Yu Darvish was tipping pitches in the World Series?"
Ross: Some of the Astros players said that Darvish was tipping his pitches and they could tell what he was going to throw because of the way he gripped the ball before he delivered it. Darvish retired only five batters in Game 3 and five in Game 7, finishing with a 21.6 ERA and no strikeouts. I wrote on Twitter before Game 7 that the Dodgers should pitch Alex Wood since he had no-hit the Astros for 5 2/3 innings in Game 4 at Houston. Wood was the first Dodger pitcher in 125 World Series games to start one with 5 2/3 hitless innings.
Chris Raines of San Jose asks: "What were you doing, Ross, when Gibson hit his homer against the A's?"
Ross: I had to do the postgame interview that night so I was in the Dodgers clubhouse. The A's led, 4-3 in the bottom of the 9th inning. Gibson was seated on a training table looking up at the NBC telecast of the game. Vin said to Joe Garagiola on the air, "Joe, I'll tell you one guy who won't play tonight. That is Kirk Gibson. He can barely walk." When Gibson heard that, he yelled, "Mitch, come here." Mitch Poole was the clubhouse attendant. "Go tell Lasorda I can hit." Poole went to the dugout and when he came back, he said, "Tommy said get dressed, but don't come out. He doesn't want Tony LaRussa to know you are available." Kirk put on his jersey and cleats, then went to the batting net and hit eight or 10 baseballs off the adjustable tee. Then someone in the dugout yelled, "Gibby, you can come out now." I followed him down the tunnel and when he went up the steps to the field, the crowd went bonkers. Looking over the right-field bullpen all I could see were red brake lights on cars leaving the stadium. Gibson had only that at bat in the World Series. I have said many times if Vin had not made his comment, Kirk Gibson would never have been in that game.
And finally
I'm taking a week off to spend spring break with the family, so the next Dodgers newsletter will be on Tuesday, April 10.
Have a comment or something you'd like to see in a future Dodgers newsletter? Email me and follow me on Twitter: @latimeshouston.
---
Get our Dodgers Dugout newsletter for insights, news and much more.
You may occasionally receive promotional content from the Los Angeles Times.