Dodgers Dugout: A look at some of the pitchers the Dodgers could trade for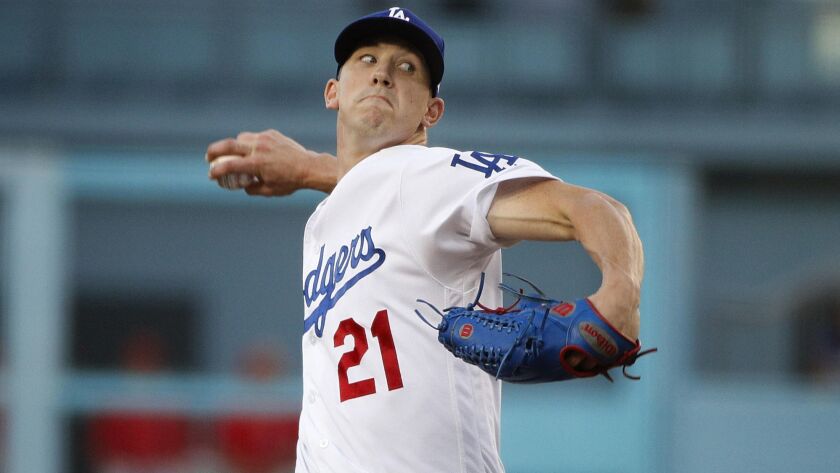 Hi, and welcome to another edition of Dodgers Dugout. My name is Houston Mitchell, and I guess Kiké Hernandez isn't the reliever the Dodgers are looking for.
The bullpen
As July moves closer to August, let's revisit the elephant in the room: The lack of a shutdown reliever to bridge the gap from the starter to Kenley Jansen, and the sudden lack of starting pitching depth. Getting Manny Machado was great, especially since the Dodgers didn't give up a lot to get him, but all getting Machado did was improve an already good offense. The Dodgers are fourth in the NL in runs scored a game, first in homers, fourth in on-base percentage and second in slugging percentage.
Now you may look at the NL team pitching leaders and see the Dodgers leading the NL in ERA and think, "They seem fine!" But they aren't. They still haven't identified that guy to replace Brandon Morrow. Tom Koehler was supposed to be the guy, but he is having season-ending shoulder surgery, so his Dodger career could end with him never throwing a pitch for the team. And he gets $2 million for that. Almost every reliever on the staff has had periods of brilliance, but not the consistent excellence you want in a setup man.
Also, Ross Stripling and Walker Buehler have suddenly returned to earth, not pitching as well as they did before the All-Star break. Stripling has an ERA of 3.97 in July and has given up more hits (25) than the number of innings he has pitched (22.2). Buehler has a 6.52 ERA this month.
So, another starter and a reliever would be useful. The non-waiver trade deadline is July 31. Who are the leading candidates for the Dodgers to acquire? Let's take a look, and keep in mind that if the Dodgers want to add a player, they are probably going to have to trade someone from the major-league roster so they don't go over the luxury tax threshold.
Starters
Jacob deGrom, RHP, New York Mets: DeGrom is one of the best starters in the game, with a league-leading 1.71 ERA and league-leading 2.27 FIP. But what will the Mets want for him? Buehler or Alex Verdugo for sure. Probably both. Plus, Andrew Friedman's first-born child.
Cole Hamels, LHP, Texas Rangers: You get a guy like Hamels because of his postseason experience (7-6, 3.48 ERA in 16 starts, MVP of the 2008 NLCS and World Series). You get him and hope this horrible season for him (4.72 ERA, 5.19 FIP) is an anomaly and not a sign that the end is near. Hamels is making $23.5 million this year, with a $20 million team option for 2019 or a $6 million buyout.
J.A. Happ, LHP, Toronto Blue Jays: He has a 4.18 ERA and a 3.84 FIP for Toronto and is making $13 million this season. A 12-year veteran, Happ has been a career 104 ERA+, so he isn't a Justin Verlander type of acquisition, but he could probably come relatively cheaply. He does have a 1.175 WHIP this season, the second best of his career behind his 2016 season, when he went 20-4 with a 3.18 ERA. He may have been traded by the time you read this, because late Wednesday night, rumors were swirling that he was headed to the Yankees.
Matt Harvey, RHP, Cincinnati Reds: Yes, the pitcher who crashed and burned in New York with the Mets is on the market. He has a 4.50 ERA with the Reds, but from June 15 to the All-Star break he had a 2.38 ERA in 34 innings. Is he worth the risk?
Tyson Ross, RHP, San Diego Padres: He has a 4.29 ERA and a 4.48 FIP. Before that, he had ERAs of 11.81 (2016) and 7.71 (2017). In his nine-year career, he has led the league in two categories, walks (84 in 2015) and wild pitches (14 in 2015). He's not the answer, but the Padres are willing to deal him. I'm willing to trade the rusted car in my driveway too, but there's not a lot of interest for some reason.
Relievers
Kyle Barraclough, RHP; Adam Conley, LHP and Brad Ziegler, RHP, Miami Marlins: Al three Marlins relievers are available, but the asking price for Barraclough, who has 10 saves and is under team control for a couple more seasons, would be quite high.He has given up only 23 hits and struck out 50 in 44 innings, but he has also walked 24. Conley can get lefties (batting .190 against him) and righties (batting .140) out and is having a career year in his first season as a reliever after poor results as a starter. Ziegler is 38 and a veteran who is having one of the worst seasons of his career. He also has a postseason ERA of 36.00, so he is probably not the answer.
Raisel Iglesias, RHP, Cincinnati Reds: A package deal for Harvey and Iglesias? Probably not, but Iglesias is worth looking at. He is under team control until 2022 and has 19 saves for the Reds with a 2.20 ERA (but a more unattractive 3.87 FIP). He has given up 29 hits in 45 innings and will probably require the Dodgers giving up a top 10 prospect. But he's very intriguing because he could be a setup man this season and beyond and give the Dodgers an option to rest Jansen occasionally.
Fernando Rodney, RHP, Minnesota Twins: No. Just no.
Joakim Soria, RHP, Chicago White Sox: The one-time Royals closer has 16 saves and a 2.56 ERA with the White Sox, but it's 0.77 since mid-May. He has more strikeouts than innings pitched this season and in his career, but is far removed from his glory days. He's worth considering if the price is right. He's earning $9 million this season with a $10-million team option or a $1 million buyout for 2019.
Felipe Vazquez, LHP, Pittsburgh Pirates: Vazquez has a 2.36 ERA and 44 saves in 2 ½ season with the Pirates, but he has allowed 54 baserunners in 42.1 innings this season, and with Tony Cingrani due back soon, and perhaps the return of Julio Urias to help out in the bullpen in August, I don't sense that the Dodgers are looking for another left-hander.
There are many other relievers out there that can be acquired, but the above are the consensus most likely to be traded. As you can see, there are no Verlanders or Chapmans available. But there is a great chance the Dodgers will acquire someone.
Farewell, Andre
I have gotten emails every week this season from readers wondering what's going on with Andre Ethier. Now we have an answer: He's retired.
The Dodgers announced on Wednesday that they will honor Ethier in a pre-game "retirement ceremony" on Friday, Aug. 3 before the 7 p.m. game against the Houston Astros.
"I look forward to coming back to Los Angeles and Dodger Stadium, places I'm so lucky to have called home for the last 12 years," Ethier said. "There's nothing like stepping out on the field at Dodger Stadium and looking up and seeing the faithful Dodger Blue supporting you, and I'm grateful for the reception and support I received in all my years playing there. I'm humbled by this evening and look forward to sharing it all with you."
Ethier was often overlooked nationally, but he was a solid player for many years with the Dodgers before injuries wrecked his last two seasons with the team. His most impressive stat? He had 14 walk-off hits in his career, second in Dodgers history behind Dusty Baker, who had 16. He also hit .315 with the bases loaded and had a 30-game hitting streak in 2011, second in team history behind Willie Davis' 31-game streak in 1969.
More KTLA games
For those of you who live in the Los Angeles area and are unable to see Dodgers games on TV, the Dodgers announced that four games in August and one in September will be televised on KTLA (Channel 5). Those games are:
Saturday, Aug. 4, vs. Houston, 6 p.m.
Wednesday, Aug. 15, vs. San Francisco, 7 p.m.
Monday, Aug. 20, vs. St. Louis, 7 p.m.
Friday, Aug. 31, vs. Arizona, 7 p.m.
Tuesday, Sept. 4, vs. New York Mets, 7 p.m.
Meanwhile, there is no agreement between DirecTV and Spectrum SportsNet coming in the near future.
Ask Ross Porter
Hi, fans! It's good to be back with you to answer your questions during this baseball season. Please send your questions to Houston, and he will pass them on to me. Include the city where you live.
Ed McCord of Colorado Springs, Colo. asks: Ross, which teams have had the most Cy Young Award winners?
Ross: The Dodgers have won 12, five more than the Braves, Phillies, and Red Sox. Don Newcombe won the first one in 1956, Sandy Koufax and Clayton Kershaw each have three, Don Drysdale, Mike Marshall, Fernando Valenzuela, Orel Hershiser, and Eric Gagne one each.
The Reds, Rockies, Marlins and Rangers have never had a Cy Young Award winner.
Harriette Spero of Century City asks: Who has been the smallest player in the big leagues?
Ross: Eddie Gaedel was a 43-inch stuntman who weighed 65 pounds and was signed by St. Louis Browns owner Bill Veeck for one game in 1951. Harriette, his strike zone was estimated at one and a half inches. He wore a jersey borrowed from a nine-year-old boy with the number "1/8." The 3-foot 7 inch Gaedel walked on four pitches and was replaced by a pinch-runner at first base. It was Eddie's only major-league game, and 10 years later at 36, he was beaten to death.
Scott Walden asks: Ross, in your opinion, what has been the worst trade in Los Angeles Dodgers history?
Ross: I would say the 1983 deal when the Dodgers dealt minor league pitcher John Franco to the Reds for infielder Rafael Landestoy. Landestoy hit .172 that year, .185 the next, and retired.
Franco went on to post 424 saves, the fifth most ever.
Tracy Miller of Moorpark asks: How much money do minor-league players earn and what is the minimum salary for the guys in the majors?
Ross: Monthly minimum salaries for most youngsters in rookie ball and Class A is $1,100, at double A, it's $1,500, while triple A players could make as little as $2,150 a month. They receive a $ 25 per diem on the road and dinner at the ballpark following games.
The minimum salary for a major leaguer this year is $545,000 and next season it will be $555,000.
Up next
Thursday, 4:30 p.m.: (Rich Hill, 3-4, 4.26 ERA) at Atlanta (Anibal Sanchez, 5-2, 2.76 ERA)
Friday, 4:30 p.m.: Dodgers (Clayton Kershaw (3-5, 2.64 ERA) at Atlanta (Mike Foltynewicz, 7-6, 2.85 ERA)
Saturday, 4 p.m.: Dodgers (Alex Wood, 6-5, 3.87 ERA) at Atlanta (Sean Newcomb, 9-5, 3.41 ERA)
Sunday, 10:30 a.m.: Dodgers (TBA) at Atlanta (TBA).
And finally
Former Dodger Ron Fairly still treasures a magical pebble. Bill Plaschke writes about it here.
Have a comment or something you'd like to see in a future Dodgers newsletter? Email me and follow me on Twitter: @latimeshouston.
---
Get our Dodgers Dugout newsletter for insights, news and much more.
You may occasionally receive promotional content from the Los Angeles Times.