Dodgers Dugout: A.J. Pollock is here, but does that mean Bryce Harper is not coming to town?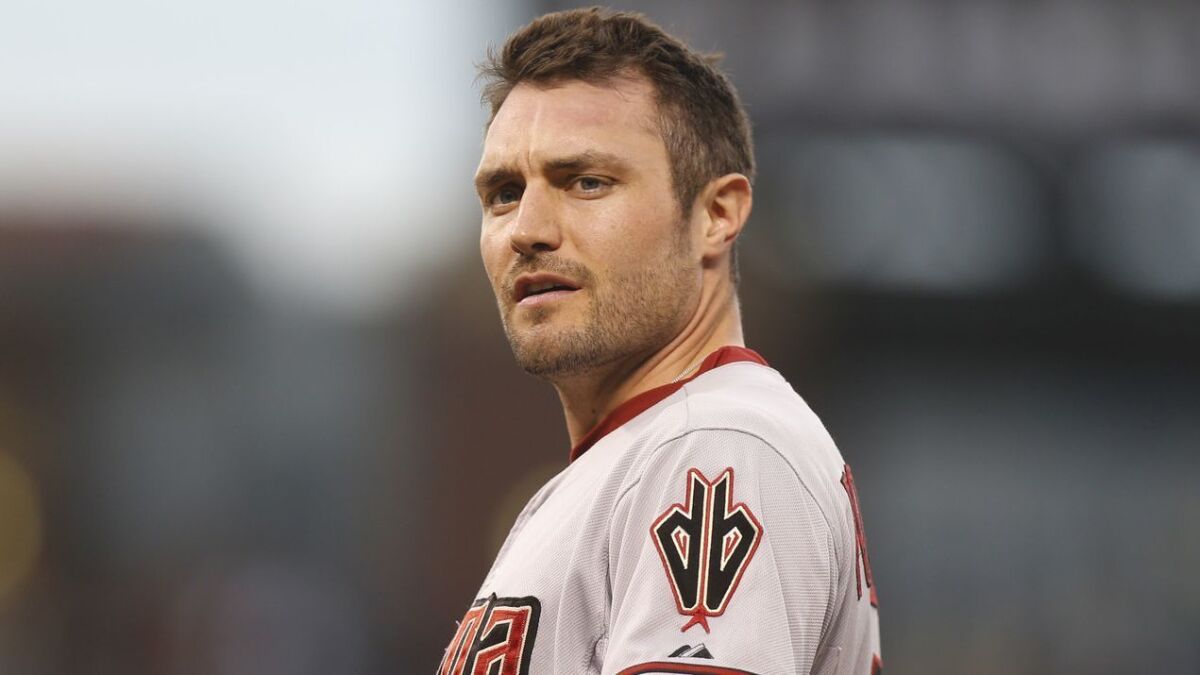 Hi, and welcome to another edition of Dodgers Dugout. My name is Houston Mitchell and it still feels like the Dodgers have one more move to make.
Dodgers sign A.J. Pollock
The Dodgers signed outfielder A.J. Pollock to a five-year, $60-million deal on Thursday, with a potential opt-out after the third year and a $10-million player option with a $5-million buyout for the fifth year.
Is this a good signing? It could be. Pollock is a good player when he is healthy, the question is, can he stay healthy? He broke his right elbow in 2010 while in the minors. After coming to the majors in 2012, he has been snakebit.
In 2014, he broke his right hand after being hit by a pitch, playing in only 75 games.
In 2016, he broke his right elbow, again, playing only 12 games.
In 2017, he missed a few weeks with a strained groin and played only 112 games.
In 2018, he had a broken thumb and played only 113 games.
Noticing a trend? The good news (if there can be good news about injuries) is that most of them are broken bones, which is more a sign of bad luck than someone who is truly injury prone. If he was missing time with strained muscles or a bad back constantly, that would be a much bigger concern.
And the one season he wasn't injured, 2015, he hit .315/.367/.498, was an All-Star, won the Gold Glove in center and finished 14th in MVP voting. Of course, that was four years ago.
In the three seasons since then, he has hit a combined .261/.323./.473, good for an OPS+ of 102. He will be a definite upgrade defensively in center.
He also gives them a right-handed bat who can hit left-handers, as his platoon splits are .275/.327/.498 against lefties and .284/.343/.454 against righties. Remember, Yasiel Puig was a right-handed batter who couldn't hit lefties as well, .250/.340/.417, including .209/.268/.360 last season.
So, is this an exciting signing? No. Is it a bad signing? At the moment, no. If Pollock breaks his leg on opening day, then we'll discuss that again. Is Pollock an upgrade over Puig? On the field, no. Does it guarantee them the World Series? Of course not? Are the Dodgers a better team now than they were the day before? Yes. Are they a better team on paper now than they were at the end of last season? No. They aren't necessarily worse, I just don't see them as being better.
So, with this signing, let's look at a potential opening-day Dodgers lineup.
C: Russell Martin
1B: Cody Bellinger
2B: Max Muncy
3B: Justin Turner
SS: Corey Seager
LF: Chris Taylor
CF: A.J. Pollock
RF: Alex Verdugo
With a bench of Austin Barnes, Kiké Hernandez, Joc Pederson, Andrew Toles and David Freese.
Of course, there are multiple variations of that lineup.
Missing from last year's team: Manny Machado, Puig, Matt Kemp. So, we in effect have Seager replacing Machado, Pollock replacing Puig and Verdugo replacing Kemp. I don't see that as a significant upgrade on the field. It seems to me, that taken all together, it's more of a status quo at best. It should be a significant upgrade in the clubhouse, if you believe that sort of thing has an influence.
It still feels like the team needs to make one more move, and I am still hoping that move is trading for Miami catcher J.T. Realmuto. I'm still not close to being convinced that Martin and Barnes are a great option at catcher.
What else does this move mean? It means Bryce Harper will not be a Dodger.
The luxury-tax threshold for 2019 will be $206 million. Cross that number in total payroll, and you have to pay extra. The Dodgers don't want to do that. With the Pollock signing, the Dodgers are at approximately $199 million in payroll. Unless Harper will agree to a 10-year, $50-million deal, it seems unlikely the Dodgers will be bringing him aboard.
Maybe the Dodgers will surprise everyone and say, "Hey, forget the luxury tax, we're going to sign him!" but that is unlikely. And, if Harper truly won't sign for anything less than 10 years, then I am fine with waving goodbye to him.
It's much more likely that there is a trade to be made. A lot of evidence points to it. If that trade is for Realmuto, then I will be happy with this team heading into the season.
I got a lot of email from subscribers who are disappointed with the Pollock signing. My philosophy on offseason moves is this: I wait until the off-season is over, and then I decide whether everything makes sense. If the Dodgers go into the season with the team as currently stands, I won't be thrilled. But getting mad or disappointed about it now makes no sense, because there is still time to do things before March 28.
My advice is to be patient and see what happens. Long-time subscribers know I have no problem criticizing the Dodgers when I feel it is deserved. It's not deserved yet.
Two more quick things on Pollock: 1. He was a noted Dodger-killer in his career, so it will be nice not to have to face him. 2. A.J. stands for Allen Lorenz.
For another take on all of this, read Bill Plaschke's column here.
Get your tickets
Individual game tickets for this season go on sale today at 11 a.m. PT exclusively online at Dodgers.com
And finally
By request, here's the radio broadcast of Game 7 of the 1955 World Series. Listen to it here.
Have a comment or something you'd like to see in a future Dodgers newsletter? Email me and follow me on Twitter: @latimeshouston.
---
Get our Dodgers Dugout newsletter for insights, news and much more.
You may occasionally receive promotional content from the Los Angeles Times.