Column: Here's the thing about the Dodgers' A.J. Pollock: He's not Bryce Harper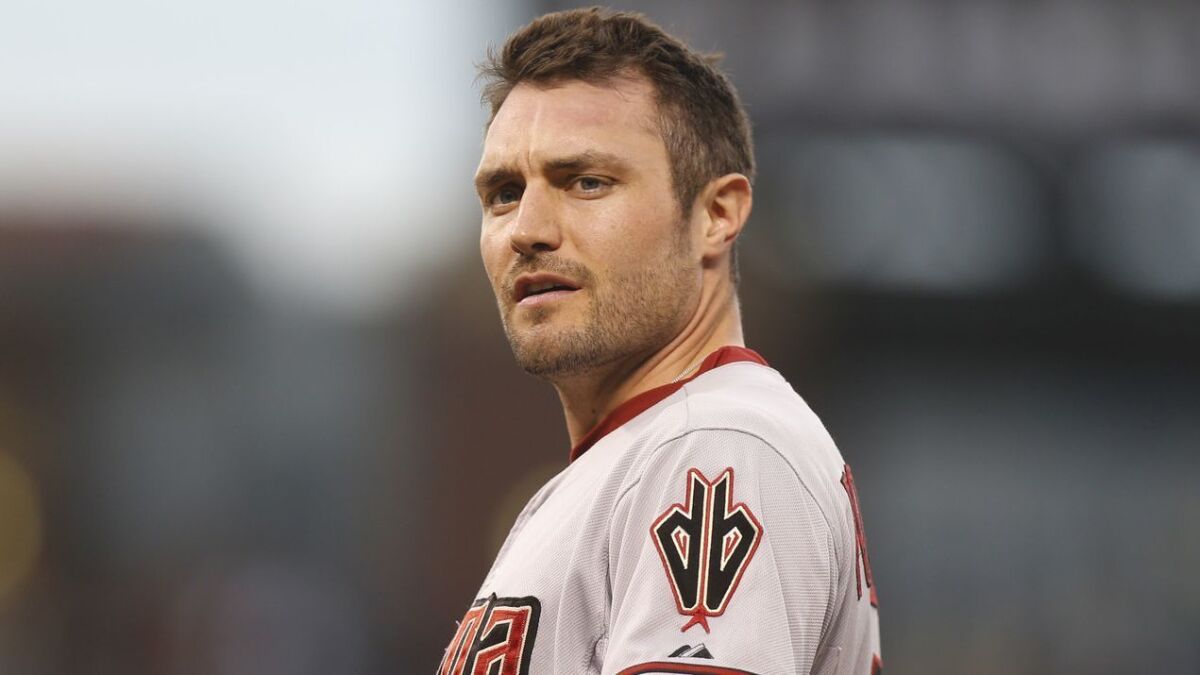 The news is that the Dodgers have agreed to sign free-agent outfielder A.J. Pollock.
The story is that they won't be signing Bryce Harper.
The news is that the Dodgers have added an injury-prone former Arizona Diamondbacks center fielder whose long stints on the disabled list frequently overshadow his elite defense and smart hitting.
The story is that, for yet another winter, one of baseball's richest teams passed on baseball's richest available talent.
For all the swagger that Pollock will spread to the field and clubhouse, his presence will smother baseball boss Andrew Friedman with an even broader question.
Why Pollock and not Harper? Why a 31-year-old who has played one full season in his seven-year career and not a 26-year-old former most valuable player who is one of the best players in the game?
Certainly, Pollock is a right-handed hitter that the Dodgers' lefty-heavy lineup desperately needs, and his veteran presence should stabilize an outfield that has remained in flux since the dumping of Yasiel Puig and Matt Kemp, with Joc Pederson possibly being traded next.
But isn't Pollock someone you sign in addition to Harper? Isn't he the complementary player you sign after you've landed the big star? Wouldn't this be like the Lakers signing Chris Paul last summer and passing on LeBron James?
Do you really give Pollock five years and potentially $60 million when he has played 237 games in the last three years combined and has never had more than 21 homers or 76 RBIs in a season?
Or do you dive into your TV riches, and your ticket riches, and your merchandising riches, and pony up whatever it takes to land one of baseball's true stars, a player who last season with the Washington Nationals, when he supposedly struggled, still had 34 homers, 100 RBIs and a .393 on-base percentage?
Harper could have cost more than $300 million, but the Dodgers have the resources. Harper might want a 10-year deal, but at the end of that deal he'd be about the same age as Pollock at the end of his deal.
Pollock makes sense until you realize that he's replacing Harper. Then his presence just falls into the Dodgers' recent ominous offseason pattern of ignoring big-money players — Giancarlo Stanton last year, for example — in lieu of plugging gaps with modestly priced gamers.
They continue to have one of the top payrolls in baseball, and their strategy has landed them in consecutive World Series, but they lost both, and one wonders how much difference it would have made if they had just one more premier slugger, one more giant arm … one Bryce Harper.
Maybe they're holding their wallets for next season, when another pricey player named Nolan Arenado becomes a free agent. The powerful Colorado Rockies third baseman is from Orange County, grew up a Dodgers fan and could be a perfect fit in Chavez Ravine.
But then again, last winter everyone thought they weren't spending money because they were waiting for Harper.
Maybe, more ominously, the signing of the less expensive outfielder is in keeping with a philosophy outlined in a document obtained this winter by The Times' Bill Shaikin. The document was prepared by the Dodgers for potential minority investors and details a Dodgers plan to keep their payroll flat for the next four years in order to avoid paying baseball's luxury tax.
Guess where the Pollock signing reportedly pushes the Dodgers payroll? Yep, it moves it within about $7.3 million of the $206 million competitive balance tax line. They're close, but not quite there. They're spending money, but not as much as they could spend. They're basically doing what they promised investors they would do.
That's the hardest thing to swallow, the idea that the Dodgers won't go the extra mile even as their fans do just that, consistently filling Dodger Stadium in record numbers.
Granted, Pollock can play when he's not injured. In his only sound season, in 2015, he batted .315 with 20 homers, 76 RBIs and 39 stolen bases.
Also, he loves hitting against the Dodgers, so at least that won't be happening now. Last year he had nine homers and 16 RBIs against the Dodgers in only 73 at-bats, including a three-homer game against the Dodgers in Arizona last April.
But his overriding career narrative can be found in his injuries, which have collectively threatened to cut him down in his prime. Broken elbow. Strained groin. Broken thumb. He hasn't had any of the dreaded shoulder or elbow ligament issues, but still there are concerns that his physical structure can't hold up under his furious style of play.
Harper gets hurt too. But he has played at least 147 games in three of the last four seasons and not once during that time has he had fewer than 26 homers or 87 RBIs with an on-base percentage that has twice been above .400.
Harper is a star, and Los Angeles loves stars. But Harper is really, really expensive, and the Dodgers apparently are out of the business of doing really, really expensive.
All of which leads to the biggest question posed by the Pollock acquisition, a question that fans have to ask themselves as the Dodgers continue to refuse to make the shiny purchase.
They're making $8.35 billion on a TV deal that costs many of you the opportunity to watch their games. Their revenues are growing every year while many of you continually stretch to meet the rising ticket prices.
Just what are the Dodgers doing with all this money … and with all your money?
Sign up for our daily sports newsletter »
Get more of Bill Plaschke's work and follow him on Twitter @BillPlaschke
Get our high school sports newsletter
Prep Rally is devoted to the SoCal high school sports experience, bringing you scores, stories and a behind-the-scenes look at what makes prep sports so popular.
You may occasionally receive promotional content from the Los Angeles Times.