Dodgers Dugout: Yasiel Puig, Walker Buehler could be keys to getting, and winning, in the playoffs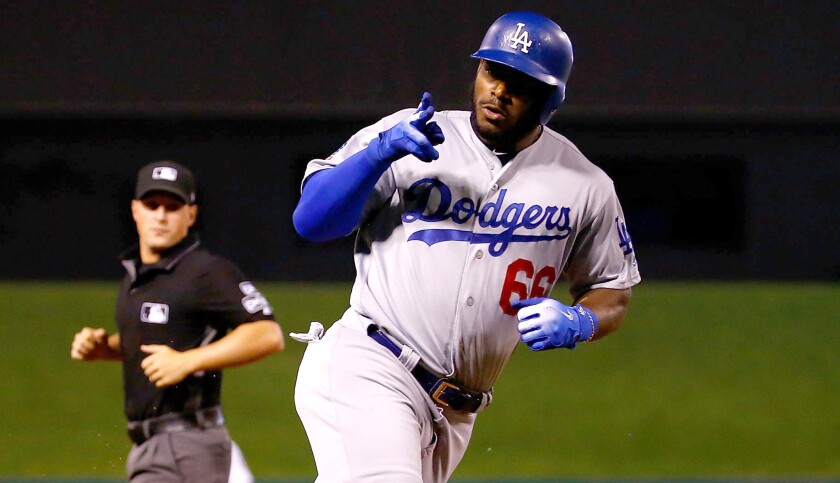 Hi, and welcome to another edition of Dodgers Dugout. My name is Houston Mitchell, and there are only 12 games left in the season. It would have been nice to sweep the Cardinals, but winning three of four is nothing to be disappointed about. If the Dodgers win the rest of their series, they will more than likely make it to the playoffs.
Puig, Buehler are keys to the postseason
Let's assume for a moment that the Dodgers make the playoffs and take a look at two Dodgers who could be absolutely essential to the team advancing, and winning, the World Series: Yasiel Puig and Walker Buehler.
Puig joined the Dodgers on June 3, 2013, and was a revelation. In his first season, he hit .319/.391/.534, which was good for a 159 OPS+. Since the team moved to L.A in 1958, only seven other Dodgers have ever had a season of at least 400 plate appearances with an OPS+ of 159 or better. They are: Mike Piazza, who did it three times, Gary Sheffield and Reggie Smith, who did it two times each, Matt Kemp, Adrian Beltre, Eddie Murray and Pedro Guerrero. Max Muncy could join the list this year. There were rumblings that Puig was immature, but his play overshadowed that. He finished second in rookie of the year voting to Miami pitcher Jose Fernandez.
In 2014, Puig played 148 games and hit .296/.382/.480 with a 145 OPS+. He made his first, and so far, only All-Star team. He played solid defense and had the best arm in the majors. He was a superstar. But the rumblings of his attitude became louder, and sometimes he made some bonehead mistakes on the basepaths.
In 2015 and 2016, the wheels came off. He played only 104 games in 2015, with injuries taking a toll. He hit .255/.323/.436, was hurt again and didn't play all that great when he wasn't hurt. In 2016, he played 104 games, was benched for a series of late arrivals to the ballpark, was a below-average hitter and sometimes seemed to not be paying attention during games. He was eventually sent to the minors on Aug. 2 when the Dodgers acquired Josh Reddick.
When he came back from the minors later that season, he seemed to be a different guy. It carried over to last season, when he hit .263/.346/.487/118 OPS+. He had a new-found plate discipline, laying off pitches he used to chase and hitting line drives. After going on the DL early this season because of a hip injury sustained when he crashed into an outfield wall, he has become one of the Dodgers' more consistent hitters.
It all culminated Friday and Saturday in St. Louis, when he hit five home runs in two games, including a three-homer, seven-RBI game on Saturday.
Since returning from the minors on Sept. 2, 2016, Puig has hit .267/.341/.498.
How good as that? Since 2016, only 20 players have had at least 900 at-bats and had the same or better numbers in all three categories. Only 20. Yet there are still some fans who want to cut ties with him because he will never match the potential he showed when he first came up. He will be a perpetual disappointment to some for failing to keep a pace only a few in baseball history have been able to match. I don't know what kind of influence Puig has in the clubhouse.
I only know what he does on the field, which is put up solid numbers and play Gold Glove-level defense. And I know he does a lot of unpublicized charitable work for children and has helped many through his Wild Horse Children's Foundation. If you get rid of a guy like Puig, you better have someone in place who is better than him. He will be an important person if the Dodgers make the playoffs.
The next guy to talk about is Walker Buehler, who was drafted by the Dodgers in the first round of the 2015 draft and almost immediately underwent Tommy John surgery. That opened the Dodgers up to a lot of ridicule, but they are having the last laugh now.
You can argue that Buehler has been the ace of the staff this season, with his only hiccup coming when he was pitching through a microfracture of a rib suffered after being hit by a line drive. Let's look at his ERA's by month:
March/April: 1.80
May: 2.32
June: 7.94
July: 4.32
August: 1.53
September: 2.21
The really incredible thing about Buehler is his control. He has walked only 31 batters in 118.2 innings, a walk rate of 2.4 per nine innings. And he's only in his first full season. In his first full season, Clayton Kershaw had a walk rate of 4.8.
I don't know if Kershaw is going to opt out after the season (we will discuss that more when the season ends), but I do know if he does, having Buehler around would make it easier for the Dodgers to live without him.
And it's not like Buehler is putting up his numbers against the worst teams. He has a 1.42 ERA against Arizona, 1.69 against Atlanta, 3.24 against Colorado, 3.38 against Houston, 1.29 against Milwaukee and 0.00 against St. Louis. He has come through against the tough teams. If he pitches in the playoffs like that, the Dodgers will have a solid No. 2 to back up Kershaw.
What's next?
Let's take a look at the remaining schedules for all the teams in the NL West and at the wild-card hunt.
First, the NL West standings
Colorado, 82-67
Dodgers, 82-68, ½ GB
Arizona, 78-72, 4 ½ GB
San Francisco, 70-80, 12 ½ GB
San Diego, 60-90, 22 ½ GB
Next, the wild-card standings.
Remember, the top two teams make it to the one-game wild-card playoff. The games behind refers to how far they are behind the second team.
Milwaukee, 85-65
Dodgers, 82-68
St. Louis, 82-68
Arizona, 78-72, 4 GB
Philadelphia, 76-72, 5 GB
If St. Louis and the Dodgers are tied for the final wild-card spot when the season ends, then a one-game playoff to determine the final spot would be played in St. Louis.
Remaining schedules
DODGERS (12 games left)
HOME (6): Colorado (3), San Diego (3). Note: The final homestand of the season is Sept. 17-23.
AWAY (6): Arizona (3), San Francisco (3)
COLORADO (13)
HOME (7): Philadelphia (4), Washington (3)
AWAY (6): Dodgers (3), Arizona (3)
ARIZONA (12)
HOME (9): Chicago Cubs (3), Colorado (3), Dodgers (3)
AWAY (3): San Diego (3)
MILWAUKEE (12)
HOME (6): Cincinnati (3), Detroit (3)
AWAY (6): Pittsburgh (3), St. Louis (3)
ST. LOUIS (12)
HOME (6): San Francisco (3), Milwaukee (3)
AWAY (6): Atlanta (3), Chicago Cubs (3)
PHILADELPHIA (14)
HOME (6): New York Mets (3), Atlanta (3)
AWAY (8): Atlanta (4), Colorado (4)
Meet Ned Colletti
Former Dodgers general manager Ned Colletti will be appearing at the South Pasadena Library community room on Thursday at 7 p.m. to discuss and sign his book, "The Big Chair," with Dodgers historian Mark Langill. The community room is located at 1115 El Centro St. Admission is free. Doors will open at 6 p.m. I moderated an event at the same location with Ned last year, and I guarantee you will have a great time. He is a great storyteller.
The new guys
Since joining the Dodgers, here's how the new guys are doing:
Brian Dozier, .189/.302/.346/76 OPS+
Manny Machado, .270/.342/.488/123
David Freese, .389/.522/.722/235
John Axford, 16.20 ERA, on the disabled list with a broken leg
Ryan Madson, 10.38 ERA
These names seem familiar
What recently departed Dodgers are doing around the league (through Saturday):
Charlie Culberson, Braves, .277/.328/.483, 116 OPS+.
Brandon McCarthy, Braves, 6-3, 4.92 ERA. On the 60-day DL and has announced his retirement.
Yu Darvish, Cubs, 1-3, 4.95 ERA (on 60-day DL and out for the season with an elbow injury).
Curtis Granderson, Brewers, .250/.355/.453, 123 OPS+ (traded by Toronto to Milwaukee on Aug. 31 for prospect Demi Orimoloye). Hitting .357/.571/.929/291 with the Brewers.
Brandon Morrow, Cubs, 0-0, 22 saves, 1.47 ERA (on 10-day DL with right biceps tendinitis).
Tony Watson, Giants, 4-6, 2.74 ERA.
Chris Hatcher, A's, 3-2, 4.08 ERA, recalled from minors on Sept. 1.
Luis Avilan, Phillies, 2-1, 3.77 ERA, two saves. (0-0, 2.70 with Phillies)
Trayce Thompson, White Sox, .117/.162/.211 (removed from the 40-man roster and sent to the minors). Hit .213/.278/.363 for triple-A Charlotte.
Wilmer Font, Rays, 2-3, 5.93 ERA (on 60-day DL with a lat strain).
Sergio Romo, Rays, 3-3, 3.25 ERA, 20 saves.
Logan Forsythe, Twins, .279/.369/.314, 90 OPS+.
Up next
Monday, 7 p.m.: Colorado (Jon Gray, 11-7, 4.80 ERA) at Dodgers (Hyun-Jin Ryu, 4-3, 2.42 ERA).
Tuesday, 7 p.m.: Colorado (Kyle Freeland, 15-7, 2.96 ERA) at Dodgers (Clayton Kershaw, 8-5, 2.51 ERA).
Wednesday, 7 p.m.: Colorado (Tyler Anderson, 6-9, 4.82 ERA) at Dodgers (Walker Buehler, 7-5, 2.88 ERA).
And finally
Dodgers send Alex Wood to the bullpen. Read all about it here.
Have a comment or something you'd like to see in a future Dodgers newsletter? Email me and follow me on Twitter: @latimeshouston.
---
Get our Dodgers Dugout newsletter for insights, news and much more.
You may occasionally receive promotional content from the Los Angeles Times.