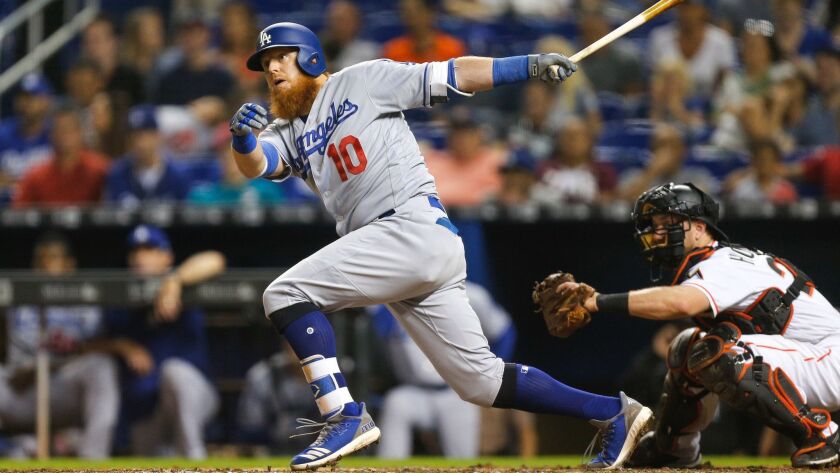 Hi, and welcome to another edition of Dodgers Dugout. My name is Houston Mitchell, and there were more runs scored in the series with the Marlins than there were people in the stands in Miami.
What's left to say?
On the evening of Oct. 31, Dodgers fans, their tummies full of candy, went to sleep knowing that their team was the best team in the National League. They felt positive that 24 hours later, their team would prove to be the best team in all of baseball when the Dodgers beat the Houston Astros in Game 7 of the World Series.
And then the game began, and it has been all downhill from there.
Here we stand, about six months later, and everything has changed. At this moment, the Dodgers could very well be the worst team in the National League. They are 0-4 against Cincinnati (the Reds are 11-29 against everyone else). They are 2-4 against Miami (the Marlins are 12-25 against everyone else). The only teams they have a winning record against are San Diego (4-2) and Washington (2-1).
Everyone is trying to figure out the one secret to turning this team around. Unfortunately, there isn't one. There are a whole host of things that have to happen for this to turn around.
Let's sum it up. In the 15-team National League, the Dodgers rank:
6th in runs per game (4.30)
12th in homers (40). And when you have a team that lives and dies by the homer, then this is bad.
14th in steals (12).
9th in batting average (.239).
7th in OB% (.320).
9th in SLG% (.389).
3rd in left on base (322).
6th in batting with runners in scoring position (.244)
12th with two out and runners in scoring position (.205)
9th with the bases loaded (.207)
8th in ERA (3.90)
5th in starter's ERA (3.48)
14th in reliever's ERA (4.51)
5th in WHIP (1.297)
13th in hits per 9 IP (8.6)
2nd in walks per 9 IP (3.1)
3rd in most homers allowed (51)
2nd in strikeouts per 9 IP (9.7)
15th in saves (7)
In other words, they are below average in almost everything.
So where do you start? And what do you do?
It's easy to start at the bullpen. They have been horrible this season. But for every action we take, there needs to be an equal and opposite reaction. Release Pedro Baez? Who do you replace him with? Same for anyone else you replace. And if you replace Baez, that means more games for Daniel Hudson and J.T. Chargois, who have worse numbers that Baez.
So, what do you do? It seems everyone on the pitching staff and on offense is underperforming at the same time. It's easy to get rid of guys when it's only one or two player underperforming, but when it's almost the whole team? Justin Turner is back, and while it has only been three games, I don't think even he can single-handedly turn around an offense.
Fire Dave Roberts?
OK, so you fire Dave Roberts. Who do you have in mind to replace him? Because if you don't have someone in mind who is obviously better, I'm not sure firing Roberts accomplishes anything. There aren't a lot of managerial candidates waiting for a job, unless you want Dusty Baker to take over. And if you thought the pitching was bad now, just wait until Dusty gets a hold of it.
You may be asking yourself how I can stay so calm during all of this. Well, I'm not really calm. This is aggravating, infuriating, vexing, exasperating, all of the above.
I'm tired of seeing the Dodgers take pitch after pitch, swing at a bad one and then take strike three down the middle. There are more full counts in these games than at All You Can Eat shrimp night at the Sizzler in Transylvania. Can someone please swing at the first pitch fastball all you guys seem to get?
And the bullpen? Tom Koehler has been the most valuable member because he hasn't pitched yet. Dumpster diving for relievers worked wonderfully for the Dodgers the last couple of seasons, but has come back to bite them in a big way this year.
But here's is what really annoys me. I try very hard to like Andrew Friedman. People who have met him tell me he is a nice guy, and I am sure he is. But he has the worst communication skills since Boo Radley. This is a problem for many in the front office who have yet to figure out a way to explain things in a logical, clear manner to the fans.
This question is taken from a Q&A Times baseball columnist Bill Shaikin did with Friedman earlier this week.
"Yes or no: Do you believe the owners have made the $197-million tax threshold an absolute maximum this season?"
Friedman: All of my experiences have been ones where they have demonstrated a tremendous commitment to this team.
Back to me: Huh? That's how you answer a yes or no question? Hey Houston, yes or no, will the Dodgers win the division this year? Answer: Purple.
See, here's the thing, Dodgers fans in general will support the Dodgers if they are just told what the plan is. Don't want to spend over $197 million so you can reset the luxury tax penalty and be more competitive in the off-season free-agent market? That's great! Just tell us. And when you are asked, tell us again. And then tell us again.
But the Dodgers prefer to shroud themselves in mystery because of… some unknown competitive advantage it gives them? Because that's what their robotic overlords demand? Because … why?
In the absence of clarity, fans will fill in their own answers, and it usually won't be a good answer. Especially when you can't answer a simple yes or no question with a simple yes or no.
Now I know some of my great readers feel the job of a fan is to support the team no matter what and never be negative. I have been a Dodgers fans since I was a kid and have never felt that way. I support the team every year, and support them every game, but that does not mean I or any fan should turn a blind eye to the real problems they may have from one year to the next. It doesn't mean we go "Yay Frank McCourt!" when he brings the team to the verge of bankruptcy. When I see things going great, you get newsletters filled with great things, but when things are looking bad, a good fan looks at those things and says "How can we get better?"
The Dodgers have a lot of decisions to make. I'll be hoping they make the right ones. And who knows, the right decision may be to do nothing at all.
Thursday's game
Of course, as soon as I write all of the above, the Dodgers look like their old selves in a victory over the Marlins. Justin Turner has five RBIs, Yasiel Puig homers, Kenta Maeda pitches great. Let's hope it's the start of something big.
Fred Claire
Former Dodgers general manager Fred Claire, who put together the team that won the 1988 World Series, has graciously agreed to answer questions from Dodgers Dugout readers. Claire, who has been battling cancer for the last several months, is holding a golf tournament on Aug. 20 at Oakmont CC in Glendale to benefit City of Hope. The Fred Claire Celebrity Golf Classic will include many Dodger greats, and Tommy Lasorda will be receiving the Celebration of Life Award. For more information, check out the tournament website here.
So, email me your question for Fred by clicking here. I will send them to Fred and he will answer select questions in a future newsletter.
Ask Ross Porter
Hi, fans! It's good to be back with you to answer your questions during this baseball season. Please send your questions to Houston, and he will pass them on to me. List the city in which you live.
Eli Van Sickel of Macomb, Ill. asks: What are a few things you learned working with Vin Scully for 28 seasons?
Ross: Avoid going to the front office at Dodger Stadium and getting involved in internal issues. Come to work, visit the clubhouses and go on the field before the game to gather information for the broadcast. Be friendly with the Dodger players, but don't get too close to them personally, it might affect your objectivity on the air.
Fred Ireland asks: Ross, who is your personal choice as the greatest Dodger player?
Ross: Sandy Koufax. His last four seasons were spectacular before he had to retire at 30 with 97 wins and 27 losses, including four no-hitters, one of them the only perfect game in Dodgers history. His earned-run averages were 1.88, 1.74, 2.04, and 1.73. Sandy is now 82 and looks great.
Buzz Burner of Thousand Oaks asks: Last week, Ross, the Diamondbacks and Dodgers combined to use 17 pitchers. Is that close to a major-league record?
Ross: No, it's not, Buzz. However, Dodger Stadium was the venue on Sept. 15, 2015 when the Rockies and Dodgers sent 24 men to the mound, 13 of them on the Colorado staff, and 58 players saw action. Those three numbers are all-time big-league highs. The Rockies prevailed, 5-4, in 16 innings.
Michael Gorecki asks: Hi, Ross. Do you remember the play in Game 1 of the 1977 World Series when Steve Garvey tried to score against the Yankees. I've always thought he was safe and feel it was a huge play that could have changed the series. Your thoughts?
Ross: I agree with you, Michael. The plate umpire was Nestor Chylak of the American League. He was out of position up the first-base line, and video replays showed Garvey should not have been called out. That would have given the Dodgers a 3-1 lead. New York scored one run in each of the sixth and eighth innings to move ahead, 3-2. The Dodgers got a run in the ninth, but instead of winning, 4-3, they lost in the 12th. A night later, the Dodgers won, but instead of being up two games, they went home tied, and eventually lost in six games. Chylak was considered one of baseball's best umpires and was elected to the Hall of Fame in 1999.
Up next
Friday, Dodgers (Ross Stripling, 0-1, 2.20 ERA) vs. Washington (Max Scherzer, 7-1, 1.69 ERA), 4 p.m.
Saturday, Dodgers (Rich Hill, 1-2, 6.20 ERA) vs. Washington (Tanner Roark, 2-3, 3.33 ERA), 4 p.m.
Sunday, Dodgers (Alex Wood, 0-4, 3.35 ERA) vs. Washington (Stephen Strasburg, 5-3, 3.28 ERA), 10:30 a.m.
And finally
A look at how the sacrifice bunt has declined over the years. Read all about it here.
Have a comment or something you'd like to see in a future Dodgers newsletter? Email me and follow me on Twitter: @latimeshouston.
---