The conversation could have been entirely different. The schedule presented the Dodgers with a golden opportunity last weekend, four home games against the team with the worst record in the National League.
Had the Dodgers won them all, they would have climbed back to .500, and to within four games of the lead in the NL West. With All-Star third baseman Justin Turner expected to make his season debut when they resume play Tuesday, fans could have cheered rather than cringed at the cry of "It's Time for Dodger Baseball!"
But the Dodgers lost all four games to the Cincinnati Reds, and they are within one game of last place in the NL West. Their 16-24 record after 40 games is the Dodgers' worst in 60 years.
They lead the division in runs scored, and their starting pitchers have allowed about as many runs as the starters on the first-place Arizona Diamondbacks.
However, their relief pitchers have allowed about twice as many runs as the Arizona relievers. The Dodgers' management navigated a cost-cutting winter in part by letting bullpen stalwarts Brandon Morrow and Tony Watson go in free agency and replacing them with Tom Koehler and Scott Alexander, neither of whom has made a significant contribution.
The Dodgers also have played without three-quarters of their starting infield. Turner and second baseman Logan Forsythe are due back this week, but All-Star shortstop Corey Seager is out for the season.
Among the five starters in the original rotation, Hyun-Jin Ryu is out until after the All-Star break, and the next starts of Clayton Kershaw and Rich Hill are uncertain. Rookie Walker Buehler, the Dodgers' most effective starter, is working on an undisclosed innings limit that could prevent him from remaining in the rotation for the entire season.
Not seven full weeks into the season, the Dodgers are eight games out of first place. Andrew Friedman, the Dodgers' president of baseball operations, spoke with The Times about his evaluation of the team, whether he might make a major trade — or might be allowed to do so — and the future of manager Dave Roberts.
Is it early? Or is not early any more?
It's early in some respects. That being said, we're not using that as a crutch. Whether it is early or late, we want and we expect to play better baseball.
As you evaluate the team, what do you see as areas that are bound to get better, and what areas have you identified that you need to improve?
I think this is primarily a function of us not being able to sync up the various components of our game. Our 'pen's overall performance hasn't been good enough. Our rotation's, for the most part, has. Our offense hasn't been good enough.
Good teams click on two of three components most nights: starting pitching and defense as one, offense and bullpen. Most nights, we are clicking on one. It's almost random, night to night.
The overall team performance will obviously get much better as we click on at least two of those cylinders. When we get some of our guys back in the next week, we're confident our offense is going to perform better. It's incumbent upon us, with our bullpen, to get back to what we were doing last year. We're confident we have the guys down there to perform way better than we have.
Do you expect that you will need to make a trade to bring in bullpen help?
When you're evaluating things in May, the outside is not really a viable option. So all of your focus is on helping your own guys to perform up to their ability. To the extent we are not able to do that, then the answer is: absolutely, yes. If we are able to do that, the answer is: maybe.
If you find yourself in a wild-card race, how would that affect your decisions about what you might give up in a trade, knowing that a one-game playoff is even more of a crap shoot than the postseason as a whole?
Our focus is on winning the West.
How much financial flexibility has ownership extended to you to improve the team this summer, given that the winter moves were about getting the payroll low enough for the Dodgers to avoid paying the luxury tax?
Our owners have been, I would argue, more supportive than any other owners in baseball. I don't expect this to be any different.
Good teams click on two of three components most nights: starting pitching and defense as one, offense and bullpen. Most nights, we are clicking on one.
Andrew Friedman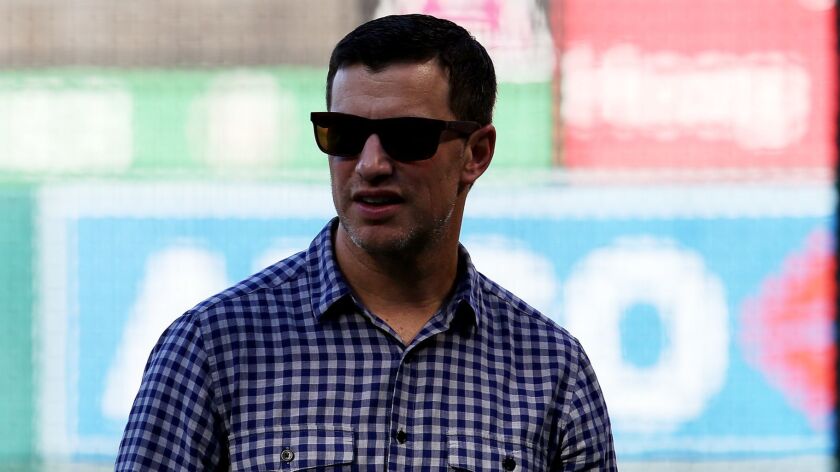 So, if you can make a trade that would require the Dodgers to pay a luxury tax this season, are you confident the owners would approve it?
It's just like trading prospects. All of it falls under the same umbrella of doing what you can to optimize the current year while putting yourself in a position to sustain it. That decision is no different.
Yes or no: Do you believe the owners have made the $197-million tax threshold an absolute maximum this season?
All of my experiences have been ones where they have demonstrated a tremendous commitment to this team.
The Reds, who were in town over the weekend, made a managerial change because they expected their record to be better than it was. The Dodgers clearly expect their record to be better than it is, and the team has not guaranteed Dave Roberts' contract beyond this season. Do you consider a managerial change an option at this point?
There is no doubt in my mind that he is the right guy to lead this team going forward. The way our minds work is not to assign blame to anyone at this point. It's to hunker down, all together, and try to solve problems.
I'm very comfortable in saying that, if we had to assign blame at this point, it should be me who is taking that, and not Doc.
So can you definitively say he will be the manager for the rest of this season?
I think my answer stands.
Follow Bill Shaikin on Twitter @BillShaikin
---