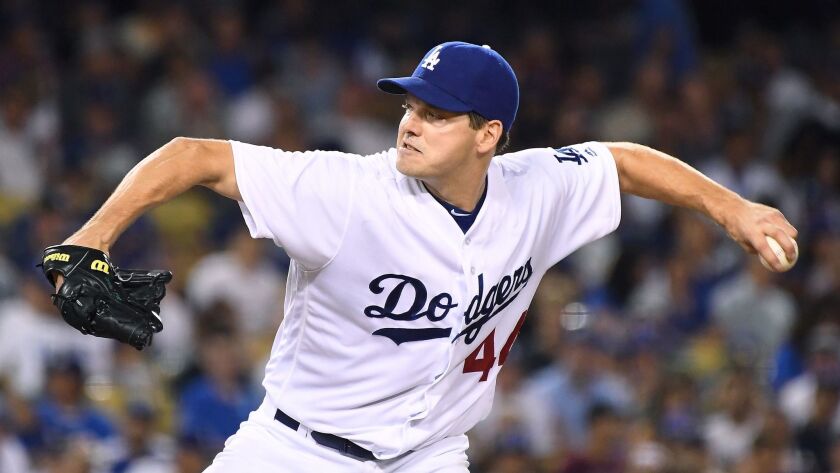 Hi, and welcome to another edition of Dodgers Dugout. My name is Houston Mitchell, and all Dodgers fans should be sending their best wishes to Pedro Guerrero, still recovering from a stroke in New York.
Rich Hill and the blisters (that would be a cool band name)
So, in news that should not come as a surprise, Rich Hill went on the 10-day disabled list Friday because of a blister on one of his pitching fingers. As of now, it looks like he will miss only one start, with Alex Wood subbing for him today against the Chicago Cubs.
As soon as the news hit, I got several emails wondering how a simple blister could put a pitcher on the DL.
The blister a pitcher gets is not like a blister you or I might get. The blister non-pitchers get are relatively simple to deal with. It's just a raised surface of the skin, filled with fluid, that is painful when you brush against it, but otherwise is pretty benign.
The blisters a pitcher gets are much more painful. They start deep below the surface of the skin, usually between the nail bed and the skin surrounding it. It will begin to radiate heat as the area (further below the surface of the skin than blisters we get) fills with fluid. Continue to pitch and the fluid erupts to the surface, taking a lot of skin with it and causing a lot of bleeding. So the pitcher is left with a hole in his skin next to his nail, and the hole exudes pus and blood.
Pitchers can't just slap a Band-Aid on it and go out and pitch, because they can't have anything on their fingers while pitching. It's against the rules. And when you have a hole in your finger that's oozing pus and blood, you don't really want to grip a ball 100 times and throw it as hard as you can, especially when you throw as many curveballs as Hill does. Imagine the pain from the worst ingrown toenail you have had, double it, and you will have a sense of what it is like.
So, the only choice is to go on the DL and let it heal.
The good news with Hill is that the blister hasn't erupted. In his last start, he told Manager Dave Roberts that he was feeling the heat of a building blister, and Roberts took him out of the game. He was put on the DL as a precaution but he is expected to make his next start against Arizona over the weekend. It all depends on a bullpen session he is scheduled to throw Thursday.
And, despite what you read, there really is no way to prevent these blisters. Soaking in pickle juice, putting your hand in a bowl of dry rice, urinating on your hands -- these are all remedies that pitchers have tried with limited, if any, success. Some pitchers are just more prone to blisters. And Hill, with his variety of off-speed pitches, is even more prone to them.
Now, you can argue that the Dodgers should not have given $48 million to a guy prone to blisters, and you may be right. But let's see how the week plays out and see if Hill makes his next start.
Next series
Monday, 5 p.m. PDT, Dodgers (Alex Wood) at Chicago Cubs (Jon Lester). Note: This game will be on ESPN and will not be blacked out in L.A.
Wednesday, 5 p.m. PDT, Dodgers (Brandon McCarthy) at Chicago Cubs (John Lackey)
Thursday, 11:20 a.m. PDT, Dodgers (Hyun-jin Ryu or Clayton Kershaw) at Chicago Cubs (Brett Anderson)
Be aware
Though it's nice that today's game will be on ESPN and not blacked out in L.A., it is the day the Cubs are going to raise their World Series banner, get their rings, etc. So expect to see a lot of that before and during the game.
KTLA games
There are eight more games scheduled on KTLA this season:
April 12, 5 p.m., at Chicago Cubs
April 16, 1 p.m., vs. Arizona
April 18, 6:30 p.m., vs. Colorado
April 19, 7 p.m., vs. Colorado
April 23, 1 p.m., at Arizona
April 30, 1 p.m., Philadelphia
May 3, 6 p.m., vs. San Francisco
May 7, 1 p.m., at San Diego
And finally
Bill Plaschke takes a look at the legacy of Fred Claire, who was the GM of the 1988 Dodgers and is now dealing with cancer.
Have a comment or something you'd like to see in a future Dodgers newsletter? Email me and follow me on Twitter: @latimeshouston.
Twitter: @latimeshouston
---