Dodgers Dugout: Rich Hill and the 'third time through the lineup' fallacy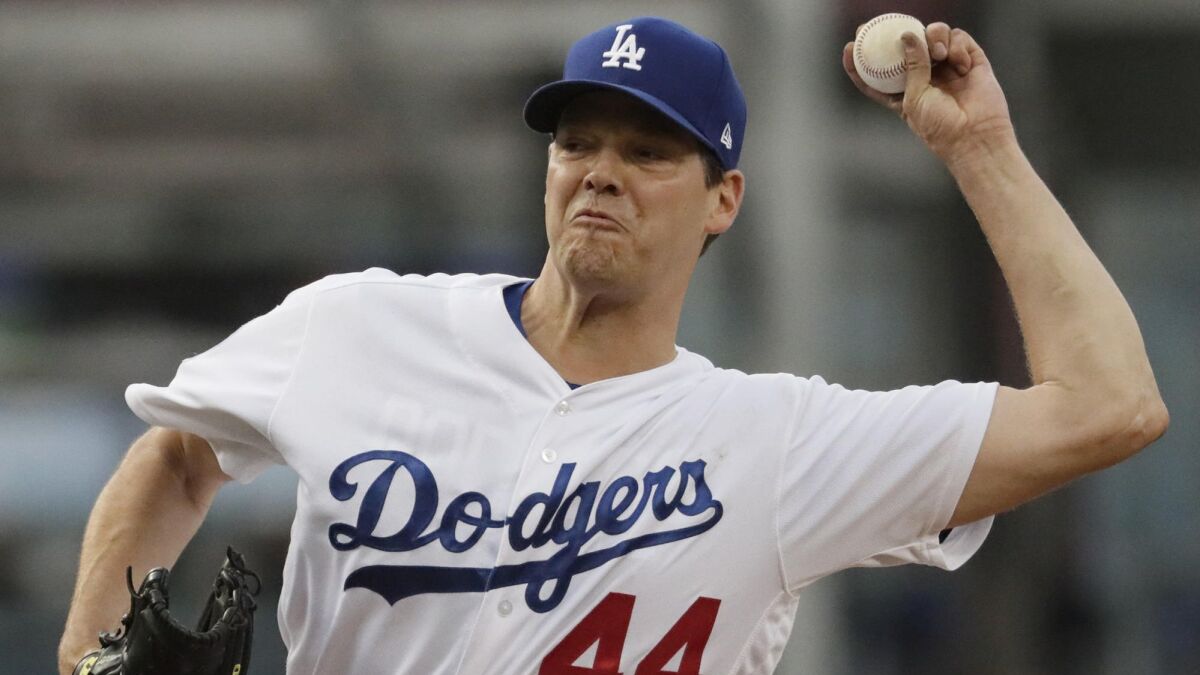 Hi, and welcome to another edition of Dodgers Dugout. My name is Houston Mitchell. Finally, the Dodgers offense comes around and the pitching falls apart. With only 151 games left in the season, they can't possibly rebound from this.
The myth of the third time through the lineup
As I'm sure you all know, the Dodgers (and many other teams) feel it is best if a starting pitcher doesn't face a batter more than two times in one game. That's often why you will see them pull Rich Hill or Hyun-Jin Ryu or Kenta Maeda or Alex Wood after four or five or six innings, even if they are pitching well.
But how accurate is this belief?
Let's take a look at the Dodgers' main starting pitchers this season and how batters have fared against them in their career. The main person this applies to is Hill, who we all remember was pulled after four innings against Houston in Game 2 of the World Series, despite the fact he had given up only one run and three hits while striking out seven in a game the Dodgers lost, 7-6.
Rich Hill
First time through the lineup: .222 AVG./.312 OB%/.339 SLG%. Good numbers.
Second time: .223/.307/.388. A little worse.
Third time: .227/.294/.384. Little difference there. In fact, Hill fares better the third time through the lineup than he does the second time. I see no evidence that Hill can't go through a lineup three times, which would take you to the seventh or eighth inning, when you can turn the game over to your setup man and closer.
Clayton Kershaw
First time through the lineup: .189/.242/.286
Second time: .211/.268/.314
Third time: .221/.277/.330
Of course, this rule doesn't really apply to Kershaw, so let's move on to the next pitcher.
Alex Wood
First time through the lineup: .246/.293/.369
Second time: .247/.309/.354
Third time: .255/.315/.385
Wood gets slightly worse on his third time through, but it's not like he turns into Wilmer Font. (Sorry, all you Wilmer Font fans.)
Kenta Maeda
First time through the lineup: .203/.268/.349
Second time: .237/.295/.391
Third time: .284/.324/.438
OK, maybe this rule should apply to Maeda. Also, you can use this as evidence that he should be a reliever, where he looks dominant.
Hyun-Jin Ryu
First time through the lineup: .258/.311/.402
Second time: .244/.301/.370
Third time: .277/.319/.424
Another pitcher who does get worse his third time through.
So, what do the numbers tell us? They tell me that "third time through the lineup" should not be a blanket rule, like it is for some teams (*cough*Dodgers*cough*). There's little evidence to support removing Kershaw, Wood or Hill just because they are facing a lineup for the third time in a game.
I am a fan of the new-age stats that are used in baseball. I like ERA+ and OPS+ and WAR and any stat that better helps us understand a player's contributions. But I have never understood this "third time through the lineup" rule. Because for about 100 years, pitchers faced lineups three or four times a game, and I don't remember a lot of 9-8 games when I was a kid, which is what you should get if most pitchers fall apart the more times they face a batter in a game. It's one of those rules that have been adapted to the current game (like "pull him before he gets to 100 pitches") with little evidence to support it. Does it apply to some pitchers? Sure. But far from the majority. And as far as using it to conserve innings to protect young arms goes, ask Julio Urias and Jose DeLeon how well that worked for them.
I'm also a believer that the more pitchers you bring into a game, the more likely you are to find a pitcher who is having a bad day and gives up a crucial run. Hill is getting $16 million a season. How about giving him a chance to earn it?
All-Star game
Dodger Stadium was awarded the 2020 All-Star game on Wednesday, ending what will then be a 40-year drought, the longest in the majors.
But I have an idea that I think will work out well, so I'm bringing it up now so the Dodgers front-office people who read this newsletter (I know you are out there) can consider it early.
Having the game at Dodger Stadium is great, but how about having the Home Run Derby at … the Coliseum. Use the same setup they used when the Dodgers played there from 1958 to 61, or when the Dodgers played Boston in an exhibition game there during the McCourt era.
The All-Star game will be a tough ticket for fans. I'm sure ticket prices will be high, and corporations will snatch up a bunch of them. Many of the average fans will be left out. But, with more than 75,000 seats (after current reconstruction ends) at the Coliseum, everyone should be able to get a ticket, allowing the fans to take part in the All-Star festivities.
Can you imagine the excitement when guys like Giancarlo Stanton, Nolan Arenado and Paul Goldschmidt take aim at a left-field fence that is only 201-feet away, but is 60-feet tall?
Sure, it will hurt left-handed hitters, but that's OK because the Home Run Derby is just for fun anyway.
And how about making things really interesting? If a player hits a home run out of the Coliseum entirely, give a random fan $1,000,000 and donate $1,000,000 to that player's favorite charity.
To fill out the day, before the Home Run Derby, have the annual celebrity softball game that is usually held at Dodger Stadium. What better way to celebrate the All-Star game being so close to Hollywood than to have celebrities play?
And have the old-timer's day that day too. But instead of Dodgers vs. Dodgers, have one team made up of former Dodgers, and one team made up of former players from the rest of baseball.
In nearby Exposition Park, you can have music, games, players signing autographs, and more. Make it an entire day of activity.
Of course, I realize that the Dodgers won't make as much money this way compared with having these events at Dodger Stadium, but the goodwill they will receive from making sure fans get to enjoy part of the weekend makes up for that. Also, think of the publicity. The marketing campaign for this sells itself. The TV ratings for the Home Run Derby would set a record.
So, come on Dodgers, do it.
Ask Ross Porter
Hi, fans! It's good to be back with you to answer your questions during this baseball season. Please send your questions to Houston and he will pass them on to me. List the city in which you live.
Ted Bloom asks: Mr. Porter, I am wondering what happened to Jerry Doggett. He sure supplied me with a lot of fun as a child listening to his broadcasts of the Dodgers.
Ross: First of all, Ted, call me Ross. We are all friends around here. Jerry aired Dodger games for 32 seasons (1956-1987) with Vin. He was a delightful guy who could not have been more helpful to me when I joined the Dodgers in 1977 as the number two announcer with Jerry moving to number three. An oddity: Jerry was 11 years older than Vin, who was 11 years older than me, and the three of us were together for 11 seasons. Jerry took a nap one afternoon in 1997 at his home in Morgan Hill, Calif., and did not wake up. He died shortly before his 81st birthday.
Bill Livingstone of Goleta, Calif. asks: I just turned 94. Ross, what do you think was the most exciting Dodger game you and Vinnie announced?
Ross: Hope you enjoyed your birthday, Bill. Did anyone bake you a cake? Vin tells me his biggest thrill came in Game 7 of the 1955 World Series when the Dodgers edged the Yankees 2-0 and won their only world championship in Brooklyn. Mine may have been in game 4 of the 1977 NLCS when Tommy John outpitched Steve Carlton 4-1 in a steady rain at Philadelphia to clinch the NL pennant. I knew that meant, in my first year in the major leagues, I would get a ring. It was the first of four.
Lynn McGinnis of Glendale asks: What do the announcers mean by the "Mendoza Line?"
Ross: Mario Mendoza was a shortstop with the Pirates, Mariners and Rangers. He was a poor hitter, batting between .180 and .199 between 1975 and 1979. The "Mendoza Line" was created as a clubhouse joke in 1979, and Mendoza's Seattle teammates Tom Paciorek and Bruce Bochte razzed George Brett, who was off to a slow start. They said, "You're going to sink down below the Mendoza Line if you're not careful." Brett mentioned it to Chris Berman of ESPN who used it and popularized the term. Mendoza wound up with a .215 lifetime batting average.
Up next
Friday, Arizona (Zack Greinke, 0-1, 5.06 ERA) at Dodgers (Kenta Maeda, 1-0, 0.00 ERA), 7 p.m., KTLA Ch. 5.
Saturday, Arizona (Taijuan Walker, 0-0, 3.27 ERA) at Dodgers (Rich Hill, 1-0, 2.70 ERA). 6 p.m.
Sunday, Arizona (Zack Godley, 2-0, 0.64 ERA) at Dodgers (Clayton Kershaw, 0-2, 1.89 ERA), 1 p.m.
And finally
Listen to Vin Scully announce that the 2020 All-Star game is coming to Dodger Stadium. Click here to listen.
Have a comment or something you'd like to see in a future Dodgers newsletter? Email me and follow me on Twitter: @latimeshouston.
---
Get our Dodgers Dugout newsletter for insights, news and much more.
You may occasionally receive promotional content from the Los Angeles Times.