Dodgers Dugout: The 25 greatest Dodgers of all time, No. 4: Duke Snider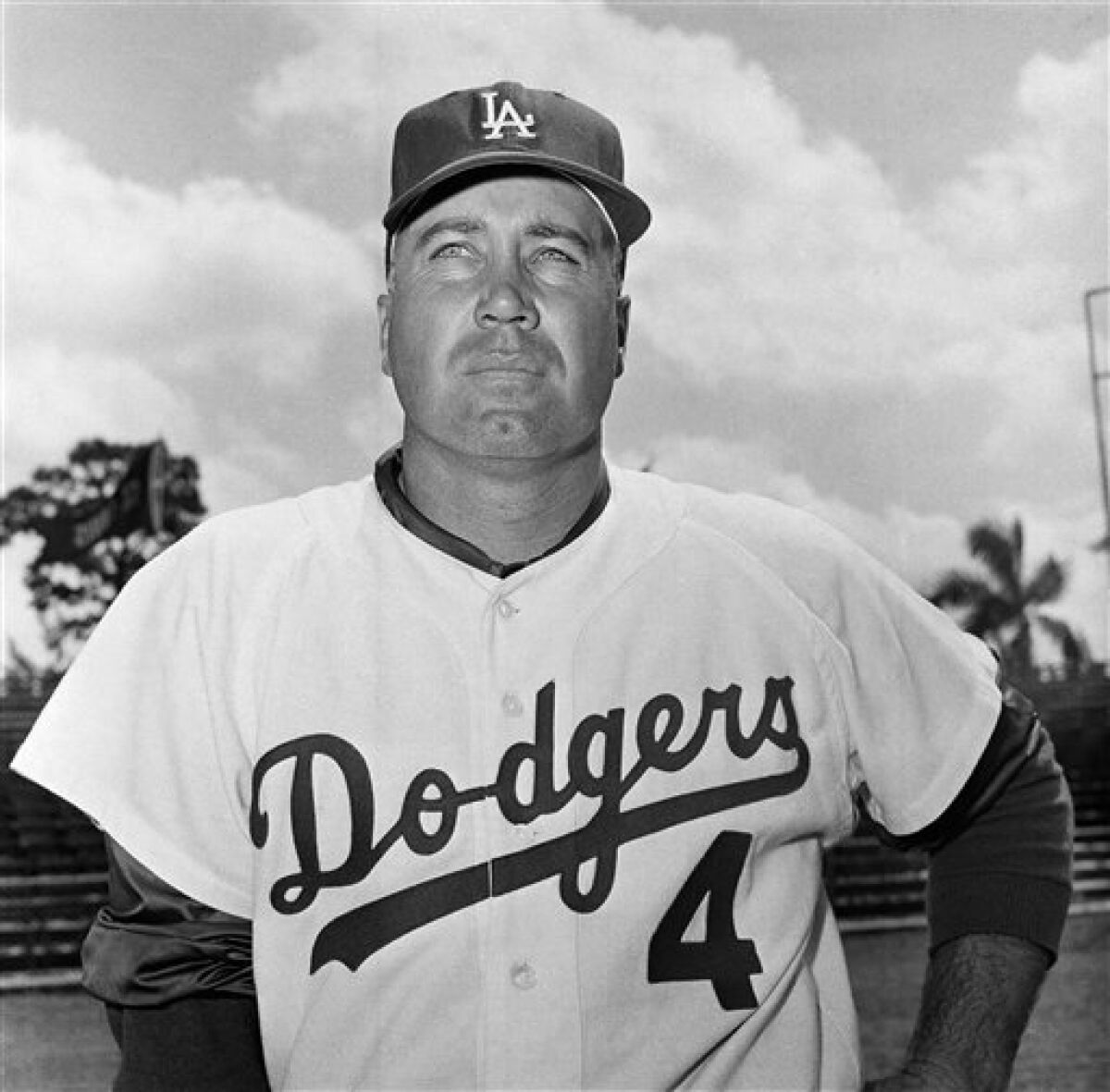 Hi, and welcome to another edition of Dodgers Dugout. My name is Houston Mitchell and let's get right to No. 4 in our countdown.
The 25 greatest Dodgers, No. 4: Duke Snider (224 first-place votes, 38,478 points)
Edwin "Duke" Snider was a four-sport star at Compton High School. After performing well at a tryout camp in 1944, the Dodgers offered him a contract. He was temperamental, once walking off the field after being given the take sign, but the Dodgers saw his potential and looked away most of the time when he misbehaved. It ties into his nickname, "Duke", given to him by his father because of the way he strutted around the house as a kid.
Snider missed the 1945 season and most of 1946 when he enlisted in the Navy, which you don't see a lot of nowadays.
Snider first played for the Brooklyn Dodgers in 1947, the same year another rookie, Jackie Robinson, debuted, which caused Snider to go overlooked by many.
Snider's hair began going gray not long after joining the Dodgers and he requested a trade after the 1951 season to lessen the pressure on himself. Snider said, "I went to Walter O'Malley and told him I couldn't take the pressure." The Dodgers wisely refused to trade him, but teammate Pee Wee Reese told him the rest of the players were tired of his outbursts and his constant complaining. He seemed to calm down a bit after that.
He played for 16 seasons with the Dodgers, helping them win two World Series (1955 and 1959).
He came close to winning what would have been his only MVP award in 1955, but one writer put teammate Roy Campanella first and fifth on his ballot (some sources say first and sixth) instead of Campanella first and Snider fifth (or vice versa). Unable to contact the writer in time to see what he meant to do, the balloting committee gave Campanella the first-place vote and moved everyone else on that writer's ballot up one spot, leaving Snider off the ballot entirely. If he had been given the fifth-place vote, he would have won the award by one point over Campanella. If the entire ballot had been disallowed, he would have won by nine points. Instead he finished second. Both were great players that season. Snider led the league in runs and RBIs.
Snider hit 40 or more home runs for five straight seasons, from 1953 to 1957, and came west with the Dodgers in 1958. Though his average remained strong, his power was all wrong for the Coliseum, which had a cavernous right and center field. He went from 40 homers in 1957 to 15 in 1958.
When the Dodgers moved to Dodger Stadium in 1962, Snider went with them. In fact, if you want to win a bar bet, ask people who got the first hit for the Dodgers at Dodger Stadium. Snider is the answer. Snider didn't play much in 1962, and the Dodgers sold him to the New York Mets before the 1963 season.
The Mets sold him to the San Francisco Giants before the 1964 season, and Snider played his final season with the Dodgers' archrivals.
Snider broadcast games for the Padres and Expos, then retired from that after the 1986 season. He ran into legal trouble after failing to report income from memorabilia sales. Snider apologized and said he made some bad decisions.
He was elected to the Hall of Fame in 1980, and the Dodgers retired his number, 4.
Snider died on Feb. 27, 2011 at the age of 84. He was the last living Brooklyn Dodger who was on the field when the team won their first title in 1955.
The list
Note: I received 8,382 ballots from newsletter readers who sent me their choices for the top 10 Dodgers of all time. Points were assigned based on ranking, with the first-place choice getting 12 points, second place getting 10, third place eight, down to one point for 10th place. After tabulating the ballots, I have been counting down the top 25 in points. I'll get to No. 1 on March 29, the day the season opens. There will continue to be separate newsletters for any news that comes out of spring training.
And finally
Next up (on Tuesday) is No. 3. There's no clue I can give that won't give it away, so you'll have to wait and see.
Have a comment or something you'd like to see in a future Dodgers newsletter? Email me and follow me on Twitter: @latimeshouston.
Get our Dodgers Dugout newsletter for insights, news and much more.
You may occasionally receive promotional content from the Los Angeles Times.