Dodgers Dugout: It's OK that the Dodgers didn't get Giancarlo Stanton or Shohei Ohtani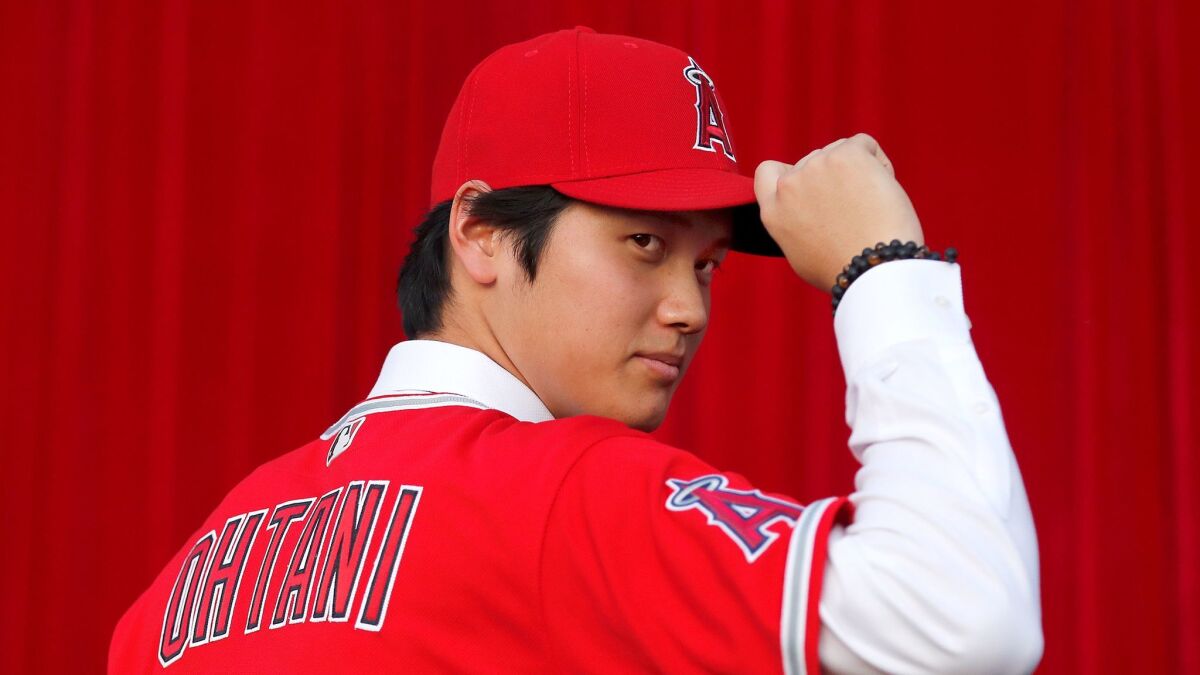 Hi, and welcome to another edition of Dodgers Dugout. My name is Houston Mitchell, and I'm waiting to see what Santa brings the Dodgers for Christmas.
Strike three?
So what's the big news since last we talked? Well, the Dodgers didn't get Giancarlo Stanton. They didn't get Shohei Ohtani. And they lost Brandon Morrow to the Cubs. Let's look at those one at a time.
After blocking potential trades to the Giants and Cardinals, Stanton agreed to a deal with the New York Yankees, who only had to give up Starlin Castro; one of their top 30 prospects, right-handed pitcher Jorge Guzman; and minor league shortstop Jose Devers.
The Yankees also agreed to pick up $265 million of the $295 million remaining on Stanton's contract. And that is why the Dodgers didn't get him. This was a straight salary dump by the Miami Marlins, who are looking to reduce their payroll. There was really no way that the Dodgers were going to put themselves on the hook for $265 million to a player who will be 37 by the time his contract expires.
Sure, Stanton has an opt out clause after the 2020 season, but very few expect him to opt out because he will still have $223 million left on his deal and probably wouldn't be able to better that.
The Dodgers have always taken the long view in situations like this. Andrew Friedman and Farhan Zaidi want a team that can vie for the playoffs every season. And while Stanton would have provided a short-term benefit, his contract would become an anchor in a very short time, hampering the team's efforts to improve in other areas or sign other free agents it may want. Just look at the Angels after they signed Josh Hamilton and Albert Pujols.
So, I'm OK with not getting Stanton.
Ohtani signed with the Angels and should be a star for them. By wanting to play as a pitcher and a hitter, Ohtani really left himself no option except an AL team, where he can DH between starts and not mess up the starting rotation schedule. If he had signed with the Dodgers he would probably have had this schedule: Starting pitcher, day off, three days in left field, day off, starting pitcher. Repeat. The Dodgers also had very little money to offer him because of international player rules. And some experts question how his bat will translate to the majors.
So, I'm not terribly upset about losing on Ohtani, particularly since I can just drive down to Angel Stadium and watch him play.
That leaves Morrow. He agreed to a two-year deal with the Chicago Cubs, leaving the Dodgers without their primary set-up man from last season. Again though, this follows the pattern of Friedman and Zaidi, who basically view set-up men as a dime a dozen. They let Joe Blanton go after he was great in 2016, and that worked out well. He went to Washington and finished the season with a 5.68 ERA and was generally horrible.
Unless they attempt to sign Wade Davis, expect the Dodgers to do what they do every season: roll out about 12 relievers and switch them around until they find one who pitches as well as Blanton in 2016 and Morrow last season.
Viewing these guys as interchangeable also must make it easier to pitch a guy coming off an arm injury like Morrow in every playoff game except one. Might as well wear him out since he probably won't be back.
A new hope
The Dodgers could still come out big winners though. The Marlins are not done shedding payroll, and there's one name they are shopping who would look great in a Dodgers uniform: Marcell Ozuna.
Ozuna is a 27-year-old left fielder who hit .312/.376/.548 last season with 30 doubles, 37 homers and 126 RBIs. He won't be eligible for free agency until 2020, so he will be under team control for a while. He's also a Gold Glove winner. He'd fit in rather nicely at left for the Dodgers, giving them a lineup of:
Chris Taylor
Corey Seager
Justin Turner
Cody Bellinger
Marcell Ozuna
Yasiel Puig
Austin Barnes
Logan Forsythe
That's a good lineup right there. The Dodgers are already World Series favorites in Las Vegas, and would remain there with this trade. And if the Marlins are serious about lowering the payroll, perhaps he could be acquired without giving up too many prospects.
While I wasn't disappointed to see Stanton and Ohtani end up elsewhere, I'd be disappointed to see Ozuna traded to anyone other than the Dodgers. It seems like a deal they can, and should, make.
By the way
The Dodgers also lost relievers Grant Dayton and Josh Ravin to the Atlanta Braves. Dayton was claimed off waivers, and Ravin was traded to the Braves for cash.
And finally
Who are the greatest Dodgers of all time? Look for more on this after the holidays as I turn to you to help decide. Start thinking about your top 10. Voting will begin in January. Until then, enjoy your holidays!
Have a comment or something you'd like to see in a future Dodgers newsletter? Email me and follow me on Twitter: @latimeshouston.
Twitter: @latimeshouston
---
Get our Dodgers Dugout newsletter for insights, news and much more.
You may occasionally receive promotional content from the Los Angeles Times.