Dodgers Dugout: Ranking the third basemen; team renews Corey Seager and Cody Bellinger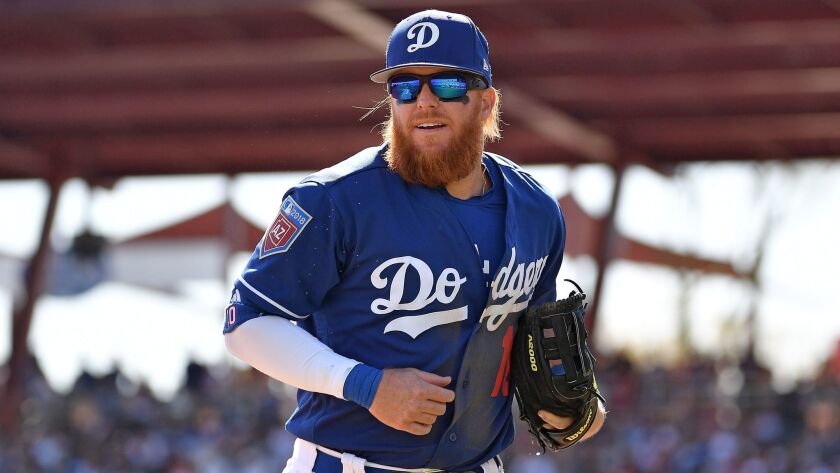 Hi, and welcome to another edition of Dodgers Dugout. My name is Houston Mitchell, and it's only 10 days until the season starts.
NL West rankings: the third basemen
Continuing the NL West rankings at each position:
A word on stats before we begin. OPS+ takes a player's on-base plus slugging percentage and compares it with the league average. It also takes into account the player's home field, so a hitter that plays in a pitcher's park gets a slight boost, and vice versa. An OPS+ of 100 means he was an average hitter. 110 means he is 10% better than average, 90 means 10% worse.
WAR takes all of a player's contributions on offense and defense and tells you how many wins that player is worth to the team as opposed to "what if that player was injured and the team had to replace him with a minor leaguer."
As always, keep in mind that there is no one stat that gives you a full picture of a player and because I don't want to bore you by just listing a ton of numbers, I pick five or six that give you a general idea of what kind of player each person was last season.
1. Nolan Arenado, Colorado Rockies (.309/.373/.586/132 OPS+/7.2 WAR). Arenado set career bests in several offensive categories last season and also won his third straight Gold Glove. Not only is he the best third basemen in baseball, he is one of the 10 best players in the game.
2. Justin Turner, Dodgers (.322/.415/.530/149 OPS+/5.8 WAR). Every ball he hits is hit hard and he never seems to get cheated in any at-bat. Last season, he walked more than he struck out and had almost as many extra-base hits (53) as strikeouts (56). His defense regressed a bit last season, but that four-year deal he got looks like quite a bargain.
3. Evan Longoria, San Francisco Giants (.261/.313/.424/100 OPS+/3.6 WAR). "Hey, we got Evan Longoria!" Giants fans must be thinking. But it's not the Longoria of even two seasons ago. He should get some of that offense back, but will he ever be an elite player again?
4. Jake Lamb, Arizona Diamondbacks (.248/.357/.487/110 OPS+/1.5 WAR). Lamb hit .279/.376/.546 in the first half last season and .204/.332/.403 in the second half. It's the second year in a row he has faded in the second half.
5. Chase Headley, San Diego Padres (.273/.352/.406/100 OPS+/1.8 WAR). Headley lost his power a few seasons ago and you don't want to build a team around him, but he won't embarrass you at third base and gives a team one less thing to worry about during the season.
Dodgers renew Seager and Bellinger
The Dodgers renewed the contracts of Corey Seager and Cody Bellinger, giving Seager a one-year, $605,000 deal and Bellinger one year at $585,000. The major-league minimum is $545,000. Why do two of their best position players get paid so little (little being a relative term in baseball)?
For one thing, it helps keep the team under the luxury tax threshold. Also, teams seldom give young players a lot of money until they are about eligible for salary arbitration. At that point, the Dodgers could try to negotiate longer deals with each player, possibly even buying out their first couple of seasons of free agency. That happens quite a bit. On Wednesday, the Dodgers assigned the two young stars a salary after the players declined to agree to the team's offer.
Seager will be eligible for arbitration after this season, Bellinger after the 2019 season.
Is Bellinger ready?
Bellinger had one of the best rookie seasons in history last year, then fell apart in the World Series, unable to lay off the low-and-inside breaking pitch. This has left Dodgers fans worried about other teams exploiting that seeming flaw this season. Bellinger isn't worried.
"I don't think that will ever happen again," he told Times baseball columnist Bill Shaikin. "I was just kind of out of my own element. Whatever. They can try and do that and see if it works."
Ask Ross Porter
Former Dodgers announcer Ross Porter will be back this season to answer select reader questions. To send a question to Ross, email me and I will pass it on to him. Please include "Ask Ross Porter" in the subject line.
And finally
Can the Dodgers' starting rotation be their undoing? Read all about it here.
Have a comment or something you'd like to see in a future Dodgers newsletter? Email me and follow me on Twitter: @latimeshouston.
---
Get our high school sports newsletter
Prep Rally is devoted to the SoCal high school sports experience, bringing you scores, stories and a behind-the-scenes look at what makes prep sports so popular.
You may occasionally receive promotional content from the Los Angeles Times.