Dodgers Dugout: Are the Dodgers the best team in the West?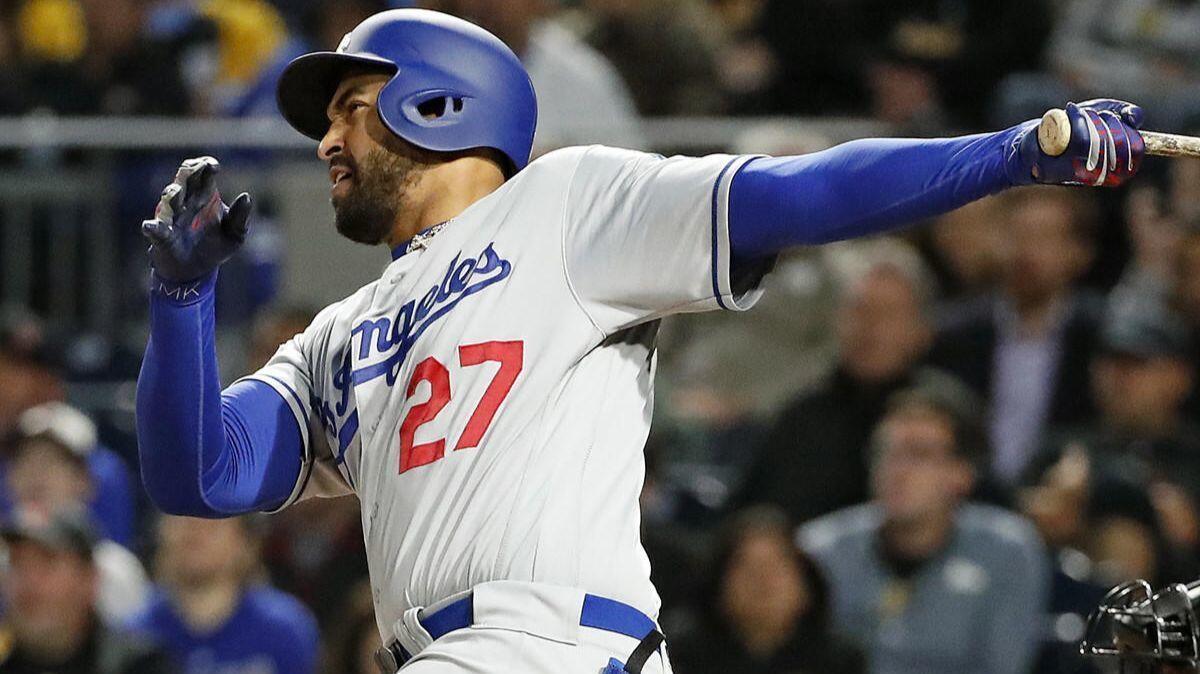 Hi, and welcome to another edition of Dodgers Dugout. My name is Houston Mitchell, and the Dodgers have to go 64-36 the rest of the way to finish with 95 wins.
Best of the West?
So here we are, 100 games left in the season, and every team in the NL West is within 4.5 games of first place. In order to make the playoffs, a team probably will have to win the West. No wild card is likely from the division at this rate. But which team is best? Let's take a look at some numbers.
Run differential
Dodgers, +41
Arizona, +21
Colorado, -27
San Francisco, -31
San Diego, -45
One-run games record
Colorado, 10-5
San Diego, 7-6
Arizona, 11-10
San Francisco, 9-9
Dodgers, 7-9
Record vs. West division teams
Arizona, 17-10
Dodgers, 19-18
San Francisco, 16-17
Colorado, 13-15
San Diego, 13-18
Starters ERA
Dodgers, 3.52
Arizona, 3.86
Colorado, 4.46
San Francisco, 4.58
San Diego, 5.02
Bullpen ERA
Arizona, 2.66
San Diego, 3.29
San Francisco, 3.94
Dodgers, 4.07
Colorado, 5.12
Batting average with runners in scoring position
Colorado, .262
San Diego, .265
Dodgers, .245
San Francisco, .241
Arizona, .213
Runs per game
Dodgers, 4.76
Colorado, 4.42
San Francisco, 4.18
San Diego, 3.95
Arizona, 3.93
Batting average
San Francisco, .263
Colorado, .244
Dodgers, .242
San Diego, .232
Arizona, .218
OPS
San Francisco, .740
Dodgers, .735
Colorado, .722
Arizona, .676
San Diego, .674
The Dodgers lead three categories. Colorado, Arizona and San Francisco lead two each.
But who's going to win? I still go with the Dodgers. With their offense clicking again, all they need to do is get their bullpen straightened out. And yes, we see you fans who jumped off the bandwagon when the Dodgers were 16-26 trying to sneak back on now.
We hardly knew ye
P.J. Conlon is a pitcher whom the Dodgers claimed off waivers from the Mets this week. After getting the news, Conlon sent out a nice tweet thanking the Mets for drafting him and giving him his dream of pitching in the majors.
Four days later, the Dodgers needed to make room on the 40-man roster for Caleb Ferguson, so they released Conlon, who was promptly picked up by the Mets. In response, Conlon sent out this hilarious tweet:
Ask Ross Porter
Hi, fans! It's good to be back with you to answer your questions during this baseball season. Please send your questions to Houston, and he will pass them on to me. List the city in which you live.
Bill Thon of La Verne asks: If Clayton Kershaw opts out of his contract after this season, Ross, how much money would he lose from his present contract?
Ross: The Dodgers would not have to pay his nearly $71-million total in 2019 and 2020. Kershaw is the second-highest paid player in baseball with a $33.238 million salary this year, barely behind Mike Trout who is drawing $34.083 million. Clayton would have received $1 million more, Bill, if he had won his fourth Cy Young Award, which is a virtual impossibility now.
Art Hershey of Calabasas asks: I saw my first Dodger games in 1942, a doubleheader with the Braves. Dolph Camilli hit one that almost left Ebbets Field. My wife and I attended a game at Dodger Stadium a few weeks ago and were shocked by what we had to pay for parking. Does all the money go to the Dodgers?
Ross: The Dodgers are paying $14 million a year to rent the parking lots from an entity half-owned by Frank McCourt. Parking fees range from $5 to $50. You can park in lots 13 & 14 for $5, but you have a 15-minute walk uphill. It is possible to reserve a designated parking spot for all Dodger home games for $8,000 or $5,600.
Tom Smith from Massachusetts asks: Ross, how are players paid — per game, week, month or year — and who pays if there is a trade?
Ross: Players get paid on the first and 15th of every month during the regular season but are not paid during the off-season or spring training. Tom, if there is a deal, the player's new team is 100% responsible for the salary, but it is not uncommon for clubs to negotiate how much money his old team will pay. The commissioner has to approve the terms. The acquiring organization pays for seven days of hotel housing, picks up any outstanding lease payments of his housing in the prior city for the rest of that season and arranges to ship the player's car to the new city.
Christine Hardenberg of Woodland Hills asks: How much money did it cost to build Dodger Stadium?
Ross: It was built for $23 million. Only the two oldest ballparks, both opened in 1912, cost less — $650,000 for Fenway Park in Boston and $250,000 for Wrigley Field in Chicago. The new Yankee Stadium was built for $1 billion.
Up next
Friday, 7 p.m.: Atlanta (Brandon McCarthy, 5-2, 4.83 ERA) at Dodgers (Walker Buehler, 3-1, 2.74 ERA)
Saturday, 6 p.m.: Atlanta (Anibal Sanchez, 1-0, 2.16 ERA) at Dodgers (Alex Wood, 1-4, 4.48 ERA)
Sunday, 1 p.m.: Atlanta (TBD) at Dodgers (Ross Stripling, 4-1, 1.52 ERA)
And finally
I'm on vacation for the next week or so, so talk amongst yourselves until I get back. And if you are interested in who the Dodgers chose in the draft, read this.
Have a comment or something you'd like to see in a future Dodgers newsletter? Email me and follow me on Twitter: @latimeshouston.
Get our Dodgers Dugout newsletter for insights, news and much more.
You may occasionally receive promotional content from the Los Angeles Times.