Dodgers load up on arms in first two rounds of draft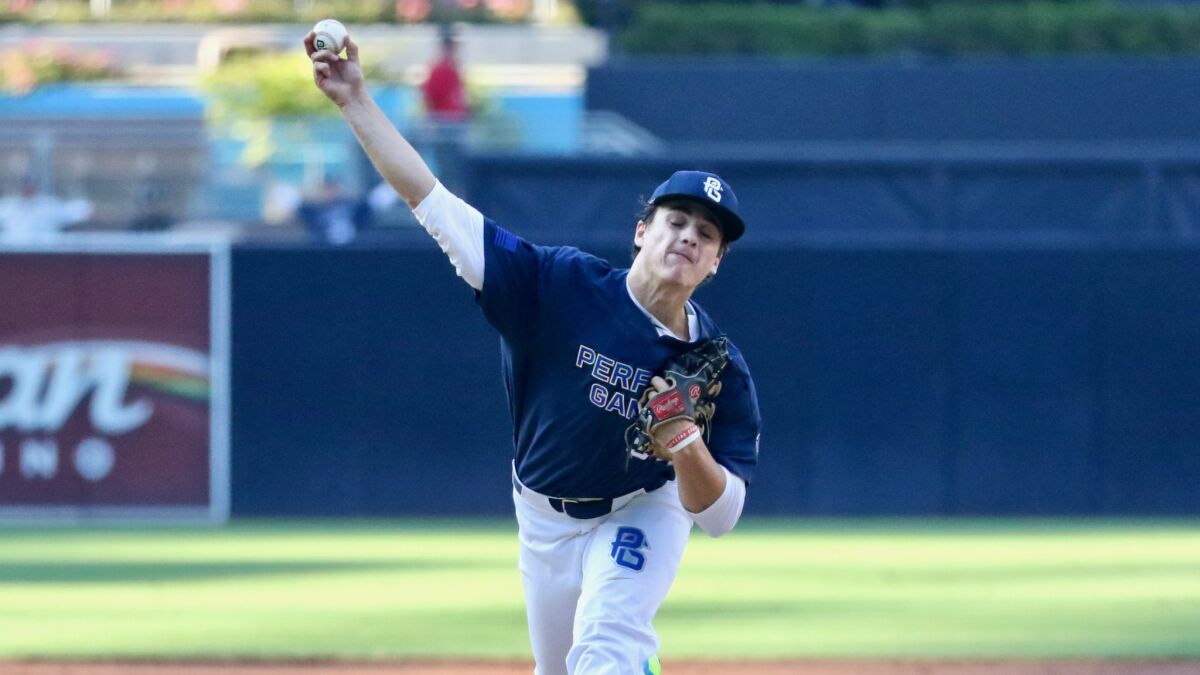 Reporting from pittsburgh —
The Dodgers selected a Mississippi high school pitcher with an electric fastball and a pitcher who sat out his junior season at West Virginia because of an arm injury in the first two rounds of the amateur draft Monday.
The Dodgers chose right-handed pitcher J.T. Ginn with the 30th pick to end the first round. With the 68th pick, in the second round, the team selected right-handed pitcher Michael Grove, who did not pitch in 2018 after undergoing elbow ligament-replacement surgery last season.
Ginn posted a 0.36 earned-run average in eight outings for Brandon (MIss.) High. He struck out 78 batters in 39 1/3 innings. He also hit .419 with nine home runs. He was selected Gatorade player of the year in Mississippi.
Ginn's fastball has been clocked up to 99 mph. Billy Gasparino, the Dodgers scouting director, compared Ginn to Houston Astros starter Lance McCullers and Toronto Blue Jays starter Marcus Stroman.
"We've seen him develop," Gasparino said. "The stuff has always been there, but we've seen him develop a better and better delivery as the spring went along."
Ginn is committed to play for Mississippi State. The recommended bonus for his draft slot is $2,275,800.
Grove struck out 117 batters in 92 innings for the Mountaineers as a freshman and a sophomore. He was injured in the ninth start of 2017. He finished the season with a 2.87 ERA. The Dodgers have had success taking pitchers with injury history in recent years: Walker Buehler underwent elbow ligament reconstruction shortly after being chosen in the first round of the 2015 draft.
"We definitely take it seriously, but feel very comfortable and somewhat confident in our player development's ability, our medical staff's ability to get these pitchers back to where they were," Gasparino said. "From all accounts, Michael Grove is on track. We love our program in place. The Walker Buehler example is a good one, and we hope to repeat here with Grove."
Coming up
With an opening in their rotation Wednesday, the Dodgers are expected to call up left-hander Caleb Ferguson. Ferguson started the season in double-A Tulsa and has a 1.53 ERA in 10 starts between Tulsa and triple-A Oklahoma City. He is not on the 40-man roster.
Twitter: @McCulloughTimes
Get our Dodgers Dugout newsletter for insights, news and much more.
You may occasionally receive promotional content from the Los Angeles Times.