Dodgers Dugout: Recapping the Game 2 loss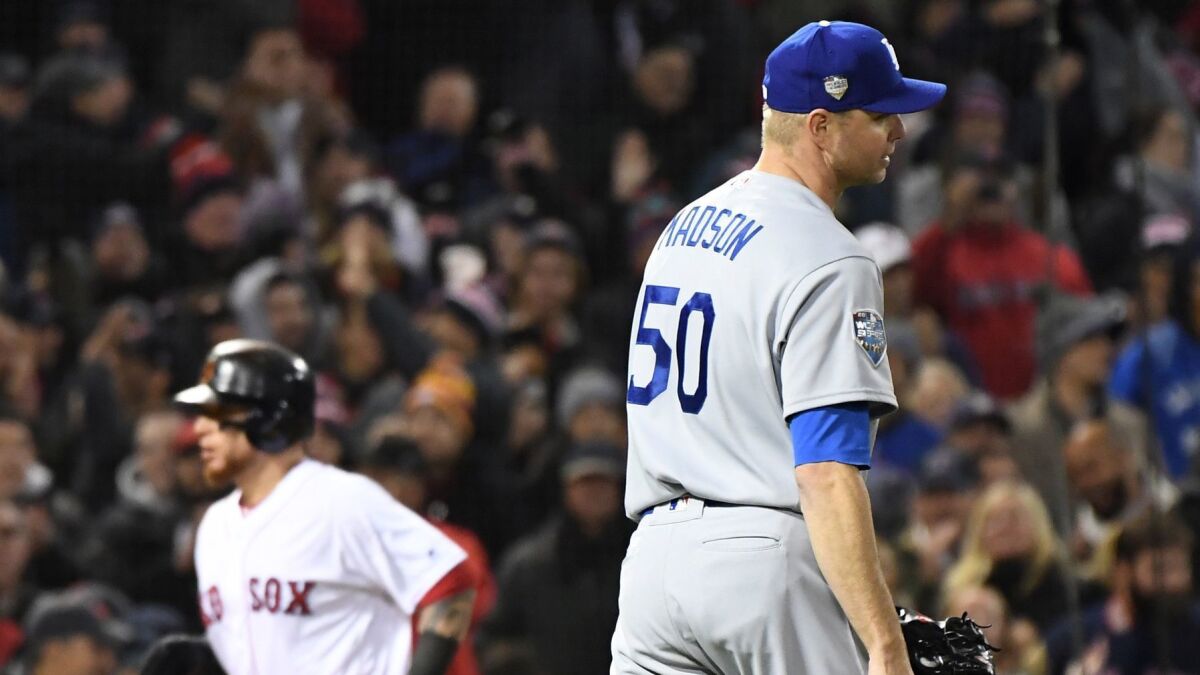 Hi, and welcome to another edition of Dodgers Dugout. My name is Houston Mitchell, and … when does spring training begin?
The World Series
—Can we not bring Ryan Madson into games in key situations anymore?
I try to make it a policy not to criticize game-level decisions unless I said they were bad before they happened. It's easy to know a decision is bad after it has gone wrong, and believe me, if you or I were managing a team, we'd make many, many mistakes. But sitting at home all our decisions are perfect.
So with that being said, I was saying, "No!" the moment Dave Roberts went out to bring Madson in to Game 2.
Let's recap. The Dodgers acquired Madson on Aug. 31 from Washington, where he had posted a 5.28 ERA. He came to the Dodgers and pitched even worse, finishing with a 6.48 ERA in nine games with Los Angeles. For the season, he was 2-5 with a 5.47 ERA. Now it's true that ERAs for relief pitchers can be deceiving, but that only works for low ERAs. High ERAs mean he is, indeed, giving up a lot of runs.
The Dodgers decide to put him on the postseason roster because they like how his fastball plays. So did the hitters, all season long. Then Madson came in to Game 4 of the NLDS and escaped a bases-loaded, one-out situation. The Dodgers then decided that he was the guy to bring in whenever there were men on base. Yes, that team that relies on analytics decided to ignore a season of failure because of a good outing.
To be fair, Madson pitched well in the NLCS too. But still, the Dodgers are believers in not falling prey to believing in a small sample size, and this was the king of small sample sizes.
They were down 1-0 to Boston in games and, in Game 2, hadjust taken their first lead of the series. With two out in the fifth inning, Hyun-Jin Ryu ran into some trouble, loading the bases with two out. The Dodgers had three choices: 1. Let Ryu try to get out of it. 2. Have their best reliever the last six weeks, Pedro Baez, ready for this type of situation. 3. Bring in Madson and hope those handful of games he pitched well were the real him and not the 50 games before that (or Game 1, when he failed in a similar situation).
In that situation, you have to go with the guy who was instrumental in getting you into the playoffs, Baez. You can't be so short-sighted that you want to save him for the late innings. You use Baez in a key situation when the game could be on the line. A situation where you finally have the momentum, and don't want to lose it.
Instead, you bring in Madson, who walks a guy and gives up a two-run single. There goes the lead. There goes the ballgame. Maybe there goes the World Series.
—Just to circle back to the point about reliever ERAs, Madson's ERA in the World Series is 0.00.
—So, I got a lot of emails from people who told me I was a fool to pick the Dodgers in six. That this was a bad team that had no chance. Because history is littered with bad teams that made the World Series.
Or that it's impossible to come back from an 0-2 deficit. I'll tell that to the 1955 Dodgers. Or the 1965 Dodgers. Or the 1981 Dodgers.
Are the Red Sox a better team than the Dodgers? Yes, they are. Teams don't win 108 games by accident. Is it going to be really hard for the Dodgers to come back? Yes, it will. But if you've already given up, turn in your fan card and move on with your life to something you might enjoy more.
—Game 3 will have an all-different Dodger lineup. They started Games 1 and 2 with Cody Bellinger (25 homers), Joc Pederson (25 homers) and Max Muncy (35 homers) on the bench. They haven't had a great chance to affect games yet, because pinch-hitting in the eighth inning when you've been sitting in 40-degree weather all night is not ideal.
—Do I still say Dodgers in six? Yes, I do. But I could be wrong. I did fail to win the MegaMillions lottery.
Dodgers postseason stats
David Freese, .400 (6 for 15), 1 double, 1 homer, 5 RBIs
Yasiel Puig, .306 (11 for 36), 3 doubles, 1 homer, 5 RBIs
Chris Taylor, .300 (9 for 30), 1 double, 1 triple, 1 homer, 3 RBIs
Justin Turner, .288 (15 for 52), 1 double, 1 homer, 4 RBIs
Manny Machado, .255 (13 for 51), 2 doubles, 3 homers, 12 RBIs
Joc Pederson, .233 (7 for 30), 1 double, 1 homer, 1 RBI
Max Muncy, .194 (7 for 36), 2 homers, 5 RBIs
Matt Kemp, .190 (4 for 21), 1 double, 1 homer, 3 RBIs
Brian Dozier, .133 (2 for 15), 2 RBIs
Cody Bellinger, .128 (5 for 39), 1 double, 1 homer, 4 RBIs
Yasmani Grandal, .120 (3 for 25), 1 double, 1 homer, 1 RBI
Kiké Hernandez, .094 (3 for 32), 1 homer, 1 RBI
Austin Barnes, .091 (2 for 22), 2 RBIs
—As you can see, catching has been a gaping hole for the Dodgers. Grandal and Barnes are hitting a combined .106 with three RBIs and 22 strikeouts in 47 at-bats.
—And it's time to give Hernandez a game off.
World Series schedule
Game 3: Friday, 5 p.m., Red Sox (Rick Porcello) at Dodgers (Walker Buehler). TV: Fox
Game 4: Saturday, 5 p.m., Red Sox (TBA) at Dodgers (TBA). TV: Fox
Game 5*: Sunday, 5 p.m., Red Sox (TBA) at Dodgers (TBA). TV: Fox
Game 6*: Tuesday, 5 p.m., Dodgers (TBA) at Red Sox (TBA). TV: Fox
Game 7*: Wednesday. 5 p.m., Dodgers (TBA) at Red Sox (TBA). TV: Fox
*-if necessary. All times Pacific.
Shameless plug
We have six top reporters covering every Dodgers playoff game for The Times: Andy McCullough, Jorge Castillo, Bill Plaschke, Dylan Hernandez, Bill Shaikin and Maria Torres. If you are not checking out our website and reading their stories, you are missing out on some great stuff. So, what are you waiting for? Click here and start reading.
And if you aren't near a TV or radio to monitor each game, I'm doing live updates for The Times every game. You can find them here.
And finally
The Dodgers win the 1959 World Series. Click here to watch.
Listen to the latest edition of our new sports podcast "Arrive Early, Leave Late," with insights on the World Series, LeBron James and the NFL.
Have a comment or something you'd like to see in a future Dodgers newsletter? Email me and follow me on Twitter: @latimeshouston.
---
Get our Dodgers Dugout newsletter for insights, news and much more.
You may occasionally receive promotional content from the Los Angeles Times.