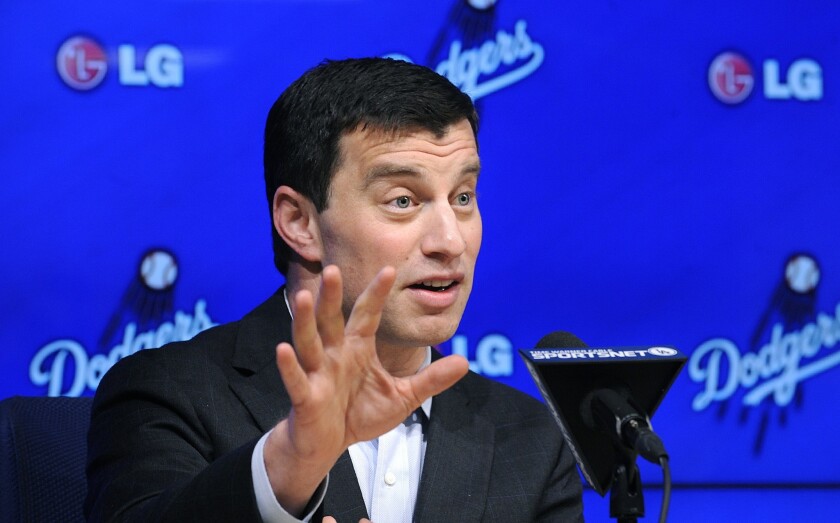 At his introductory news conference Friday, the Dodgers' new president of baseball operations confirmed Don Mattingly would manage the team next season and that a general manager would be hired.
That was about the extent of what Andrew Friedman revealed.
Friedman remained as much of a mystery as some of the advanced metrics used by the overachieving Tampa Bay Rays in his time as their general manager.
With Dodgers President Stan Kasten by his side, the 37-year-old Friedman read a prepared statement in which he thanked everyone from his wife to exiled former general manager Ned Colletti, while telling fans, "I pledge to you to do my very best to reward your faith and loyalty to work as hard as I can to get our team to the next level."
When it was time to field questions, Friedman offered little insight into how his trademark small-market principles would be used to more efficiently operate a big-market franchise.
While acknowledging the necessity of signing star-caliber players to long-term contracts in one breath, he preached financial restraint in the next.
"When you're solving for talent, having star players is a critical part of having success," Friedman said. "That being said, it's really important to do as much as you can to put yourself in the position to pay for what a player will do, not necessarily for what they have done."
However, to sign top-shelf free agents, teams almost always have to agree to continue paying them like All-Stars when their careers are expected to be in decline.
Asked how the considerably deeper pockets of the Dodgers would affect his philosophy, he replied, "It's obviously different, but what's constant is trying to solve for winning."
Friedman wouldn't say whether the Dodgers would decrease their payroll, which was a record $240 million this year.
Like Colletti before him, Friedman talked in ambiguous terms about the importance of bolstering the farm system and developing homegrown talent. He defended the Rays' perceived shortcomings in recent drafts and player development by saying his former team's minor league system was better-stocked than advertised.
Friedman also wouldn't say if he had any desire to re-sign free-agent shortstop Hanley Ramirez or felt he had to address the overcrowding in the Dodgers outfield. The group includes four players with All-Star experience — Matt Kemp, Yasiel Puig, Carl Crawford and Andre Ethier — as well as Scott Van Slyke and top prospect Joc Pederson.
"I've been asked that question as if that's a problem," he said. "If that's a problem, it's a tremendous problem to have."
Does team chemistry matter?
"I think winning matters," Friedman said.
Does team chemistry improve the chances of winning?
"I don't know," he said. "They're intertwined in such a way that they're difficult to separate. I'd rather win with what you might determine to be bad chemistry than lose with what you would determine to be good chemistry."
If a former All-Star isn't playing and is sulking in the clubhouse, would that be an impediment to winning?
"It's obviously not a comfortable situation with the exact scenario you just described, but we're going to communicate," he said. "We're going to talk to guys. We are going to be very open and honest and forthright."
Friedman would not offer specifics when asked about how the Dodgers courted him.
Asked when the Dodgers asked the Rays for permission to formally interview him, he replied, "Those specifics are just not things we're going to get into. It's not that relevant, in that we ended up where we are today and I think everyone's real happy about that."
Colletti probably isn't, he was told.
Friedman smiled and clarified, "I meant everyone involved in the question that you asked."
Friedman, who worked with great autonomy in Tampa Bay, said he didn't envision any problems working under a hands-on executive such as Kasten. Friedman also said he didn't think the Dodgers' marketing concerns would influence whether he could make certain player-personnel moves.
"What we've solving for is winning," he said.
While saying he wanted to re-create the Rays' culture in Los Angeles and improve the Dodgers' statistical-analysis programs, Friedman made it sound as if he would retain a significant part of the current front office staff.
Friedman would not specify a time frame for hiring a general manager. The Dodgers are known to be talking to Josh Byrnes, the former general manager of the Arizona Diamondbacks and San Diego Padres.
Friedman said he has already spoken to Mattingly twice and said the manager "definitely" would be back next season.
"We're very aligned on a lot of things philosophically and have thoroughly enjoyed those conversations," Friedman said. "We're going to get together next week and I'll look forward to building that relationship.
Still, there is widespread speculation in the industry that Friedman will one day hire his longtime manager with the Rays, Joe Maddon, whose contract is set to expire at the end of next season.
Friedman acknowledged he and Maddon are close, but said, "I had one manager in the 10 years I've been doing this and I'm looking forward to working with Donnie for a long time."
Twitter: @dylanohernandez
---