Yasiel Puig's blunder somehow helps out the Dodgers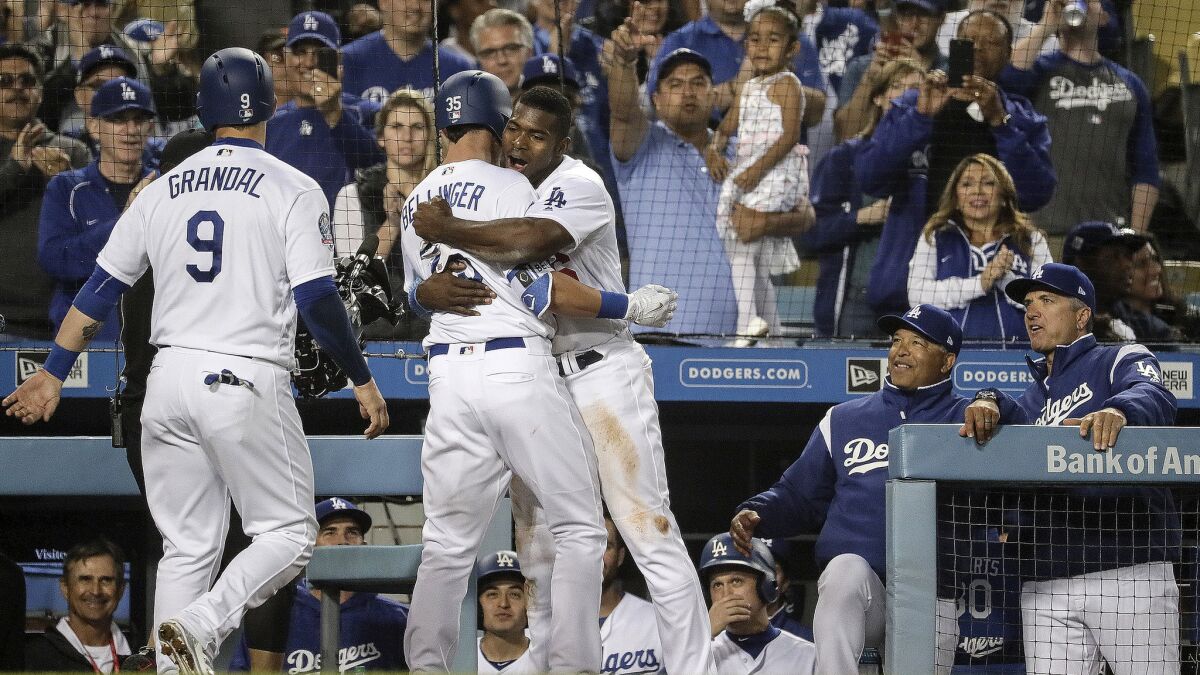 They might have been fighting words two or three years ago, when Yasiel Puig had turned from an eccentric personality to a nuisance within the Dodgers clubhouse. Stop hitting, and all of a sudden blowing off coaches and showing up late is not silently tolerated.
Puig did not display a sense of smarts on the bases Sunday, but he got away with it. He plays hard most days. He gets along with teammates. And, perhaps most important, he hits.
And so it came to pass that, after Puig's brain cramp on the bases weirdly enabled the Dodgers to score their first run, Cody Bellinger could thank Puig with words that triggered a smile, not a brawl.
"Thanks for being an idiot," Bellinger jokingly told Puig.
Ah, the thrill of victory. The Dodgers beat the San Francisco Giants 9-0, splitting a four-game series to open the season.
The Dodgers lost twice, each time 1-0, on home runs against Clayton Kershaw and Kenley Jansen. They'll take their chances with that. They gave up two runs in the series, the first team to give up so few runs in the first four games of the year since the Philadelphia Phillies in '15 — in 1915, that is.
The Giants lost twice, by a combined 14 runs. They got one hit in 31 at-bats from Andrew McCutchen and Evan Longoria.
Rich Hill, the Dodgers starter, pitched six innings. He had a 6.12 ERA in the first inning last year, so he tried throwing fewer pitches when he warmed up Sunday. So far, so good.
He would not have a 0.00 ERA had Puig not been patrolling right field. In the fourth inning, with Buster Posey on first base, Brandon Belt doubled into the right-field corner.
With anyone else but Puig in right field, Posey would have scored. However, mindful of Puig and his powerful arm, the Giants held Posey at third base, and Hill worked out of the inning.
"It's a lot of fun to watch him play," Hill said.
How would he describe Puig's style of play?
"It's very exciting," Hill said. "If you want to use the word creative, I like that word."
In the bottom of the inning, with Corey Seager on second base and Puig on first after consecutive singles, Bellinger hit a fly ball to left-center field. The Dodgers were primed to run on left fielder Hunter Pence, and Seager tagged and sprinted toward third base.
That part worked fine. But Puig also tagged up, and shortstop Brandon Crawford astutely cut off Pence's throw. Crawford flipped to second baseman Joe Panik, and the Giants had Puig in a rundown.
Panik held the ball a split-second too long, wary of Seager at third base, and Puig flopped safely back into first base. Seager read the play perfectly, breaking for home when Panik belatedly threw to first base.
Dodgers manager Dave Roberts credited Seager's "astuteness" in reading the play. But how much of the Dodgers scoring there was just dumb luck?
"A lot of it," Roberts said.
On the next play, Puig was picked off.
Bellinger hit the Dodgers' first home run of the season, and he raised his hand slightly as he rounded the bases. Puig had his first three hits of the season, and he does nothing slightly.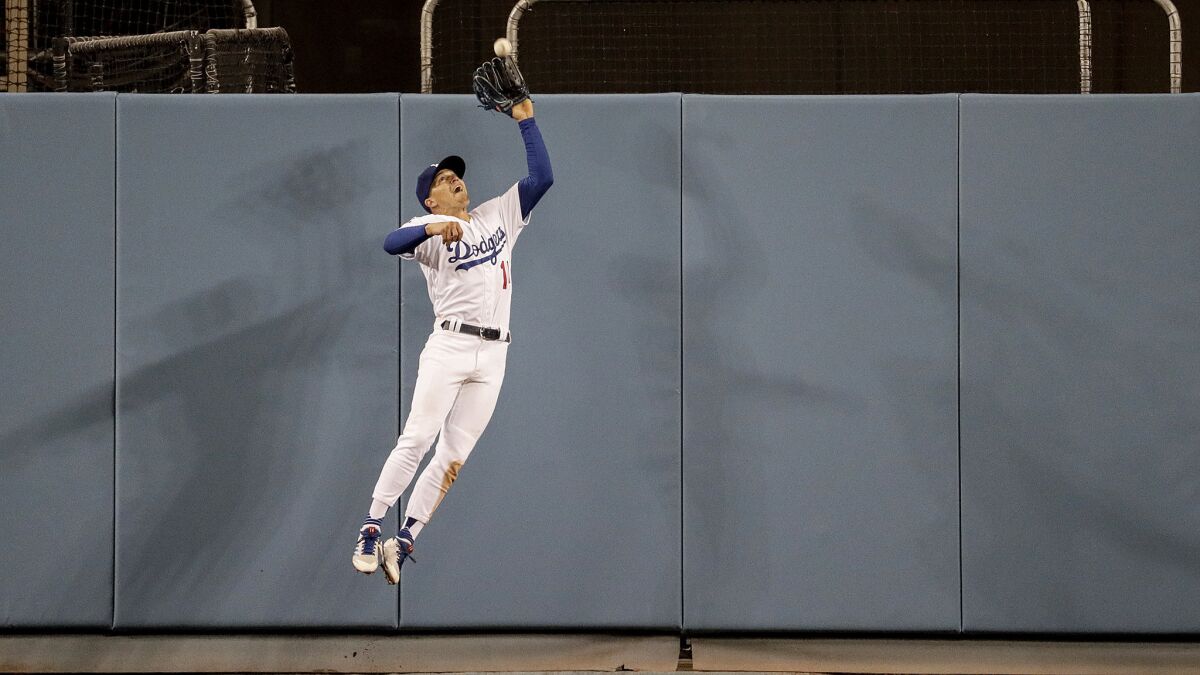 "I think there's a lot of unpredictability in there," Roberts said. "There's a lot of energy. Certainly the fans feed off of it. But when he's into it and he's focused and he's playing with that fire and that energy, we feed off of it.
"No one else really has that kind of presence about them."
No one else provides the fans with that edge-of-your-seat, what-crazy-thing-will-happen-next presence.
"I feel good when I'm going to the plate and fans are yelling my name," Puig said. "That makes me so proud. I want to say thank you."
Follow Bill Shaikin on Twitter @BillShaikin
---
Get our Dodgers Dugout newsletter for insights, news and much more.
You may occasionally receive promotional content from the Los Angeles Times.