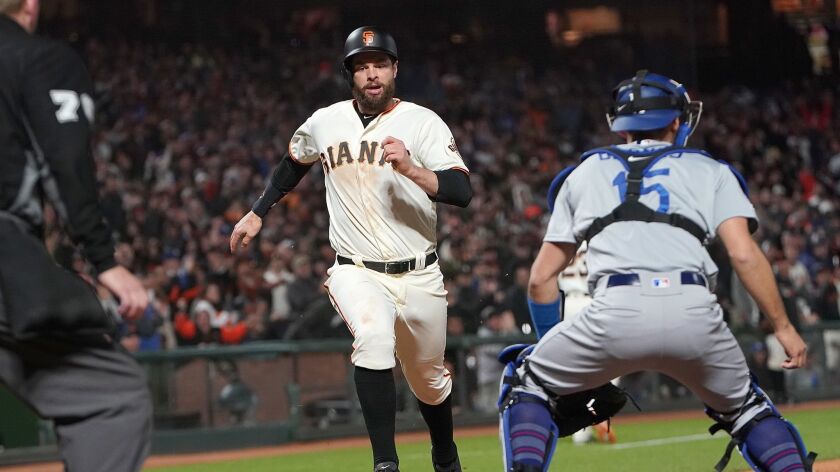 Reporting from San Francisco —
Kenta Maeda's strong start and a pair of clutch hits and Gold Glove-caliber defensive plays by Cody Bellinger and Max Muncy were rendered moot by Ross Stripling's shaky relief and one poorly placed Dylan Floro pitch Monday night.
The result was a frustrating 3-2 loss to San Francisco before a crowd of 32,212 in Oracle Park, a game the Giants pulled out by scoring three runs with two outs in seventh inning off Stripling, who was making his first relief appearance this year since being bumped from the rotation.
"I certainly haven't felt this way in a long time," said Stripling, who went 1-1 with a 2.65 earned-run average in six starts. "The guys put 8½ innings of really good baseball together besides when I was on the field, so it's frustrating."
The Dodgers snapped a scoreless tie with two runs in the sixth, with the left-handed-hitting Joc Pederson, Bellinger and Muncy all coming through with big hits against tough left-hander Tony Watson, but the rally ended with Enrique Hernandez lining into a double play with runners on second and third.
They missed another chance to tack on to their lead in the seventh after Alex Verdugo led off with a single and pinch-hitter David Freese blooped a one-out single into shallow right field. Verdugo took third, and Freese took a wide turn around first before skidding to a stop and falling.
That allowed right fielder Gerardo Parra time to throw to pitcher Sam Dyson, who was covering first and applied the tag on Freese for the second out. Pederson grounded out to end the inning.
Stripling replaced Scott Alexander to start the seventh. Joe Panik sliced a one-out single to left on a curve and took third on Yangervis Solarte's double to right, also off a curve. Brandon Belt walked to load the bases.
Manager Dave Roberts summoned Floro, who did not allow an earned run in 11 innings of his first 11 appearances. The right-hander struck out cleanup batter Buster Posey with a wicked 1-and-2 slider that swept about a foot outside.
But Floro did not get the same action on a 2-1 sinker to Evan Longoria. The pitch hovered over the inside part of the plate, and Longoria smacked it into the left-field corner for a three-run double and a 3-2 lead, sparking familiar chants of "Beat L.A." It was San Francisco's only hit in 12 at-bats with runners in scoring position.
"I feel like my stuff was fine, and I wasn't over-pumped or anything," Stripling said. "I got the first out and then there was two good pieces of hitting on my curveball, so they beat me on my best pitch."
Reyes Moronta threw a scoreless eighth for the Giants, and left-handed closer Will Smith struck out Pederson to end the game.
The last at-bat seemed a good spot for the right-handed-hitting A.J. Pollock, but Roberts revealed after the game that the struggling center fielder likely will be placed on the injured list because of an infection in his right elbow that flared up over the weekend.
"I think it stems from past surgeries he had on his elbow [in 2010 and 2016]," Roberts said. "He has a screw in there. It kind of came up out of nowhere. He was put on antibiotics, but they haven't taken. We need some doctors to look at it."
The Dodgers managed only two hits against Giants starter Jeff Samardzija, who was pulled for a pinch-hitter in the fifth and replaced by Watson to start the sixth.
Pederson, who had a .083 average against left-handers, singled to left. Justin Turner dunked a one-out single to left-center, advancing Pederson to third. Bellinger fought off an 0-2, below-the-knees changeup, lining a single to right for a 1-0 lead. Muncy doubled to right for a 2-0 lead.
For Bellinger, it was his 37th RBI — a major league-record total for before May 1.
According to Inside Edge, it marked only the second time in Watson's career that three left-handed batters recorded hits against him in a game.
Maeda rebounded from last week's shaky start in Chicago, where he allowed six earned runs and seven hits in four innings of a 7-2 loss to the Cubs, with 51/3 shutout innings against the Giants in which he struck out three, walked two and threw first-pitch strikes to 14 of 22 batters.
The right-hander pitched around traffic — San Francisco put two runners on in the first, second and fifth innings — and was backed by two strong defensive plays.
Bellinger, starting in right field, fired a one-hop throw to third to nail Brandon Crawford, who was attempting to go from first to third on Kevin Pillar's second-inning single.
Muncy, playing first base, saved a run in the fifth when he made a diving back-hand catch of Solarte's line drive with runners on first and second for the second out. Maeda struck out Belt with a full-count changeup to end the inning, dancing off the mound with a hop, skip and a jump to go along with his fist pump.
Two innings later, that euphoric feeling was gone.
---