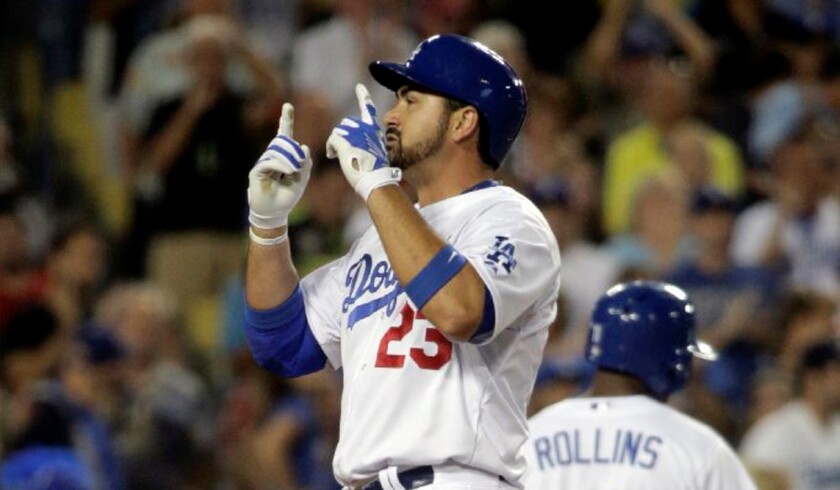 The Washington Nationals were going to run away with the National League East. The Boston Red Sox wisely dropped $200 million on Hanley Ramirez and Pablo Sandoval. The new-look Dodgers had no power.
So much for Christmas wisdom.
The Nationals are a mess, the Red Sox a disaster. The Dodgers are in first place, but with this curious conundrum: how far they advance this season could depend on how much they can tame their reliance on hitting home runs.
Their overreliance, really.
The Dodgers are the best National League team at hitting home runs and, according to Fangraphs, the worst at running the bases. That could be a devastating combination in a pennant stretch and in the postseason, when aces can dominate and runs can be at a premium.
The Dodgers have scored almost half their runs — 47% — via the home run. That figure would rank among the top five in NL history, according to Stats LLC. Of the other four, one team reached the postseason. None reached the World Series.
In the last 15 years, the team that led the NL in home runs failed to reach the postseason nine times. Two of those teams reached the World Series.
So, although Andre Ethier and Adrian Gonzalez homered in the Dodgers' game against the San Francisco Giants on Monday, it was the Dodgers' first run that was the most encouraging.
Jimmy Rollins singled to start the first inning, then tagged and advanced to second on a fly ball to center field. Justin Turner doubled Rollins home.
Rollins might be 36, with a fair bit of speed left in his tank, but he said those kinds of plays have nothing to do with how fast a player is.
"It is 0% speed, honestly," Rollins said. "It's baseball IQ — wanting to take the extra base, score a run, be in a better position for your teammate to drive you in."
Howie Kendrick, the injured second baseman, is the Dodgers' only above-average baserunner this season, according to Fangraphs.
The Dodgers have stolen the fewest bases of any major league team. That might not be too surprising, since Dee Gordon led the majors in steals last season, and they traded him to the Miami Marlins.
However, when the Dodgers try to steal, they get caught more often than any other team. They rank below average in advancing from first base to third, below average in advancing from second base to home, dead last in what Baseball Reference calls "bases taken" — on fly balls, wild pitches, passed balls, balks and defensive indifference.
Little wonder, then, that Dodgers Manager Don Mattingly was so effusive last week after newcomer Chase Utley doubled and raced to third on a throw home, then scampered from second base to third on a not-so-wild pitch.
"Without badmouthing anybody else, it's just an awareness of how to run the bases," Mattingly said then. "It's one of the areas we've honestly been lackadaisical."
Rollins said he and Utley honed their awareness with the Philadelphia Phillies.
"We came from an organization that preached it," Rollins said. "Howie Kendrick came from an organization [the Angels] that preached it. For us, it became second nature."
Said Tim Wallach, in his second season as the Dodgers' bench coach: "We worked on it. Maybe we didn't emphasize it as much as we could have. I do think we've done a better job baserunning the past few years than we've done this year.
"You don't have to be fast. A lot of very good baserunners aren't fast. It's just being prepared."
Wallach said the Dodgers have focused on moving runners over and getting runners home from scoring position.
"We still have to try to manufacture more runs," Wallach said. "We have to do a better job in situations. Everybody knows that. The players know that. We know that. That has been a point of emphasis."
This is not the time for hours of baserunning drills. That time is spring training. But the Dodgers might do better on the bases these days, with Carl Crawford getting regular playing time and Jose Peraza on the roster as a utility player and pinch-runner.
The Dodgers last week added Ron Roenicke as third base coach, his position when the Angels were so aggressive on the bases a decade ago. There is no magic formula to success in October, he said, even the "dominant starting pitching" formula most often preached. The Angels won in 2002 with frenzied hitting, a strong bullpen and five-inning starters.
"Look at the Giants last year," Roenicke said. "They had [Madison] Bumgarner. The other guys, you could hit.
"You can win with different types of combinations. You have to be better than everybody else at those things."
In August, the Dodgers ranked eighth in the NL in home runs, next-to-last in runs. Kendrick is on the disabled list, and so is Yasiel Puig, and now so is Enrique Hernandez. The little things, and the little ball, could mean a lot.
bill.shaikin@latimes.com
Twitter: @BillShaikin
---