Manager Dave Roberts and first baseman Adrian Gonzalez are close friends, and it benefits Dodgers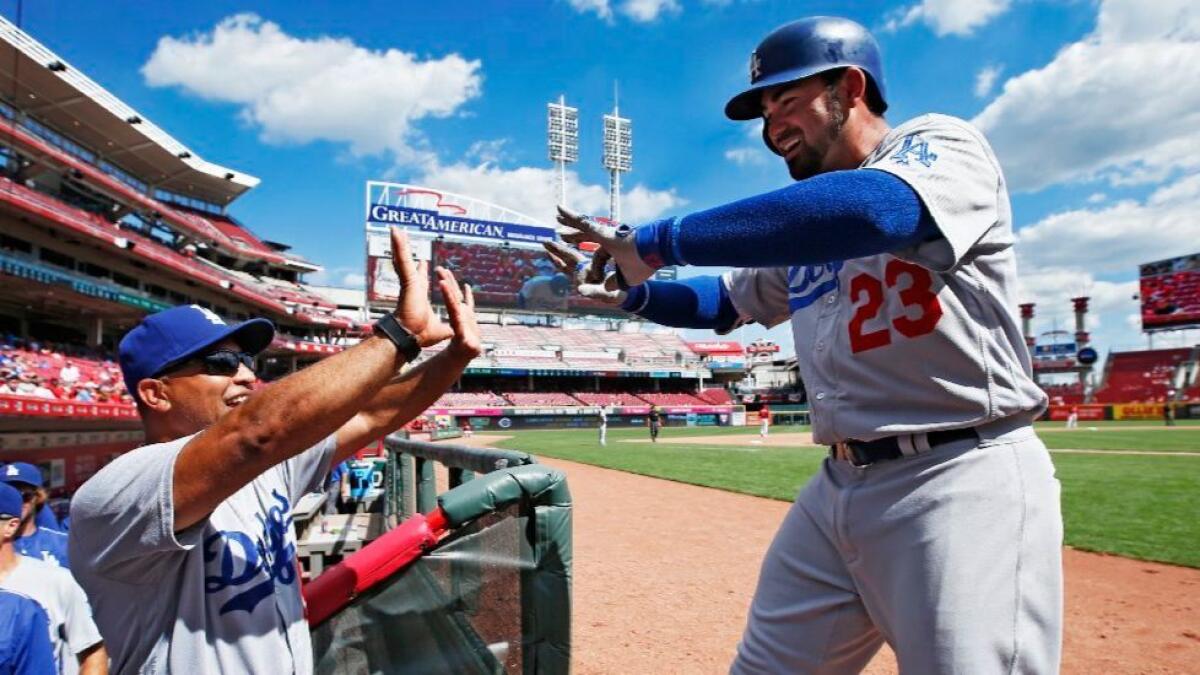 In the fall of 2015, as the Dodgers searched for a new manager, president of baseball operations Andrew Friedman consulted with a handful of veterans about the candidates. Adrian Gonzalez started to rave when Friedman mentioned Dave Roberts. The praise came with a caveat.
"Dave would be great, but I can't give you an unbiased opinion on him," Gonzalez recalled telling Friedman. "He's one of my best friends."
Friedman knew as much, but he still listened as Gonzalez talked about Roberts' energy and optimism, his singular blend of savvy and positivity. The Dodgers' roster was loaded with talent but riven with strife. The team required someone who could unite the group while implementing the innovation offered by the front office.
After Roberts interviewed for the job, Friedman reached out to his first baseman.
"Dude," Friedman told Gonzalez, "he nailed it."
When the Dodgers hired Roberts, it added a new dimension to the friendship the new manager had forged with Gonzalez as teammates a decade ago, a bond strengthened through grief and now powered by a mutual thirst for a championship. They lived together during the most miserable spring training of their lives. They intend to celebrate this October like never before.
As he took the job, Roberts conferred with Gonzalez. They understood navigating a situation like this, in which one friend can determine the playing time of another, could be awkward. They agreed to not let it be. "Don't ever compromise your job for our friendship," Gonzalez told his new boss.
The relationship has proved beneficial. Gonzalez vouched for Roberts with his teammates and helped established a new culture in 2016. Roberts led the Dodgers through a challenging summer to win the division and later earn recognition as National League manager of the year.
In 2017, with Gonzalez entering the twilight of his career, he has pledged to accept a spot on the bench if the organization starts rookie sensation Cody Bellinger at first base in October. Bellinger will play first base when he returns from the disabled list this week, Roberts said Sunday.
A situation like this could grow ugly, Roberts acknowledged last week. A proud, 35-year-old, five-time All-Star could become his 45-year-old manager's adversary. Instead, Gonzalez has remained Roberts' advocate. He has told Roberts he does not care where he bats in the lineup, and to not hesitate about sitting him.
"When you're younger, those things matter," Gonzalez said. "But when you're older, they don't matter anymore. If I was younger in my career, I would be making a fuss about it. At this point in my career, I'm just enjoying that I'm able to go out there and play."
The men first shared a clubhouse for the San Diego Padres in 2006. They met through their agent, John Boggs. He connected the duo after Texas shipped Gonzalez to San Diego. He figured Roberts could ease the transition of Gonzalez, a former No. 1 overall pick who had already been traded twice.
Despite a 10-year gap in age, the two became pals. Both grew up near San Diego. Roberts liked to razz teammates to draw them into conversation, so he teased Gonzalez about his lack of speed. Gonzalez fired back about Roberts' lack of height. Roberts helped Gonzalez connect with a clubhouse of veterans as the Padres won the National League West.
He was always free-spirited, always laughing, always happy, always there for you.
— Adrian Gonzalez on Dave Roberts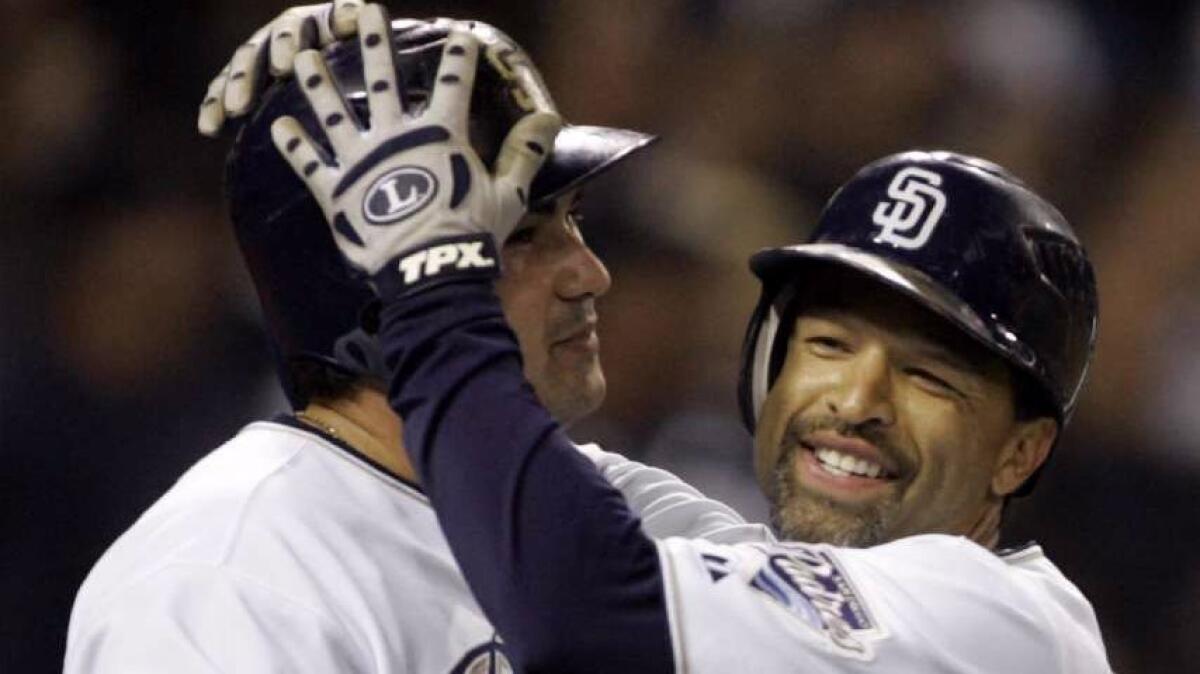 "He was always free-spirited, always laughing, always happy, always there for you," Gonzalez said.
Roberts signed with San Francisco after that season and Gonzalez blossomed into an All-Star. Their friendship continued. Roberts taught Gonzalez the intricacies of wine and helped grow his palate. Their wives became close. They took vacations together.
After Roberts retired, he joined San Diego's front office in 2010. That spring, he rented a house in the suburbs of Phoenix with Gonzalez and another close friend, pitcher Chris Young. Both Gonzalez and Young figured they would leave the Padres after the season, and they viewed the spring as a last hurrah for the trio. They found a house with a basketball hoop and a tennis court, and prepared to enjoy the spring.
"This was going to be the end-all, be-all," Roberts said. "And it just went the other way."
The initial omens were not promising. After a rainstorm, the ceiling sprung a leak. A neighbor later mentioned how quiet the players were; previous tenants had used the property to shoot adult films.
Early in camp, Roberts went for his physical. His neck had felt sore in the months prior. The doctor noticed swelling in his lymph nodes. His roommates tried not to worry. "We all assumed, 'Oh, it's nothing, he'll be fine,'" Young said.
Roberts flew to San Diego for more tests. After the examination, Roberts' wife, Tricia, called Betsy Gonzalez and Liz Young. It was Hodgkins' lymphoma. The diagnosis unsettled his friends. Roberts maintained his optimism. "We got this," he told them.
As Roberts prepared for chemotherapy, Gonzalez felt heartache of his own. He and his wife had been trying in vain to have a child. They experienced another setback that spring. "We were just devastated for them, because we knew they would be such wonderful parents," Young said.
Young would not escape misfortune either. In his final Cactus League start, he felt tightness in his right shoulder. After one regular-season outing, an examination revealed a torn anterior capsule, the same injury that would befall top Dodgers prospect Julio Urias this year. Young appeared in only a handful of games the next two years.
The house was cursed, they decided. Asked about that spring, Roberts groaned, chuckled and looked skyward. At the very least, he reasoned, the misery strengthened their friendships.
"It was one of the worst spring trainings," Gonzalez said. "But we all got closer. We got stronger, bonded more, took positives out of it. There were so many good things that came out of it."
The grief was not permanent. Young won a comeback player of the year award with Seattle in 2014 and collected a World Series ring with Kansas City in 2015. After six months of chemo and then rounds of radiation, Roberts emerged cancer free. The Gonzalezes now have two daughters.
After that season, Gonzalez left San Diego for Boston before the Dodgers acquired him 2012. Roberts apprenticed under Padres manager Bud Black. After the Dodgers parted ways with Don Mattingly in 2015, Roberts bested eight other candidates to become Dodgers manager and reunite with Gonzalez.
I know that when I took this job, Adrian went to bat for me with his teammates.
— Dodgers manager Dave Roberts
As a rookie manager, Roberts leaned on veterans such as Gonzalez, Clayton Kershaw, Chase Utley and Howie Kendrick before making decisions. Roberts preached about a culture built on sacrifice: Veterans might lose at-bats, starting pitchers might not go deep into games and players would shift up and down in the lineup — but it would all be done in service of winning a title. Gonzalez aided the transition, Roberts said.
"I know that when I took this job, Adrian went to bat for me with his teammates and said 'Hey man, this guy knows the game, he cares about players. He's going to be good for us,'" Roberts said.
As the culture took hold, Gonzalez noticed Roberts had become more assertive as an authority figure. Roberts had gained the trust of his players, which allowed him to maneuver them with ease.
The Dodgers would require that sort of flexibility with Gonzalez this season. In April, the team promoted Bellinger, a sensational talent who can play all three outfield positions, in addition to first base. Bellinger looked like a star. Gonzalez looked like something else.
A month into the season, Gonzalez was nagged by a herniated disk in his back and soreness in his elbow. He had prided himself on never having spent time on the disabled list in his career. Roberts respected Gonzalez's toughness, but he understood that Gonzalez was compromised. "He doesn't look like Adrian," Roberts said in his office on the first day of May.
With the team considering demoting Bellinger to clear a roster spot later that week, Gonzalez intervened. He suggested the team place him on the disabled list, rather than waste Bellinger's time in the minors. A two-week respite did not solve Gonzalez's physical issues. He stumbled upon his return and went back on the DL in June.
Gonzalez took two months off. As he prepared to return, he insisted he would not stump for more playing time. The final weeks of the season would act as an audition for October. If Gonzalez could hit, he would play. Roberts could not promise anything else. "I know his heart is in the right place for the team," Gonzalez said.
Upon his return on Aug. 18, Gonzalez batted seventh for the first time since 2006, when he was Roberts' teammate in San Diego. Gonzalez did not complain about his place in the order. He tried to embrace it: Now, he reasoned, he would no longer face the opponent's toughest left-handed reliever, who would be expended several batters earlier against Corey Seager or Bellinger.
The adjustment has not been seamless. Scouts view Gonzalez as a defensive downgrade compared to Bellinger, but Bellinger's versatility pushed him to the outfield. On Gonzalez's second day back, Bellinger sprained his ankle in right field. He has not played since.
The injury kept Gonzalez in the lineup. In his first 10 games back, Gonzalez produced an encouraging amount of hard contact, but hit only .184. Bellinger will displace him this week.
Yet Gonzalez can still serve a role on Roberts' Dodgers as the team storms toward a franchise record for victories — and perhaps much more. In the sixth inning of a game last week, Gonzalez roped a 94-mph fastball from Pittsburgh reliever Johnny Barbato down the first-base line. Gonzalez rumbled into second base for the 2,000th hit of his career.
The crowd at PNC Park gave Gonzalez a polite ovation. Gonzalez doffed his helmet. Inside the dugout, Roberts raised both arms above his head to cheer his friend.
"He knows he's only got so much more baseball left in him," Roberts said. "But he wants to win here."
Twitter: @McCulloughTimes
ALSO
Dodgers to return Cody Bellinger to first base, move Adrian Gonzalez to bench
Clayton Kershaw to pitch for Dodgers on Friday in San Diego
Vin Scully isn't planning on returning to Dodgers broadcast booth
Get our Dodgers Dugout newsletter for insights, news and much more.
You may occasionally receive promotional content from the Los Angeles Times.