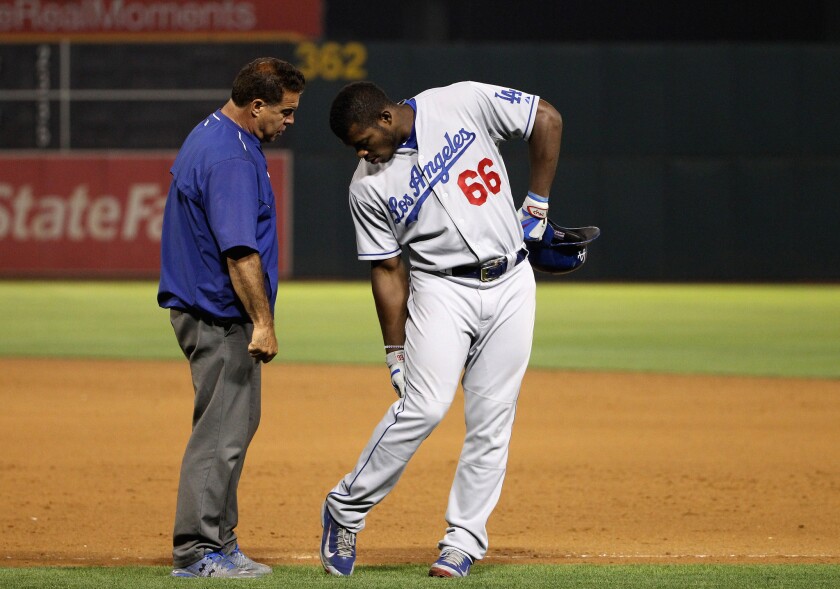 The problem has spread much like a team-wide hitting slump, starting with second baseman Howie Kendrick and taking down right fielder Yasiel Puig. It could greatly influence what the postseason roster and lineup look like.
The Dodgers have a mystifying number of hamstring injuries.
Three players are sidelined with strained hamstrings: Puig, utilityman Enrique Hernandez and infielder Jose Peraza. Kendrick just came off the disabled list Friday, in time for the Dodgers' opener in a three-game series against the Pittsburgh Pirates.
A similar problem had limited outfielder Carl Crawford to one pinch-hit appearance in the five days leading up to Friday's game.
"Injuries just happen," Manager Don Mattingly said.
But in this type of cluster? Why?
As Mattingly pointed out this week, of the five players, everyone other than Hernandez had a similar injury in the past.
Stan Conte, the team's vice president of medical services, explained that strains are tears in the muscle fibers. The body repairs these tears by developing scar tissue. Because this scar tissue is inflexible, its presence makes a player more susceptible to future hamstring strains.
There's something else these players have in common: They're not slow.
"Players who go really slow and are under control all the time generally don't have [problems with] hamstrings," Conte said.
Conte said most of these injuries occurred when the player was running out of the batter's box to first base.
"That's when guys are trying to get to their maximal speed," he said. "That puts stress on the hamstring. Most of these are right when they hit the bag, when they're trying to get that last little effort."
The problem is compounded by how most baseball players run.
"The running mechanics of baseball players are notorious for being bad," Conte said. "They put a lot of stress on the hamstring. They run very forward, they do not pick up their knees, they sort of shuffle. They sort of pull with their legs instead of pushing down against the ground."
Brandon McDaniel, the Dodgers' strength and conditioning coach, has worked with the players to improve their running form. But old habits are hard to break, particularly in the heat of competition.
The medical and training staffs have taken other measures to protect the players' hamstrings.
They have incorporated warmup exercises that are based on European studies of soccer players. They have also ensured their players are well-hydrated, sometimes by administering fluids intravenously before games.
Recovery is as complex as prevention.
The hamstring is made up of three muscles that run from the pelvis to the back of the knee, which allows for a significant variation in the location and severity of injuries. Recovery time is extremely difficult to predict.
"You never know how long it's going to take to heal," Kendrick said.
Kendrick thought he would be playing in games before now. Based on the early stages of his recovery, the Dodgers did too.
"He got 90% better in about 10 to 14 days," Conte said. "Then he stalled at that point."
Kendrick knows that even now that he's returned to game action, the problem may not be entirely behind him.
"In the game, you're always going to have more adrenaline flowing," Kendrick said. "I'll take it slow when I come back and try not to do too many crazy things."
As for the players still sidelined, the Dodgers are hoping they could be available in the postseason, if not earlier.
Puig landed on the disabled list Aug. 28. Hernandez followed him there three days later. Peraza was injured last week.
Puig and Hernandez ran at Dodger Stadium this week, but Conte remained cautious in his optimism.
"We don't know where they're going to stall," he said.
Twitter: @dylanohernandez
---