Dodgers' grand Joc Pederson experiment at first base gets worse every day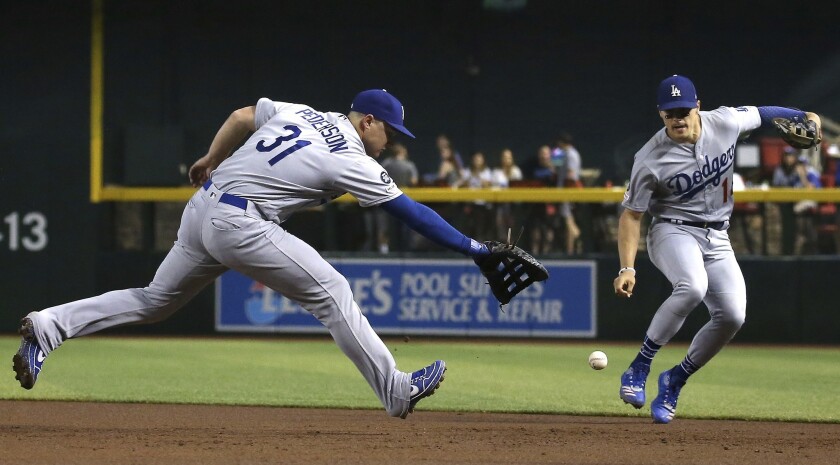 Reporting from PHOENIX —
Before last week, Joc Pederson had never played first base in a game at any level. Not professionally, not in high school, not in Little League. He was always an outfielder. But about two weeks ago, the Dodgers approached him about learning the position. And fast.
A crash course of pregame work at Dodger Stadium preceded his debut at the position last week. He hasn't started in the outfield since. He made his fifth straight start at first base Wednesday and the difficulty of learning a new position on the fly again was put on full display.
Pederson committed two errors in the Dodgers' sloppy 8-2 loss to the Arizona Diamondbacks, one in a four-run first inning and the second in a two-run fifth inning.
"Whenever you're there and make an error or something, it's not a good feeling," Pederson said. "You're letting the team down. But I'm putting in all the early work and doing everything I can to best prepare for the situation. When you're not helping the team win, it's not a good feeling."
The Dodgers decided to try Pederson at first base in anticipation of center fielder A.J. Pollock's return off the injured list after the All-Star break. The motivation was to keep Pederson's bat in the lineup against right-handed pitchers while having Alex Verdugo play left field and Pollock play center. But Pederson's struggles — he dropped an easy throw in one game and struggled to catch pop flies in another — have the Dodgers thinking twice.
"I think that things certainly can certainly change," Dodgers manager Dave Roberts said, "Right now, today, but tomorrow it can be different. We have to -- we're going to think through some things as far as roster as we go into Colorado and there might be some changes. But, right now, we're going to continue to work on it and get better each day."
Smith odd man out again
Rookie catcher Will Smith wasn't optioned to triple-A Oklahoma City again Wednesday because he doesn't belong in the majors. The rookie catcher has proven he's a major leaguer in the batter's box and behind the plate. But the Dodgers needed an extra arm in the bullpen for their series finale against the Diamondbacks — and will possibly carry one this weekend in Colorado — and veteran catchers Austin Barnes and Russell Martin remain above him on the depth chart. So he was the odd man out to make room for Tony Gonsolin.
"That was a tough one," Roberts said. "Obviously, we needed to make a move...It certainly wasn't performance-based. Part of it is . . . just playing every day I think certainly has value and you could argue just being in the big leagues and that experience certainly has value as well.
"But in the near future, going forward, he's certainly a part of what we're doing."
Smith, 24, is batting .269 with a .999 OPS and three home runs in nine games across two stints with the Dodgers. Two of his home runs were walk-off hits. He was named the starting catcher for the Pacific League in the triple-A all-star game after batting .291 with 14 home runs and a 1.009 OPS in 49 games for Oklahoma City.
Starting rotation for Colorado adjusted
Clayton Kershaw was scheduled to make his next start Sunday against the Rockies on an extra day of rest, but asked to pitch on regular rest and will start Saturday. Hyun-Jin Ryu will start Thursday's four-game series opener. Walker Buehler will pitch Friday and Kenta Maeda will take the mound for Sunday's finale. Each will go on an additional day of rest.
Sign up for our Dodgers newsletter »
Short hops
Roberts said part of the reason he removed Cody Bellinger from Wednesday's game in the sixth inning was that he's been dealing with patella tendinitis in his left knee. Bellinger, however, said the injury is no longer bothering him. Roberts expects him to start in all four games against the Rockies….Infielder Gavin Lux was promoted from double-A Tulsa to triple-A Oklahoma City on Wednesday. Lux is the Dodgers' second-ranked prospect, according to Baseball America. He batted .313 with 13 home runs for Tulsa….Left-hander Tony Cingrani was transferred to the 60-day injured list to create a spot on the 40-man roster for Gonsolin.
Twitter: @jorgecastillo
---
Get our Dodgers Dugout newsletter for insights, news and much more.
You may occasionally receive promotional content from the Los Angeles Times.