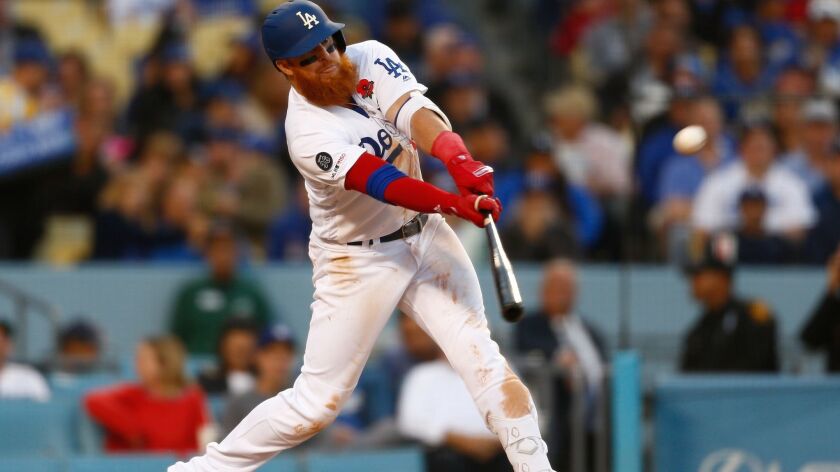 Justin Turner was absent from the Dodgers' lineup for the third straight game Saturday after injuring his right hamstring Wednesday night against the New York Mets. Manager Dave Roberts acknowledged Turner's ailment is "a little bit more severe" than he had anticipated, but he insisted Turner could have started Saturday. Roberts added he expects Turner to start in Sunday's series finale against the Philadelphia Phillies or Monday against the Diamondbacks in Phoenix.
"It's still a minor situation," Roberts said. "He ran today and said it felt better, considerably better."
Turner sustained the injury scoring one of the Dodgers' four runs in the ninth inning of their comeback win over the New York Mets on Wednesday. The third baseman was 14 for his last 33 (.467) with a 1.052 on-base-plus-slugging-percentage in the seven games leading up to his injury.
The Dodgers won the first two games without Turner with Max Muncy at third base. Muncy was back there Saturday against the Phillies after going two for four with a home run in Friday's victory. The performance capped off a month in which he batted .302 with seven home runs, six doubles, and a .974 OPS while playing first, second and third base.
"The person, for me, that is just is kind of defining what we're doing is Max Muncy, really," Roberts said. "Just the at-bat quality, his May has been tremendous. and the versatility, open-mindedness to play anywhere on the field, hit anywhere, running the bases. and obviously the big hits and the homers and things like that."
Sign up for our Dodgers newsletter »
Welcome back
The Dodgers held their annual alumni game before facing the Phillies at Dodger Stadium on Saturday. Roberts was among the participants, batting second and playing left field for one of the teams. Before the game, Dodgers left-hander Rich Hill, baseball's oldest pitcher and second-oldest player overall at 39, joked he was going to be an opener in the game.
James Loney, the game's second-youngest participant at 35, ripped a grand slam in the second inning. A Dodgers first-round selection in 2002, Loney announced his retirement from baseball last month. The first baseman last played for the Mets in 2016, appearing in 100 games.
Twitter: @jorgecastillo
---