How a simple walk by Max Muncy triggered another Dodgers win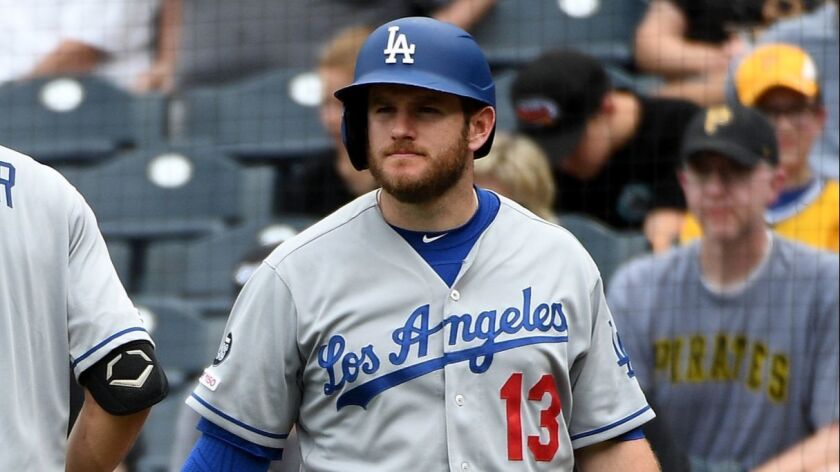 Reporting from PITTSBURGH —
The turning point in the Dodgers' latest victory -- a dragged-out, 11-7 series finale over the Pittsburgh Pirates on Sunday at PNC Park -- did not rouse the crowd from its muggy haze. It unfolded over a few minutes in the fifth inning, in the least thrilling of ways yet fitting for baseball in 2019: a 12-pitch battle between Max Muncy and Pirates right-hander Chris Archer that finally ended in a leadoff walk.
By the time Muncy took his base, the Dodgers had another opposing starting pitcher operating on fumes with their merciless methodical approach. Archer's pitch count was at 90. The meat of the Dodgers' order was coming for him. The end was near.
Archer secured three outs but not before the Dodgers (35-18) scored three runs to seize a lead they wouldn't relinquish and effectively knock him out. He threw 33 pitches in the inning, leaving him with 105, which cut his day short and opened the door for the Dodgers to bludgeon the Pirates' bullpen en route to a three-game series -- and season series -- sweep. Muncy started the push as the Dodgers overwhelmed the Pirates' pitching staff again and produced their ninth win in 11 games.
"That at-bat there in the fifth inning changed the game," Dodgers manager Dave Roberts said.
The systematic three-game destruction of a Pittsburgh pitching staff in disarray -- the Pirates, for example, started an opener Friday out of necessity and will call up their top pitching prospect to start the second game of their doubleheader Monday -- concluded with a cumulative score of 28-11. And it sent the Dodgers home with a 6-2 record on their three-city, 11-day trip after applying the finishing touches over three hours and 44 minutes on a steamy afternoon.
After Muncy worked his 12-pitch walk, Justin Turner delivered the third of his career-high five hits — he also walked to reach base a career-high six times -- and Cody Bellinger walked to load the bases. Matt Beaty, a 26-year-old rookie, smacked a single through the right side for two of his four runs batted in to catapult the Dodgers ahead for good. Corey Seager's groundout drove in another run.
"I think when a guy grinds through ABs like that, and then ends up winning the outcome, with a walk or a hit or whatever it may be, it's deflating," said Turner, whose outburst came after he was given Saturday off to give his aching body a rest. "It opens up the possibility for more mistakes for the guys hitting behind him."
The Dodgers tacked on six more runs in a 28-minute sixth inning against right-handers Montana DuRapau and Dovydas Neverauskas. Joc Pederson bookended the scoring with his two at-bats in the inning, belting a leadoff home run -- his 15th this season -- and poking a two-out RBI single.
Los Angeles initially claimed the lead on Seager's fifth home run in the second inning. The margin lasted a half inning. Josh Bell led off the second with a single for the Pirates (25-25) before Bryan Reynolds launched a 3-0 fastball from Dodgers right-hander Kenta Maeda over the right-field wall. The Pirates added a third run in the fifth against Maeda, whose five-inning outing snapped the Dodgers' streak of quality starts — defined as logging at least six innings while allowing three or fewer runs -- at 12.
Making his first start since going on the injured list with a minor (if that) thigh bruise, Maeda allowed five hits, walked none and struck out four. He threw 81 pitches. Left-hander Caleb Ferguson replaced him and gave up three runs in the sixth.
Ferguson's troubles, which were fueled by a walk and four singles, did not endanger the Dodgers. Their cushion was ample. They padded it in typical fashion, waiting out the opposing pitcher with patience, forcing him to throw strikes and making him labor. Nobody practiced the philosophy better than Muncy in the fifth inning.
The start of the at-bat was not promising. Muncy fell into a 1-2 hole and then went to work. He took the next pitch for a ball before spoiling three straight offerings. He laid off a 95-mph fastball up and away to make the count full. It was the last fastball he saw. Muncy fouled off the next three pitches -- a slider, a changeup, and a slider -- until Archer threw him a slider down and in for ball four. Frustration filled Archer. The Dodgers were getting to him.
"It might've been a little of a gut blow to him," Muncy said. "So it was just kind of a big at-bat."
Roberts made it a point to remind Muncy of that in the ninth inning after he lined out to finish hitless in six plate appearances. He sensed Muncy was disappointed. He reminded him that, whatever the box score says, he flipped the game in the fifth inning with an effort that didn't go unnoticed.
"That at-bat helped us win a baseball game," Roberts said.
Twitter: @jorgecastillo
---
Get our Dodgers Dugout newsletter for insights, news and much more.
You may occasionally receive promotional content from the Los Angeles Times.