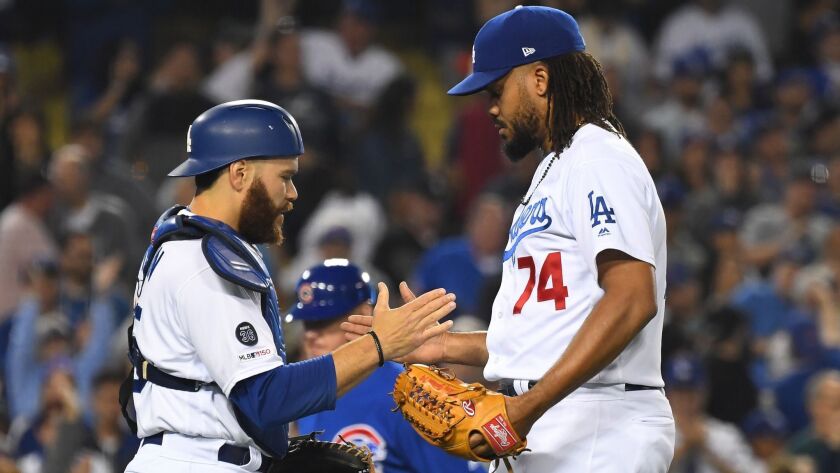 With two outs in the ninth inning Friday night, Chicago Cubs outfielder Jason Heyward on second base and the Dodgers holding a two-run lead, Kenley Jansen turned to second base umpire D.J. Reyburn and said, "I'm going to balk."
The Dodgers closer then wiggled his back leg, Reyburn awarded Heyward third base, where he wouldn't have a clear view of catcher Russell Martin's signs and glove placement, and with that the intentional balk was born.
"It's something Bob [Geren, Dodgers bench coach] and I have been talking about since spring training, but I keep forgetting to do it," said Jansen, who struck out Victor Caratini to end a 5-3 win and notch his 20th save. "I thought it was a good time to try.
"I'm not saying the Cubs are stealing signs or tipping location, but you always have to be on your toes. ... Whether you give up a bloop or a base hit, the guy is going to score from second with two outs."
Rick Honeycutt, who pitched 21 years in the big leagues and has been the Dodgers' pitching coach for 14 years, on Saturday was still trying to wrap his head around the move.
"I don't think I've seen an intentional balk," Honeycutt said, "but I was called for four balks in a [game] when I wasn't trying to."
Honeycutt balked four times in a four-inning relief appearance for the Oakland Athletics in a 12-7 win at Seattle on April 13, 1988, giving him a share of the American League record for balks in a game.
Bump in the road
Jansen's blown save opportunity and loss Saturday night, which came when the right-hander gave up a two-run home run to Anthony Rizzo in the ninth inning, ended at 10 games a scoreless streak that was sparked by a walk-off grand slam that Jansen yielded to San Diego's Hunter Renfroe on May 5.
"It's not fun giving up a grand slam, especially at the end," Jansen said. "It definitely made me angry and put me on a mission. I let that anger be a motivation. That's what I've been doing my entire career, dealing with criticism sometimes. … I kind of let it push me to get better every day."
Jansen's ERA jumped from 2.70 to 4.67 after the slam. In his next 10 appearances beginning May 12, he didn't give up any runs and only four hits in 101/3 innings, striking out 16, walking one and limiting opponents to a .114 average (four for 35) and .391 on-base-plus-slugging percentage.
Jansen converted all eight save opportunities during the run and lowered his ERA to 2.93 before Saturday night's slip, which knocked his ERA up to 3.45.
"I think that San Diego outing really got him fired up, to be honest," manager Dave Roberts said. "I know he took that one personal."
Jansen said he began to feel more locked in after spending much of a May 20 day off before a series in Tampa Bay studying the immaculate inning — nine pitches, nine strikes, three strikeouts — he threw against Miami on May 19, 2017. He found a mechanical flaw in his front arm that he quickly corrected.
"It helped my delivery so much," Jansen said.
Jansen has done a better job of mixing in his slider and four-seam fastball so hitters can't lean too heavily on his cut-fastball. His average fastball velocity (91.8 mph) has been good but not as important as the shape of his cutter. Jansen threw 16 cutters Friday night, inducing four swinging strikes and four called strikes.
Jansen was not as sharp Saturday. He hit Kris Bryant with his first pitch and threw a flat 90-mph cutter on a 2-and-0 count to Rizzo, who crushed the mistake for a go-ahead home run.
Sign up for our daily sports newsletter »
"Even in the bullpen, I was trying to grind, trying to get the feel [of my pitches]," Jansen said. "It was just a frustrating day today overall. I have to let it go and be ready for the next one."
Short hops
Matt Beaty was able to retrieve the ball from his first big league home run Friday night without haggling over a price. He plans to give the ball to his father. "It wasn't hard," Beaty said. "I just signed a ball, and Belly [Cody Bellinger] signed a ball." … Reliever Scott Alexander (left forearm inflammation) and outfielder A.J. Pollock (right elbow infection) began playing catch this weekend. … The Dodgers reportedly signed fourth-round pick Brandon Lewis, a power-hitting third baseman from UC Irvine, for $372,500.
Things have turned around for Kenley Jansen after giving up that grand slam against the San Diego Padres on May 5.
---