Did Dodgers pitchers get thrown on barbie?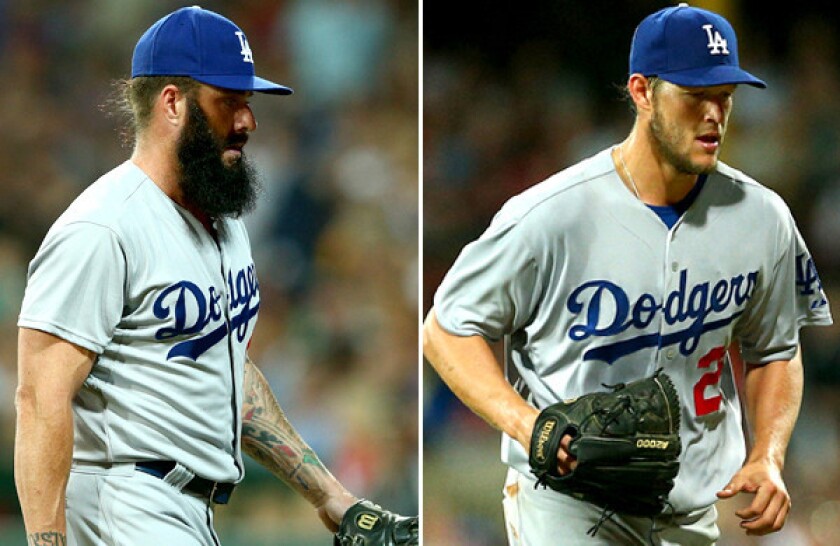 SAN DIEGO -- Complaints about the season-opening series in Australia resurfaced before the Dodgers' 5-1 victory over the San Diego Padres on Wednesday at Petco Park, this time centered around how the overseas trip might have resulted in injuries to Clayton Kershaw and Brian Wilson.
Kershaw, who strained a back muscle pitching in Australia, will be sidelined, at least, for the remainder of the month. Wilson joined him on the 15-day disabled list with an irritated nerve in his elbow.
The Dodgers shortened their spring-training camp to the facilitate the trip, something one player blamed for Kershaw and Wilson's health issues. The player, who did not want to be named, pointed out how the Arizona Diamondbacks, the other team that went to Australia, have also lost their No. 1 starter and setup man. The injuries to Patrick Corbin and David Hernandez of the Diamondbacks were severe; both recently underwent major elbow operations.
Dodgers pitching coach Rick Honeycutt wasn't as certain the condensed camp was responsible, but he didn't rule out the possibility, either.
"There's no way anybody could," Honeycutt said.
Honeycutt was critical of how little time his pitchers were given to prepare for the season. As it was, the Dodgers had a shorter off-season than usual because they played into October.
Of the Dodgers' early-season and spring schedules, he said, "I don't think enough thought's been put in that process."
Honeycutt, who was pulled aside by a Dodgers public relations manager before speaking to reporters, made it a point to say of the Australia trip and Kershaw's injury, "I hope there's no correlation. I'm not saying that's the reason."
However, he later said, "I just feel like you always put health in front of the situation."
Honeycutt said that he would have liked his starting pitchers to pitch in a minimum of five spring training games. Kershaw pitched in four.
Kershaw wouldn't speculate what led to his injury.
"You can look back on a lot of different things and second-guess, but at the end of the day, it happened, so I'm trying to not to think about what you could have done better because I felt I was as prepared as I possibly could be for the season," Kershaw said. "I felt great all spring training. It's just one of those things."
Honeycutt also complained about how the Dodgers had several days off before and after the games in Australia, as well as how their domestic season opener in San Diego was played on Sunday, a day before most teams opened their seasons.
"Then they're asking us to come back and play before anybody else plays, move our schedule up a day?" Honeycutt said. "That doesn't make any sense, either."
And with the Dodgers playing only 19 exhibitions in Arizona, Honeycutt thought relievers also didn't pitch enough in spring training.
Wilson certainly felt he was underprepared.
Wilson downplayed the severity of the latest problems with his elbow, which has been surgically repaired twice, most recently less than two years ago.
"It's just slight discomfort," Wilson said. "I think everything will be fine once I get four, five, six innings under my belt, just to kind of finish spring training.
"I wouldn't want to go out there and flip a coin on trying to get outs while trying to get my work in. It's not fair to the team, it's not fair to myself. I need to get work in now at a competitive level without causing any harm to the team."
Wilson said he felt he had to rush to get ready for opening day, which led to him to throw too hard in his fourth and final Cactus League game on March 15.
"I didn't bounce back like I'd like to," he said.
Wilson didn't report his problems to the training staff.
He pitched a scoreless inning in Australia but said he didn't feel right. He said he again felt something was wrong when he pitched Sunday in the Dodgers' first game of the series against the Padres. Wilson gave up three runs without recording an out in the loss.
Twitter: @dylanohernandez
---
Get our Dodgers Dugout newsletter for insights, news and much more.
You may occasionally receive promotional content from the Los Angeles Times.