Dodgers mailbag: Should Austin Barnes start at catcher in the playoffs?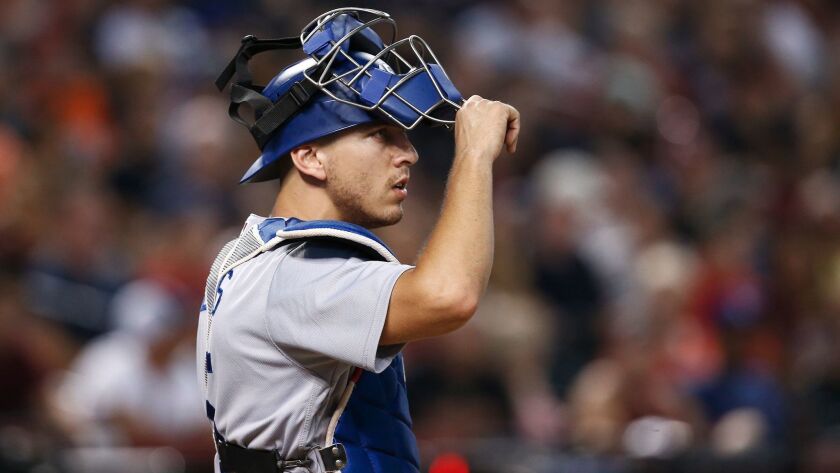 Reporting from philadelphia —
The Dodgers are 96-53. That translates to a 104-win pace. The Dodgers did it last week. They won a baseball game. In fact, they won four of them. After a 1-16 skid, that is something worth celebrating.
The team downed San Francisco early in the week, then took two of three from the Nationals over the weekend in Washington. The Nationals did not start their elite pitchers, save for Stephen Strasburg on Sunday, but it was still a nice little exhibition. Perhaps the teams will meet again in October.
And, yes, October is right around the corner. The Dodgers' magic number to clinch the National League West is four. They will likely celebrate a division title this week in Philadelphia, where they will play a four-game series against the lowly Phillies.
Here are the pitching matchups:
MONDAY: LHP Clayton Kershaw (17-3, 2.12 ERA) vs. RHP Nick Pivetta (5-10, 6.75 ERA)
TUESDAY: RHP Yu Darvish (9-12, 4.08 ERA) vs. RHP Aaron Nola (11-10, 3.60 ERA)
WEDNESDAY: LHP Alex Wood (15-3, 2.69 ERA) vs. RHP Jake Thompson (2-2, 4.46 ERA)
THURSDAY: RHP Kenta Maeda (12-6, 4.21 ERA) vs. RHP Mark Leiter Jr. (3-6, 4.93 ERA)
As always, there is plenty to discuss. You can send me questions on Twitter @McCulloughTimes. Let's do this.
When October begins, I believe Austin Barnes will supplant Yasmani Grandal as the starting catcher. The Dodgers have been telegraphing this for weeks. On multiple occasions, Manager Dave Roberts has raved about Barnes, who is hitting .295/.417/.474 and is considered a skilled receiver.
Grandal has fans in high-profile positions in the Dodgers front office. His framing is elite. His power is impressive. But his production this year has disappointed. Grandal leads all National League catchers in passed balls. He has hit .204 in the second half and .054 in September — with a .335 on-base plus slugging percentage this month. That is unacceptable for a club with championship aspirations.
The problem with benching Grandal is you remove a potentially lethal bat from your lineup. When he heats up, he can be a frightening presence in the batter's box for lengthy periods of time. The Dodgers would love to capture a performance like that in October. But Grandal has been so cold for so long, it is hard to imagine him heating up against pitchers like Zack Greinke, Max Scherzer or Jake Arrieta.
So it may be Barnes. He has a good rapport with Yu Darvish and Alex Wood. Rich Hill raves about him. He will catch Clayton Kershaw on Monday for only the fifth time this season. The Dodgers are laying the groundwork if they want to make a change. They should.
It depends on what you mean by "long-term." I can't predict what the team will look like in 2020. There's no point in trying. Let's keep it simple, and deal with next season.
Do I expect Joc Pederson to be back in 2018? Absolutely. It would be ridiculous for the Dodgers to pinch pennies and non-tender Pederson. He is still young, still cheap and still immensely talented. His inability to unlock that talent is frustrating for the organization, of course, but it doesn't make sense for the team to cut him loose or try to trade him for less than his actual value.
The case of Yasiel Puig should provide an instructive example. When the team demoted him in August 2016, it appeared his time as a Dodger was over. The team left him in triple-A Oklahoma City for a month, a humiliating tenure for a player once considered a pillar of the franchise. But they brought him back eventually, gave him chances in the playoffs and kept him around for 2017. Puig has rewarded them with a good season, playing excellent defense in right field and hitting a career-high number of homers.
The Dodgers often do not cut ties with a player until it's absolutely necessary. Think about how long they kept Chris Hatcher around. They stall for time, they hoard organizational depth and they do not like to act rashly. Pederson will still have a minor-league option in 2018, so they can keep him in the minors if he cannot rebuild his swing.
And remember this: In the first half, Pederson hit .241/.361/.466. He hit 51 homers in his first two seasons. He possesses incredible power. If another team offers some real value for Pederson, the Dodgers will listen. But they won't punt on a cheap former All-Star, even if they like Alex Verdugo. I expect Verdugo to start 2018 in the minors, anyway.
It is hard to see Brandon McCarthy making the playoff roster. The team already has a bevy of right-handed pitchers competing for those spots in the bullpen, and Kenta Maeda could work if they want a multi-inning reliever. Given the uncertainty regarding McCarthy's blisters and delivery issues, it doesn't make much sense.
It sounds pretty unlikely, but it happened only a couple years ago. In 2015, the Cardinals won 100 games, the Pirates won 98 and the Cubs won 97.
Curtis Granderson has been terrible as a Dodger. He is batting .113. He hit four homers in his first 10 games with the team, and has not hit one since. But the Dodgers continue to play him every day, in part because they hope he will break out of his slump, and in part because they do not feel they have other credible options.
The obvious candidate to replace Granderson is Andre Ethier. Manager Dave Roberts has said the organization is unsure if Ethier, who has barely played these past two seasons, can physically handle the strain of everyday play. The playoffs feature a slew of off-days, so maybe that worry about Ethier's health won't keep him out of the lineup in October. Because right now, Granderson looks like an out, and little more than that.
Despite everything I just wrote, I am leaning toward Curtis Granderson, but I think that would require some sort of upswing in his offensive production in the final two weeks. Otherwise, it's hard to argue he deserves the starting role in left field over Andre Ethier.
When a player says he "slows the game down," it means he is able to think clearly and not panic in situations in which you have to make snap judgments. It basically means the player shows the ability to stay calm.
Good question! My vote would be Ross Stripling. Like Dolph Ziggler, he is quite skilled and appreciated by a sophisticated portion of the fan base, but he has not broken through as a top guy in the organization.
Twitter: @McCulloughTimes
---
Get our high school sports newsletter
Prep Rally is devoted to the SoCal high school sports experience, bringing you scores, stories and a behind-the-scenes look at what makes prep sports so popular.
You may occasionally receive promotional content from the Los Angeles Times.