Dodgers mailbag: Will Matt Kemp make the opening day roster?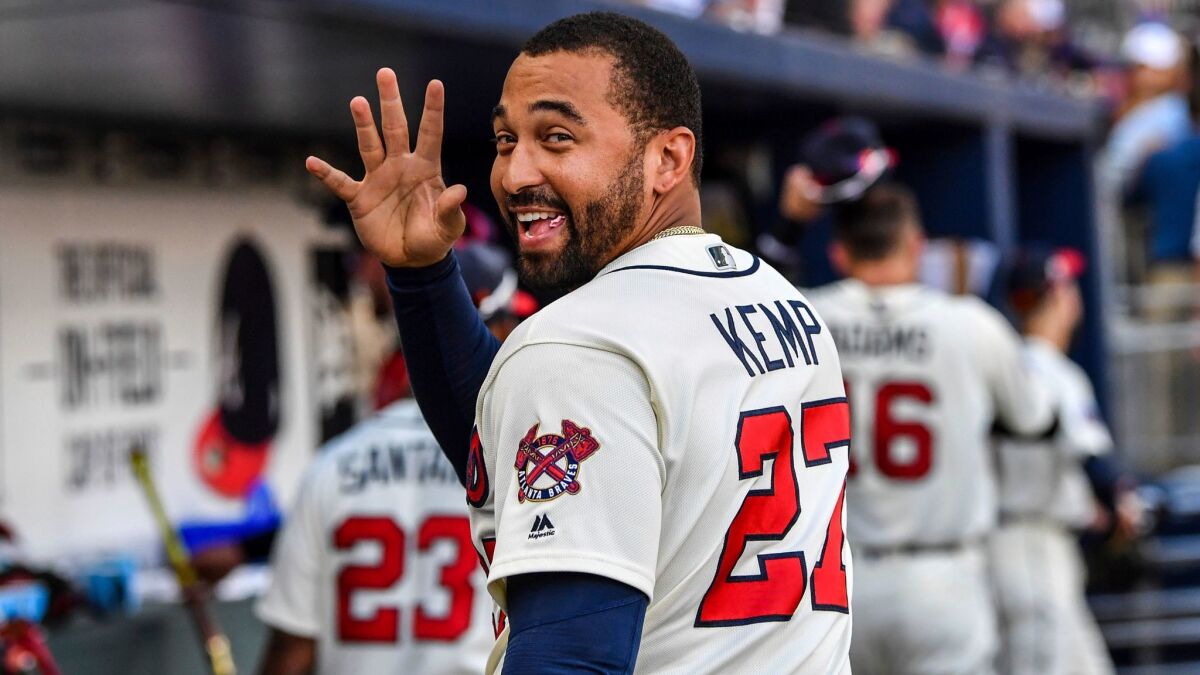 In 15 days, the pitchers and catchers of the Dodgers will report to Camelback Ranch for the start of spring training. The winter is almost over. Yu Darvish is still a free agent. Matt Kemp is still a Dodger. Unrest percolates among the labor force. These are strange times.
The Dodgers held their annual FanFest on Saturday, which team officials said drew a crowd of nearly 35,000. Excitement will be high for the club in 2018, even if it will be difficult to top their performance last year.
With that in mind, let's answer some questions. You can send them to me on Twitter @McCulloughTimes. Let's do this.
It looks like a bullpen. It could be great. It could be a total disaster. It will probably be pretty good.
In Kenley Jansen, the Dodgers employ the best reliever in baseball. You can make an argument for Craig Kimbrel or Andrew Miller, but Jansen holds the title, in my eyes. His presence serves as a sizable safety net for the rest of the group. With a relief ace in the fold, the Dodgers can afford to scramble each winter to assemble a new cast of relievers.
The group looks solid — and that's before you consider Kenta Maeda will likely reprise his bullpen role during the playoffs. The right-handers include Ross Stripling, Josh Fields, Pedro Baez, Brock Stewart, new addition Tom Koehler and Yimi Garcia, who has recovered from Tommy John surgery. The left-handed duo of Scott Alexander and Tony Cingrani could be fierce. Alexander was excellent for the Royals last season, and Cingrani pitched well after joining the Dodgers in August.
I am aware that many of you read the preceding paragraph and either: 1) flung your phone into oncoming traffic when you saw the name "Pedro Baez" ; 2) slammed your face against your desktop computer remembering Stripling's walk of Marwin Gonzalez in Game 2 of the World Series; 3) screamed into your iPad about Fields' performance later that night. It will be OK. Your anger is a gift.
Under the leadership of Andrew Friedman and Farhan Zaidi, the Dodgers have shown an ability to build a quality relief corps without spending much money or much prospect capital in trades. They've earned the benefit of the doubt in this regard. I would expect the Dodgers to have a good bullpen again in 2018.
Yes. My understanding is that Yu Darvish has made clear he would like to return to the Dodgers, and part of the delay in his free agency is related to waiting to see if the team can move some of the money. The Dodgers have explored scenarios for moving useful but (theoretically) extraneous assets such as Yasmani Grandal, Logan Forsythe and Hyun-Jin Ryu. Given the fact that those players are still Dodgers and Darvish is still a free agent, you can guess how the market has reacted to this gambit by the front office.
The luxury-tax number is determined by the average annual value (AAV) of a contract, not its year-by-year value. So there would be little incentive for either Darvish or for the Dodgers to offer a backloaded deal, at least when it comes to trying to skirt the competitive-balance tax.
That is a great question. It's hard to see how Chris Taylor could improve on 2017, when he hit .288/.354/.496 with 21 home runs. I understand that baseball is fundamentally broken, in terms of the proclivity of home runs, but in Taylor's previous five seasons he had hit 22 home runs combined in the majors and minors. So you have to bet on some regression.
But how much?
The projection systems don't offer a unanimous view.
Steamer projects Taylor to hit .264/.311/.411 with 14 home runs.
Tom Tango's system projects Taylor to hit .269/.335/.460 with 17 home runs.
I tend to lean closer to Tango than to Steamer. If Taylor can play solid defense in center field, handle second base when necessary and post an on-base plus slugging percentage somewhere between .775 and .800, there's plenty of value there. That sort of regression would not be cause for concern. But his track record is so brief that he will have to prove himself again at this level.
Andrew Toles is considered recovered from his torn ACL. He will compete for at-bats in left field.
To the best of my knowledge, the Dodgers have not traded Yasiel Puig this winter.
Rich Hill looks like the No. 2 starter with Alex Wood as the No. 3 starter. The team could decide to insert Kenta Maeda into one of those spots to break up the left-handedness. It doesn't really matter until October.
1. Yes.
2. Yes.
Probably not.
Matt Kemp will get at-bats during spring training, and he will have a chance to showcase himself. But, as I wrote over the weekend, his chances of making the opening-day roster are remote, according to people familiar with the situation.
"Can't" is too definitive, given Kemp's athletic pedigree, the inventiveness of the Dodgers' defensive schemes and the aid of strategic positioning.
In spring training 2017, Chris Taylor looked totally lost while ranging the outfield. By the postseason, he had developed into a capable center fielder.
When the Dodgers drafted Corey Seager, the consensus was he would have to move to third base. During his first two seasons in the majors, he rated as a quality defender, according to FanGraphs' metrics.
Those two players are both much younger than Kemp. But outfield defense, in the age of shifting, relies mostly on effort and preparation. The Dodgers can find ways to position a player so that his physical limitations can be minimized. They found a way to turn Howie Kendrick into a serviceable left fielder. It can be done.
Please direct all questions or gripes about tickets to bill.shaikin@latimes.com.
To quote Royals general manager Dayton Moore: My crystal ball is broken.
1. No. The Dodgers do not believe in the concept of "make-or-break" scenarios for young, under-control assets. It's not like they would trade Pederson or Toles if either plays poorly at Camelback Ranch. They would just stash them in the minors and see how things play out.
2. It would be a sizable upset if Alex Verdugo breaks camp with the team, and it would be an even bigger upset if Kemp does. There are so many other players competing for outfield time, including Pederson, Toles and Enrique Hernandez.
Andre Ethier is a free agent. He could make sense for an American League team, if baseball teams still believed in the exotic concept of "signing free agents."
I had a nice Christmas. Thank you for asking. My brother, sister and three step-siblings have all graduated college, so we no longer ask our parents for gifts. We donate to families in need instead, which I highly recommend. As a 30-year-old man, it feels weird sending my mother a Christmas list. I can buy my own sneakers.
Twitter: @McCulloughTimes
---
Get our Dodgers Dugout newsletter for insights, news and much more.
You may occasionally receive promotional content from the Los Angeles Times.